Recommend an Agent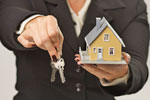 Make your home search simple, reliable and stress-free. Leave the tedious process to our recommended professionals, while you enjoy touring for a great home.
Property Agent Recommendation
Why you SHOULD have an agent to represent you?
Here's a few reasons why you should have a property agent to represent you:
The recommended agent will represent you and protect your interest
Avoid the pitfall of venturing into house hunting without anyone to represent you. The recommended agent shall be obligated to represent you and protect your interest, negotiate for a better deal, ensure the contract is reasonable, condition of the property is acceptable, etc.

Proven Track Record
They are experienced with proven track records of servicing expatriate tenants with after-sales service even after you move in.

Problem Solving
They will be able to recommend solutions to your home-related issues.

Find a Home in the Shortest Time Possible
Provide them with pertinent information pertaining to your needs and wants on your new home and they will be able to shortlist the most suitable location, apartment or house in the shortest time possible.

Their Commitment
Your commitment to them will equate to their commitment to you. They will know your likes and dislikes and thus be able to be more spot-on on what you need.

Stress Free
Spend your day with them so they can take you to the various viewings. Doing it all by yourself would mean you would need to take a cab or look at the maps for directions which can be extremely daunting and time consuming.

Familiarity
The apartments and locations are within their fingertips. Engage their expertise to find your dream home.

Minimize repetitive viewings
Viewing with them will minimize the chance of a repetitive viewing as they will verify the information before scheduling an appointment.

Enjoy the Process
Finding a home should be an enjoyable and stress-free experience.

It's Free if it's a 2-year lease and monthly rental above S$3,500!
You pay nothing for this service if it is a 2-year lease provided the monthly rental is above S$3,500! Service fee for the recommended agent will be paid by the co-broke agent representing the landlord / seller.
Re: Would you order food with others nearby to save on delivery costs?

Same for me I mostly use Grabfood and Foodpanda. Deliveroo - I only used it once but found it ok...ish


Had a bad experience, ordered Japanese food during a birthday at home, ended up waiting for 1+ hours before the food came .....



Posted in Entertainment, Leisure & Sports
How to use your Rediscover Vouchers
They expire on 30 June 2021.

1. Log in to singaporerediscovers.life.gov.sg

or

1. Book your stays through Look, GlobalTix and Traveloka.

If you can't find the hotel of your choice, you can contact the hotel to check if vouchers are applicable for your stay.



Posted in Entertainment, Leisure & Sports
Re: Tax residency and working remotely, away from Singapore
PNGMK, I hear you on tax complications in retirement!

Did you know how CPF LIFE annuity payouts will be taxed if you became US taxable? This is something I just learned recently. It's stated clearly in the general rule on annuities - the entire annuity payment is considered fully taxable as .....



Posted in Careers & Jobs in Singapore
Worst ever result with pay much money. Think twice before you go.
I did my double eyelid surgery with dr lee kim siea but get the worst ever results. When you consult him again, he ask you to do other thing but not tried to fix your case. With so much experience but too money face. My personal advice do not find him as you will regret and upset after paid so .....



Posted in Aesthetic Enhancement & Cosmetic Surgery
Re: Signaling a driver about their headlights
In the UK, oncoming drivers flash their high beams for a split second when their traffic light has turned red whilst they're coasting to a stop with me waiting to turn into the junction. It tells me no further cars are expected from their end, enabling me to turn before all cars at their end have .....



Posted in Leisure Chat, Jokes, Rubbish