Singapore Property Pictures from District 19 to 28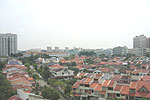 Surf this section for pictures, maps and descriptions of apartments, condominiums and houses in Singapore. Browse pictures featuring the interior, exterior, facilities of the properties and select your dream home now!
Most of the featured properties will have essential information such as facilities, nearest MRT stations, schools.
This page features properties from Districts 19 to 28 (except 21). See district map here.
District 19 - Hougang, Punggol, Sengkang
District 20 - Ang Mo Kio, Bishan, Braddell Road, Thomson
District 22 - Boon Lay, Jurong, Tuas
District 23 - Bukit Batok, Choa Chu Kang, Hillview Avenue, Upper Bukit Timah
District 24 - Kranji, Lim Chu Kang, Sungei Gedong, Tengah
District 25 - Admiralty, Woodlands
District 26 - Tagore, Yio Chu Kang
District 27 - Admiralty, Sembawang, Yishun
District 28 - Seletar, Yio Chu Kang
Browse Singapore condominium / property names from A - G | H - S | T - Z
21
1997
0.4 - KING ALBERT PARK
19
2004
0.46 - LORONG CHUAN
21
1995
0.68 - DOVER
26
2008
1.33 - YIO CHU KANG
26
2005
0.94 - YIO CHU KANG
21
2004
1.09 - KING ALBERT PARK
20
2000
0.25 - BISHAN
20
2004
0.61 - BISHAN
20
1994
2.05 - MARYMOUNT
20
2005
1.4 - MARYMOUNT
20
2003
0.35 - MARYMOUNT
20
1981
0.55 - CALDECOTT
21
1983
1.5 - BEAUTY WORLD
26
1993
1.35 - YIO CHU KANG
28
2013
1.34 - YIO CHU KANG
21
1992
0.11 - KING ALBERT PARK
19
1999
0.65 - SERANGOON
19
2001
0.43 - BARTLEY
25
2006
0.74 - WOODLANDS
26
1997
0.71 - YIO CHU KANG
21
1996
0.67 - DOVER
19
2005
0.67 - SERANGOON
20
2014
0.09 - ANG MO KIO
20
2008
0.98 - MARYMOUNT
19
2004
0.57 - SERANGOON
19
1994
0.53 - SERANGOON
23
1997
1.48 - BUKIT PANJANG
19
1985
0.16 - LORONG CHUAN
21
1985
1.55 - BEAUTY WORLD
20
2012
1 - BISHAN
19
2003
0.1 - SENGKANG
20
1992
1.55 - MARYMOUNT
19
2006
0.23 - BARTLEY
27
2005
0.83 - SEMBAWANG
23
1989
0.39 - HILLVIEW
26
2009
2.13 - KHATIB
23
2008
0.08 - CASHEW
27
2002
1.23 - YISHUN
20
1987
0.67 - YIO CHU KANG
19
2016
1.8 - PUNGGOL
21
2011
0.34 - KING ALBERT PARK
27
2004
2.21 - KHATIB
19
1993
0.55 - BARTLEY
21
2004
1.02 - CLEMENTI
21
2006
0.46 - KING ALBERT PARK
23
2000
0.24 - HILLVIEW
19
2003
0.38 - LORONG CHUAN
20
2004
0.23 - LORONG CHUAN
19
2005
0.42 - LORONG CHUAN
21
1997
0.85 - BEAUTY WORLD
20
2005
0.66 - ANG MO KIO
21
1984
0.67 - BEAUTY WORLD
23
2000
0.33 - BUKIT GOMBAK
23
2001
0.27 - CASHEW
21
2000
0.53 - BEAUTY WORLD
21
1995
1.24 - BEAUTY WORLD
23
1999
0.69 - HILLVIEW
23
2003
0.35 - HILLVIEW
19
1993
0.88 - KOVAN
23
2002
0.83 - BUKIT GOMBAK
23
2001
0.95 - HILLVIEW
23
1996
0.28 - HILLVIEW
23
1995
0.33 - HILLVIEW
23
2005
1.06 - BUKIT BATOK
20
2002
1.21 - YIO CHU KANG
20
2003
1.39 - YIO CHU KANG
21
1996
0.91 - HILLVIEW
21
1997
0.79 - HILLVIEW
22
1993
0.57 - JURONG EAST
21
2012
0.39 - KING ALBERT PARK
20
2006
0.9 - MARYMOUNT
19
1990
1.95 - LORONG CHUAN
21
1999
0.18 - BEAUTY WORLD
20
1992
0.64 - LORONG CHUAN
19
2006
0.23 - KOVAN
22
2005
0.59 - LAKESIDE
22
1983
0.67 - LAKESIDE
22
2007
0.38 - LAKESIDE
21
2000
0.65 - BEAUTY WORLD
19
2007
1.24 - KOVAN
26
2003
1.72 - YISHUN
21
1997
0.21 - KING ALBERT PARK
21
1985
0.31 - KING ALBERT PARK
23
1998
0.3 - BUKIT PANJANG
26
2012
1.93 - YIO CHU KANG
23
1997
1.11 - HILLVIEW
23
1999
0.91 - BUKIT GOMBAK
23
2012
0.43 - CHOA CHU KANG
28
1979
1.94 - YIO CHU KANG
25
2001
0.83 - ADMIRALTY
23
1998
0.16 - CHOA CHU KANG
19
1994
1.17 - KOVAN
20
2004
0.39 - YIO CHU KANG
27
1994
0.48 - KHATIB
23
2000
0.87 - CHOA CHU KANG
21
1979
1.01 - DOVER
22
1995
0.24 - CHINESE GARDEN
21
2000
0.55 - HILLVIEW
22
2000
0.47 - LAKESIDE
19
2005
0.8 - BUANGKOK
23
1998
1.52 - BUKIT BATOK
21
1984
1.03 - DOVER
20
2002
0.44 - MARYMOUNT
23
2000
0.28 - YEW TEE
23
2000
0.78 - BUKIT BATOK
19
2000
1.59 - HOUGANG
19
2004
1.07 - HOUGANG
19
2003
1.02 - SENGKANG
19
1995
0.58 - SERANGOON
25
2003
0.7 - WOODLANDS
26
1997
0.78 - YIO CHU KANG
20
2000
0.45 - MARYMOUNT
28
2001
1.68 - BUANGKOK
27
2001
1.3 - YISHUN
21
1998
1 - BEAUTY WORLD
21
1980
0.39 - BEAUTY WORLD
21
1998
0.97 - BEAUTY WORLD
20
1996
0.57 - MARYMOUNT
21
1997
0.75 - BEAUTY WORLD
21
1999
0.62 - BEAUTY WORLD
21
2000
0.93 - BEAUTY WORLD
21
2012
0.49 - BEAUTY WORLD
28
2004
1.73 - BUANGKOK
22
2001
0.81 - BOON LAY
21
2003
0.49 - HILLVIEW
19
1985
0.34 - BARTLEY
19
2003
0.26 - SERANGOON
19
2003
0.36 - SERANGOON
21
1998
0.66 - HILLVIEW
21
1999
0.2 - KING ALBERT PARK
26
2008
0.94 - YIO CHU KANG
22
2009
0.18 - BOON LAY
19
2008
0.32 - LORONG CHUAN
23
2004
0.75 - BUKIT BATOK
27
2013
0.76 - KHATIB
22
2000
1.48 - PIONEER
19
2000
0.88 - HOUGANG
20
2004
1.94 - MARYMOUNT
28
2014
2.72 - BUANGKOK
21
2001
1.15 - HILLVIEW
23
2004
0.08 - BUKIT BATOK
23
2006
0.44 - BUKIT PANJANG
23
2002
0.35 - BUKIT GOMBAK
22
2000
0.38 - CHINESE GARDEN
19
2014
0.87 - SERANGOON
21
2007
0.41 - KING ALBERT PARK
23
2002
1.12 - BUKIT GOMBAK
19
2009
0.27 - BUANGKOK
23
2006
0.3 - YEW TEE
21
2008
0.79 - BEAUTY WORLD
19
2001
0.76 - BUANGKOK
27
2007
1.59 - KHATIB
19
1999
0.07 - LORONG CHUAN
21
2000
0.14 - KING ALBERT PARK
19
2003
0.4 - SERANGOON
23
2004
0.15 - CHOA CHU KANG
19
2005
0.26 - SERANGOON
20
1987
1.2 - MARYMOUNT
23
2013
1.34 - HILLVIEW
19
2013
1.01 - LORONG CHUAN
19
2016
1.88 - PUNGGOL
25
1999
0.94 - MARSILING
25
2001
0.54 - ADMIRALTY
23
2000
0.55 - YEW TEE
27
2002
1.18 - YISHUN
Browse Singapore condominium / property names from A - G | H - S | T - Z