The Most Frightening Places to Visit in Singapore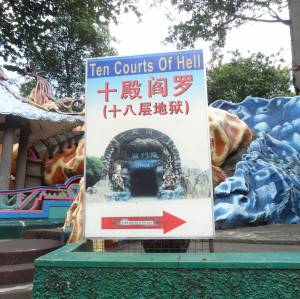 Now that Halloween is round the corner, many people may be starting to shop around for costumes and to decorate their houses with jack-o'-lanterns, skeletons and strings of cobwebs for that extra special festive touch. While Halloween celebrations may not be as widespread in Singapore as it is in the United States, many food and entertainment outlets here hold special Halloween-themed parties and offer Halloween promotions such as seasonal menu items and meal discounts for patrons who show up in costumes.
While it may be irreverent but harmless fun to dress up as spooks once in a while, did you know that Halloween has a darker past to it that originated from ancient Celtic tradition? As a marker of the end of the autumn season, Halloween was celebrated when the forces of the netherworld were believed to be at their strongest. The dead were said to return to be with the living on the day of Halloween, and the celebration was thought of as both a way to commemorate the dead and as a means of asking for spiritual protection over the coming winter days. As such, many people in ancient Europe dressed up as the dead on this day, to ask for alms from the living and to protect themselves against malevolent spirits.
Though such practices are non-existent in Singapore, thrill seekers in search of a real life encounter with spirits have plenty of places to choose from. From cemeteries to macabre theme parks, the following three places are extremely popular among aspiring ghost hunters and curious explorers.
Cemeteries
One of the more obvious choices to go to for a spooky encounter would be a cemetery. However, in land-scarce Singapore, you may not actually have very far to go before stepping foot on an ancient burial ground. Large swathes of land that had initially been set aside as cemeteries have long since been cleared and converted to roads, housing blocks and commercial buildings. It has been suggested that as many as 120,000 graves had been exhumed by 1985. Places such as Fort Canning, Ngee Ann City, and the Dhoby Ghaut MRT station are built on former burial sites. If you've yet to visit a cemetery in Singapore, consider visiting the Choa Chu Kang Cemetery Complex—Singapore's largest cemetery with separate areas for different faiths and races, including the Chinese, Muslim, Jewish, Hindu, and Christian communities.
Old Changi Hospital
So named to differentiate the hospital from its newer cousin, Changi General Hospital, the Old Changi Hospital was first built in 1935 by the British. During that period, it was known as the Royal Air Force Hospital Changi. However, with the onset of the Japanese Occupation, the hospital was seized and transformed into a prison camp and medical facility for Prisoners of War. The hospital was also an alleged torture chamber during that period. Later, the hospital underwent two changes of possession as the facility was returned to the British, and then to Singapore, once the city-state gained independence.
With the building of the newer Changi hospital, the older hospital fell into disuse and was soon abandoned. A project that proposed to build a luxurious resort on the site of the hospital fell through in the first half of 2008, and till today, the hospital lies empty. Today, this vacant building is considered one of the most haunted places in Singapore. Stories abound about the strange sounds and phenomena that are experienced within the building, and many explorers return home with stories to share and a niggling sensation of a persistent shadow hanging over their shoulders.
Haw Par Villa
In the past, generations of schoolchildren in Singapore were sent on excursions to Haw Par Villa, also known as the Tiger Balm Gardens, and terrorised into good behaviour with the helpful assistance of dioramas and statues that explained the painful and deadly consequences that awaited those who misbehaved in their lives. The most famous exhibit in the theme park is called the Ten Courts of Hell. Visitors wander through a dark cavernous room lined with dioramas on both sides. Helpful notes detail the manner of torture being inflicted on the figurines: people are impaled, decapitated, and tortured as penance for the sins they had committed during their mortal lives.
If that's not enough to infect you with the heebie-jeebies, walk to the end of the park and stand before three gigantic masks whose painted eyes seem to follow your every move in a most unnerving fashion. It's no surprise that terrifying rumours continue to dog the place till today. Some of the most common rumours about the place surround the wax figurines—some believe they come to life at night, some believe that the statues are made from waxed corpses, and most incredibly, some believe within the Haw Par Villa itself lie the very gates to hell.
13 Sep 2017
Rayne
Re: Working from home decreasing or increasing productivity?
WFH needs lots of discipline! Easily will drift off to the bed, TV, games and more ...

Agree with the others that WFH + HBL for kids = nightmare!!!



Posted in General Discussions
Re: Would a US bought TV work in Singapore?
I think it would work if you convert the voltage, then it depends on whether the channels are available in your area. might help regarding VPN issues



Posted in Computer, Internet, Phone & Electronics
Re: When do you think we can stop wearing masks?

does this mean we're all pretty much doomed to wear masks while outside until there are 0 cases islandwide?

I'm afraid it'll probably be mandatory for some time, even beyond a zero case period. The approach here is .....



Posted in General Discussions
Re: Extend STVP after pass cancellation due to Covid-19 flight cancellations.

@serenoli, they gave her the extension for 30 days


Hi Jaychen,

After your wife extension for 30 days which is until April 30, did she manage to go back to your home country? If no, did you apply for STVP extension again? .....



Posted in PR, Citizenship, Passes & Visas for Foreigners
Re: 15 minutes high intensity workout at home
1 to 2 kg? Over what kind of time frame?



Posted in Beauty, Health & Fitness