Domestic and International Moving Services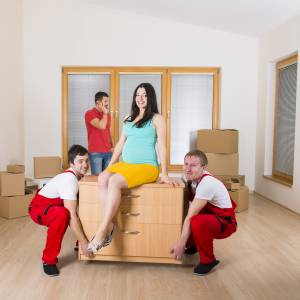 Whether you're moving across the country or overseas, the responsibilities of a moving company do not change - in all cases, customers would be need to know how the movers will pack their belongings, how fragile items are protected, the shipping method selected, and the reliability of the services provided. The key difference between the two, however, is that if you're making a domestic move, it will be much easier for you to transport perishable goods, create a stress-free move for your pets, ensure that fragile and expensive items are safely protected, or to bring your car or boat over to your new address, without having to search for an international mover that would be able to accommodate these requests.
However, as with all jobs, engaging a professional with the right experience and tools could save you the time and effort of doing so yourself, and also reduces the risk of precious belongings being damaged by being incorrectly packed or transported. Before deciding on the right moving company for the job, there are a few things that you should consider:
Research movers
Before choosing the mover, be sure to do some research to find out if the company offers the right services. The moving of furniture or assorted cartons is relatively standard, but what happens if you have humidity-sensitive equipment, or expensive and fragile antique furniture? Find out how the company packs and transports such items, and get a quotation to see if the prices are acceptable and make sure to provide a proper estimate of the number and type of items to be moved in order to get an accurate quotation.
If you're moving overseas and need to find a way to bring your pets or transport a vehicle to your new address, your selected mover might provide such services, or work with a third party to do so. If those items mean a great deal to you, it could be worth finding out more about the exact party who will be doing the moving to find out their level of trustworthiness.
Reducing risk
Hiring a professional mover could ensure that your belongings will reach your destination without sustaining any damage. Professional movers should have the experience and technical know-how when it comes to packing and transporting items of various sizes and shapes, and on top of this, are likely to have insurance just in case any valuable items are damaged during the move. When making an international move, insurance is even more important as it is easy for items to be damaged over the course of a long shipping process or during the loading and unloading process as the product is shifted between plane, ship or truck. During the moving process, items may also be lost, so where possible, try to transport important documents personally.
For those who decide to move house by themselves should also be careful not to strain themselves as the shifting of heavy boxes could result in pulled muscles or back injury.
Estimating costs accurately
Before choosing the right mover for them, many people make enquiries at different companies and get at least three quotations to compare the prices and services on offer. However, it can be difficult to make an accurate estimate of the cost of moving without knowing exactly what and how much you have to move. Many companies provide cost estimates based on the number and size of the rooms that you intend to 'move', but costs could still vary greatly if the number of items in these rooms differs greatly from their expectations or if there are bulky or fragile items that need special packing methods and transportation. Discuss with the movers beforehand to ensure that there will no surprises waiting in store. To prevent additional costs such as the loss of time or energy, get estimates of the time and manpower involved in the move.
In comparison to the time and effort of moving house by yourself, hiring a professional mover could be a very much easier and more convenient option as the move can always take place as scheduled regardless of any work or family emergencies that may crop up during this period.
19 Oct 2017
Rayne
Re: Working from home decreasing or increasing productivity?
WFH needs lots of discipline! Easily will drift off to the bed, TV, games and more ...

Agree with the others that WFH + HBL for kids = nightmare!!!



Posted in General Discussions
Re: Would a US bought TV work in Singapore?
I think it would work if you convert the voltage, then it depends on whether the channels are available in your area. might help regarding VPN issues



Posted in Computer, Internet, Phone & Electronics
Re: When do you think we can stop wearing masks?

does this mean we're all pretty much doomed to wear masks while outside until there are 0 cases islandwide?

I'm afraid it'll probably be mandatory for some time, even beyond a zero case period. The approach here is .....



Posted in General Discussions
Re: Extend STVP after pass cancellation due to Covid-19 flight cancellations.

@serenoli, they gave her the extension for 30 days


Hi Jaychen,

After your wife extension for 30 days which is until April 30, did she manage to go back to your home country? If no, did you apply for STVP extension again? .....



Posted in PR, Citizenship, Passes & Visas for Foreigners
Re: 15 minutes high intensity workout at home
1 to 2 kg? Over what kind of time frame?



Posted in Beauty, Health & Fitness