Savouring Singapore: 5 Elusive Singapore Food to Try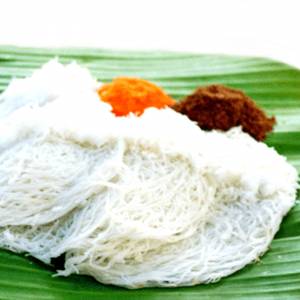 Good food, exotic cuisine and innovative gastronomic experiences aren't hard to find in food paradise Singapore, but when it comes to authentic food born from traditional practices during the era of Singapore's forefathers, it's like finding a needle in a haystack. As waves of progress and globalisation hit our shores, so come an influx of external influence which give rise to new conventions that unavoidably threaten the old. With food so inextricably linked to Singapore's identity, it is only ethical for us to reveal to you the very delicacies that played a role in supporting Singapore's food culture in the past, and which are increasingly being sacrificed to make way for the new in the present.
Here, we've handpicked a few special treats that have left a mark in Singapore's cultural history to tickle your palate and offer you a taste of lion city's past.
Putu Mayam
Putu Mayam is a bee hoon (thin rice flour noodle) hopper snack that originates from South India. This snack was traditionally prepared by hand, steamed and paired with sweet toppings such as desiccated coconut and gula Melaka (palm sugar), and served on a cut banana leaf. An interesting combination of slightly savoury string hopper and sweet toppings make this dish a flavourful number. This explains why this dish is sometimes served on Indian festive occasions like Deepavali and Indian weddings. In the marketplace however, authentic hand-made Putu Mayam is progressively becoming a dish of Singapore's wistful past.
A glimpse into the history of this dish: In the late 1920s to 1930s, Putu Mayam was peddled by itinerant South Indian vendors who rode around on bicycles while balancing the dish in a basket on their heads.
Heavens
Ghim Moh food centre
Tue–Sun, 6am–1.30pm
For updates: Facebook Page
Kueh Bong Kong
A dish of rice cakes wrapped in banana leaves, this sweet Peranakan delicacy looks a tad similar to the oh-so-common triangular rice dumplings often seen in shopping malls. The Kueh Bong Kong however, is rare as a gem. Made with fragrant gula Melaka, this rice cake slides satisfyingly into one's mouth, manifesting its smooth and silky texture – somewhat like chilled pudding or bean curd with a pleasant hint of coconut milk and fragrance of banana leaves.
Glory Catering
139 East Coast Road, Singapore 428829 | Tel: +65 6344 1749
Website: www.glorycatering.com.sg
Satay Bee Hoon
Satay Bee Hoon is a dish of rice vermicelli with piquant chilli-based peanut sauce. This invention by immigrants of the Teochew dialect is a fusion dish of two cultures – Chinese and Malay. As part of its name suggests, this dish has its origins in Satay (Malay for "skewered BBQ meat") sauce, albeit enhanced with various seafood and vegetables to balance the texture and lightness of Chinese Bee Hoon (rice vermicelli).
Fengshan Satay Bee Hoon
Fengshan Market & Food Centre, Blk 85 Bedok North St. 4, Singapore 460085
Mon–Sun, 5pm–12am
Ham Jim Peng
Contrary to what its name suggests, Ham Jim Peng contains absolutely no ham. This snack literally means "salty fried bread" in the Cantonese dialect. Somewhat like savoury doughnuts teemed with bean paste, this deep-fried fritter was indeed the doughnut of the time, hawked by humble roadside vendors. While you may still be able to find these at certain food courts around Singapore, if you are one to appreciate more culturally-authentic food experiences, Rochor Beancurd House is the place to go.
Rochor Beancurd House
232 Upper Thomson Road, Singapore 574363 | Tel:+65 8228 7020
Dragon Beard Candy
Bearing a resemblance to the beard of Dragons in Chinese folklore, the Dragon Beard Candy is a dessert made of finely threaded malt and peanuts. According to a seasoned candy maker, authentic Dragon Beard Candy should always dissolve slowly in your mouth and not require you to move a single muscle for chewing. While this candy used to be wildly popular in Singapore during the early 1980s to 1990s, the art of Dragon Beard Candy making is believed to have originated at least two thousand years before in Han Dynasty China. It is also said that this silky confection was a delicacy savoured only by emperors and few were the men chosen to learn its art. Given the handful of skilled Dragon Beard Candy makers around, such royal suggestions sure seem plausible.
For updates: Facebook Page
04 Jan 2018
Maxine Loh
Re: Ants are driving me mad!!!
Of course I am being serious. I didn't even laughed about it in my post. I really can't find any support group online.



Posted in Staying, Living in Singapore

If you want to redefine marriage, then can two BFFs marry even though it's a totally platonic relationship?

Yep. Why not? There are many 'conventional' marriages that are effectively 'platonic' because circumstances, .....



Posted in General Discussions
If you want to redefine marriage, then can two BFFs marry even though it's a totally platonic relationship?



Posted in General Discussions