Water Sports in Singapore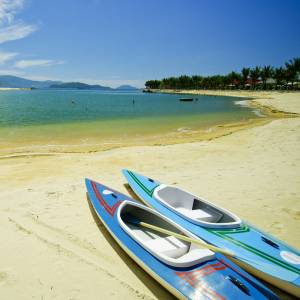 On this sun bleached island, nearly every day is a perfect day to head down to the beach. Home to 26 different swimming complexes, not counting the numerous pools in private condominiums, theme parks, hotels and resorts, Singapore certainly provides every opportunity here for one to go swimming. If you don't fancy chlorinated waters, the island is, after all, surrounded by a body of saltwater, and lies in close proximity to any number of tropical islands beset by even more water.
But if swimming seems a little repetitive after a while, why not try a new water sport? Water sports are usually more affordable and appealing overseas due to the natural beauty of those scenic island beaches, Singapore certainly doesn't fall behind in terms of the types of sports that can be done here. Bonus points to taking up water sports locally include the practicality of committing to the sport in the long term and, of course, a much shorter commute.
Canoeing
Once used as a mode of transportation used by Native American tribes, the canoe has retained its basic shape over the years. The first canoes were basic 'dugouts' where large tree trunks were hollowed into boat-like vessels that could transport people across short distances. Today, the boat has evolved into a sleek, streamlined vessel, and the practice has evolved into a competitive sport in the Olympic Games.
If you wish to go for a leisurely bout of canoeing or kayaking (similar to canoeing but with a closed deck that provides additional stability and prevents water from splashing on your legs), either visit the private water sport outlets located at beaches around Singapore and Pulau Ubin, or the outlets run by the People's Association at specific reservoirs.
Surfing
The precursor to skateboarding—an activity that emerged when surfers got tired of waiting for the waves to swell—this sport continues to enjoy great popularity all around the world since its inception in the 18th century. All it needs is a good board, an excellent sense of balance and coordination, and the force of a large wave to propel the surfer forward.
In view of the last requirement, the sport is mainly conducted in the ocean in countries that experience tall waves along their coasts. The waves around Singapore are not the most ideal when it comes to surfing, but man-made wave pools have made that a problem of the past. Today, surfing can be done at the artificial wave pools at the Singapore Sports Hub and Sentosa.
Windsurfing
The less glamorous sibling to surfing and sailing, windsurfing combines the two sports by having a sail attached to the board, allowing windsurfers to take on the same challenges that surfers do, with the happy bonus of being able to maintain their balance more easily by having something to hold on to. You can sign up for a course or rent equipment from the sports outlets at Changi beach and East Coast Park.
Scuba Diving
If you've always been more curious about what lay underneath the waters than above it, scuba diving might spark off a lifelong quest for discovery in the deep blue sea. This addictive activity could be said to hold the highest risk for participants if the compulsory safety practices are not observed, but at the same time, it's certainly one of the most exciting activities that would present endless new vistas and unusual sights with each dive. While the waters around Singapore are not suitable for scuba diving, you can sign up with any of the local dive centres to go for courses or to participate in diving trips to nearby islands.
17 Jan 2018
Rayne
Re: My Nightmare Experience with a Property Agent
It's to the advantage of the local and expat landlord population.

Only when we see someone notable and embarrassing for the Singapore govt stitched up will this change. This is partly why local landlords are not keen to rent to certain parties who have influence.



Posted in Property Talk, Housing & Rental
Re: Will Darlie toothpaste be next?
I remember when that blew up over here. In fact, if we search the archives here around 2016 or 17 I believe there was a thread on it as well.


Italy responded! https://www.youtube.com/watch?v=0bDqAkgAblI



Posted in Leisure Chat, Jokes, Rubbish
Re: My Nightmare Experience with a Property Agent
Hi Lisa,

They offered to return a total of $2683 back to me. This was from a deposit a 5600 so total deductions of just over 3000 sgd. In the end I accepted this offer as the only alternative would be to send a letter of demand and then proceed to the Small Claims Courts.

It's a shame the .....



Posted in Property Talk, Housing & Rental