A Guide To The Most Accessible Attractions In Singapore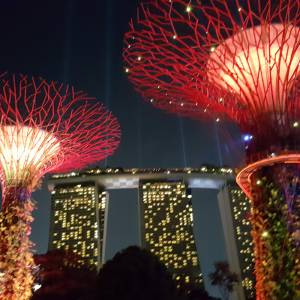 Singapore capitalises on its melting pot of cultures, and as a result of this, many expats have relocated to the city in order to enjoy what is becoming one of Asia's most in-demand destinations, on a more permanent basis. With Singapore's train system, known as the Mass Rapid Transport System being fully wheelchair accessible, and ideal for those using mobility scooters, it's easy to see why Singapore is becoming a popular destination for both travellers and expats with reduced mobility. In addition to being able to seamlessly manoeuvre around the city, it is also helpful to know of the accessible attractions which you can enjoy. Here, we've put together a quick guide to the most accessible attractions in Singapore for whether you're travelling or relocating to the island city.
Gardens By The Bay
This particular attraction is an extremely popular one with tourists and residents, and with the Flower Dome and Cloud Forest conservatories making up a beautiful, natural attraction, it's easy to see why. Fortunately, those with reduced mobility don't have to miss out on this beautiful attraction, as a free shuttle service between Bayfront MRT station and the conservatories is available for ease. In addition to this, the pathways around the conservatories are wide enough for both wheelchairs and mobility scooters to navigate, and with non-slip gantries helping to aid safety, these modern public gardens offer the best in accessibility.
VivoCity
If you're looking for a jaw-dropping shopping experience, that you can navigate with ease, then VivoCity is the ideal choice. This particular shopping mall really does pull out all the stops when it comes to creating a seamless experience for their less-mobile visitors. With various wheelchair accessible routes, lifts and restrooms located throughout the mall, as well as spacious pathways to help accommodate wider wheelchairs and mobility scooters, VivoCity really does everything it can to ensure that all guests are catered for appropriately.
Singapore Flyer
Whether you're taking a trip to Singapore, or you're living there as an expat, a trip on the Singapore Flyer is a must. This is a great way for all visitors to obtain a bird's-eye view of the cityscape, but that doesn't mean that those who are wheelchair bound have to miss out. A dedicated car park, ticket booth and boarding area are available just a short distance from the lift to the Flyer, and to make access even easier, staff will slow down the speed of the wheel as those with reduced mobility are boarding, in order to ensure a seamless entry.
National Museum Of Singapore
If you're a permanent resident of Singapore as an expat, then this will be of particular interest to you. The National Museum of Singapore offers free admission to permanent residents in the country and their first care-giver where appropriate, which provides a great opportunity for those with reduced mobility to visit. Travellers shouldn't fret however, as even though they are not a permanent resident, they will receive discounted entry of just S$5. As a whole, the museum is designed specifically to accommodate wheelchair users, as well as offering numerous designated car park spots.
06 Feb 2018
Damien Troy
Re: Ants are driving me mad!!!
Of course I am being serious. I didn't even laughed about it in my post. I really can't find any support group online.



Posted in Staying, Living in Singapore

If you want to redefine marriage, then can two BFFs marry even though it's a totally platonic relationship?

Yep. Why not? There are many 'conventional' marriages that are effectively 'platonic' because circumstances, .....



Posted in General Discussions
If you want to redefine marriage, then can two BFFs marry even though it's a totally platonic relationship?



Posted in General Discussions