The School of the Future: Achieving the Highest Academic Results with the Speed Learning Approach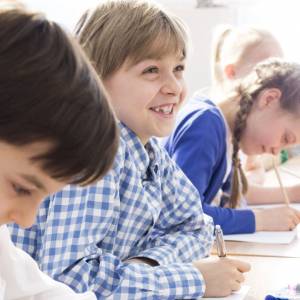 Comfort and pleasure or the beauty of witty ideas and the blessing of creativity, what is more important? That is not the question for thoughtful parents when it comes to choosing a school.
When comparing different international schools, to their surprise parents often find the academic standards unacceptably low. They realize that there is sometimes not much of real a education behind much of the glittering luxury school facilities and redundant entertainment programs. How about teaching kids the idea of resilience and that, in reality, it's all about discipline and efforts if you are going to live your own life? After all, school is not supposed to be a five stars kids hotel combined with fancy sport complex. Socialization is important but only as a part of education. Your own voice is essential but what it will be look like without knowledge and erudition?
The 5 Steps Academy has its own answer. It is the only international school in Singapore focusing on Mathematics and Science. It provides a world-class multilingual well-rounded education founded on academic rigour and complemented by rich co-curricular programmes.
One of the key factors of the 5 Steps student academic success is the proprietary educational methodology 5 Steps SystemTM. The idea behind the system is to speed up mastering curriculum, and, on the other hand, to encourage students to think out of the box, to believe in themselves, to persist in problem-solving, to take thoughtful risks and to celebrate small wins.
What makes 5 Steps Different is a strong focus on academic excellence, particularly, in Mathematics. Mathematics is the queen of sciences. It helps children develop patience and grit, critical thinking skills and techniques to deal with non-standard, challenging tasks. With systemic thinking and math skills and tools, students are able to structure any kind of information, demonstrate brilliant logic and creativity, and achieve remarkable results in almost every subject, including arts and languages. Most of the students who are near to completing the school Math curriculum proved to master Physics, Chemistry, Biology and Economics within 1.5-2 years. This unique opportunity enables students to spend much more time immersing themselves in subjects of their choice to become young professionals and enjoy fulfilling their dreams, saving years of unnecessary activities.
Speed learning is a collection of methods of learning, based on recent scientific research which allow to attain higher rates of learning without reduction of comprehension or retention. 5 Steps System encompasses the most powerful techniques in reading, observation, listening, conversation, questioning, and reflection, combined with the latest technological breakthroughs. The general idea is to use a sequence of techniques that have been shown to provide the most efficient path to master the curriculum. Therefore, there are no age limits at 5 Steps Academy. Due to 5 Steps SystemTM, its students hold Singapore Records in mastering school Maths, Physics, Chemistry, Biology and Economics and normally finish these subjects at 12 years-old with outstanding results. 5 Steps prepares its students to finish school syllabus as fast as possible and get their As in IGCSE or other examination boards tests, uncovering their talents and preferences. In modern society kids' physiological and mental maturity is normally lagging behind their physical maturity which causes lots of problems. 5 Steps balances it.
The best teachers make the biggest difference. Imagine a professional and caring teacher that holds a PhD teaches your child personally in a fun and inspiring manner. At 5 Steps Academy it's absolutely real. Its highly qualified teachers are passionate about education excellence.
5 Steps has an exceptionally high (1:8) teacher to student ratio. This is crucial to achieve highest possible academic results and help children reach their full potential. Even Jesus Christ had only 12 students, how can a human teach more than that efficiently? Students learn differently. Small classes allow teachers to cater to each students personal style, to provide individualized support and use the power of dialog in order to create the most conducive learning environment for students' success.
Attractive fees. $1,800 per month. No deposits. No hidden fees. Monthly payments. Parents don't pay for school holidays (dates are flexible and parents can choose time and duration), meaning the total cost is estimated to be about $15,000 per year, or even less, depending on how holidays are arranged.
5 Steps students get the best of international education with the state-of-the-art comprehensive curriculum uniquely designed to cater to each individual child's needs and allowing students to successfully transition to any other school or to be admitted to leading universities anywhere in the world. The curriculum is thoroughly examined by MOE and provides the unique opportunity for students to sit for exams on almost any examination board, be it Cambridge (UK), College Board (USA), SACE (Australia) etc.
Cutting edge technology is fully integrated into the curriculum at every grade level with 1:1 iPads for students. Parents can track the students progress in real time.
Aside from these innovations, the most important goal of the 5 Steps Academy is to instill an enthusiasm for lifelong learning in preparing students for the challenges which lay ahead in life. 5 Steps Academy encourages its students to build on their natural curiosity and develop the ability to self-learn (learning how to learn) as well as to cultivate strong leadership, communication, and interpersonal skills in a world-class learning environment of mutual respect.
5 Steps Academy teaches students the value of resilience, high social, moral and ethical standards, to help them grow into independent, self-confident, caring, knowledgeable and principled people, well-equipped to face the challenges of the 21st century.
In a nutshell, 5 Steps Academy is a school of the future, offering the best educational experience with the focus on Mathematics and Science by means of scientifically proven accelerated learning techniques providing fastest academic results.
Address: 22 Orchard Road, #01-01, Singapore 238885
Tel: 6257-0500, 8655-0005 (TEXT NOW!)
Email: info@5steps.academy
Web: www.5steps.academy
16 Mar 2018
Brenda Lau
Even if retail shops are allowed to open but borders are still closed, I do think tourist shops could be looking into selling other stuff otherwise they may just be having no customers. You know those selling Singapore souvenirs and fridge magnets that says 'I love Singapore'. I've seen quite a .....



Posted in Business in Singapore
Re: Anyone resides around Haw Par Villa?
I've never had to walk past Haw Par Villa at night but I pass by it on the bus and the front seems very well lit even late because of the bus stops.



Posted in Property Talk, Housing & Rental
At $800 that listing is most likely fake, or otherwise is just for one room in a unit.
Ads on this site can actually be pretty good (I found my place right now on here), but it's important to ensure they're legit. One way is to look at the picture quality--too nice and it might be generic .....



Posted in Relocating, Moving to Singapore
I don't know about the police report, but somebody I know recently had to appeal their EP application this month and they got a response in a bit over a week (I think seven working days to be exact)



Posted in Careers & Jobs in Singapore
Re: When do you think we can stop wearing masks?


I think the mask rule may stay till a vaccine is found. So I guess the whole year might be a masking up year.

I just hope they moderate its compulsory usage a bit, .....



Posted in General Discussions