Holiday Options for Ex-Pats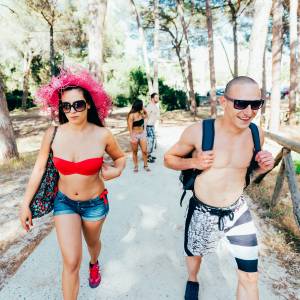 When you move to a stunning location like Singapore, you probably feel like you're on a permanent vacation! Living in a new country is a thrilling experience, and there's certainly no shortage of things to do and places to visit here. However, there's still a big old world out there full of opportunity and new experiences, and Singapore is an ideal location from which to travel to anywhere in the world. Our award-winning airlines have some of the best reviews and ratings across all industry and consumer polls, so why not take advantage of having one of the best airlines in the world at your disposal.
Choosing a destination
This decision is a very personal one because it will depend so much on your preferences and areas of interest. One of the first things many ex-pats do is start exploring the countries near to Singapore, like Malaysia, Thailand, Hong Kong, the Maldives, India and China. These are just some of the places geographically close to Singapore, which gives you an idea of how well-placed the country is.
It's not too much further to venture over to the African continent, and maybe take a safari in one of their many exceptional wildlife parks. Or you could head Down Under to Australia and New Zealand, places that for British ex-pats could be top of the list, but which are a long old trek from the UK.
With the wonderful warm and sunny climate of Singapore being the backdrop to your everyday life now, you might feel like a change of climate once in a while. Taking a holiday in colder countries like northern Europe or Canada might make a refreshing change – and you'll appreciate the warmth of Singapore all the more when you return! Or if you can't decide, how about a cruise? You can then visit a whole range of different countries in one trip, in luxurious surroundings.
Choosing the kind of holiday to take
There are many more options for the style of holiday and accommodation these days than even a few years ago. Head for the cities for luxury hotels and all the amenities, or take a road trip where you can get into the heart of a country and its culture. If you head to the United States, recreational vehicles are ideal for this, essentially being a luxury home on wheels. There are many places where you can hire an RV for your holiday, and some fantastic RV parks for stopping overnight, such as the Stella Mare RV Resort on Galveston Island. There are many different camping options, from simple tents to fully fitted tepees at glamping resorts, or you could go for a lodge or treehouse in the forests. In short, whatever you feel you want to do, there will be a holiday to match.
However perfect you find life in Singapore, there are always other places to explore and experience. Take the opportunity of living so close to so many amazing countries, and make the most of all they have to offer.
19 May 2018
Adrian
Re: My Nightmare Experience with a Property Agent
It's to the advantage of the local and expat landlord population.

Only when we see someone notable and embarrassing for the Singapore govt stitched up will this change. This is partly why local landlords are not keen to rent to certain parties who have influence.



Posted in Property Talk, Housing & Rental
Re: Will Darlie toothpaste be next?
I remember when that blew up over here. In fact, if we search the archives here around 2016 or 17 I believe there was a thread on it as well.


Italy responded! https://www.youtube.com/watch?v=0bDqAkgAblI



Posted in Leisure Chat, Jokes, Rubbish
Re: My Nightmare Experience with a Property Agent
Hi Lisa,

They offered to return a total of $2683 back to me. This was from a deposit a 5600 so total deductions of just over 3000 sgd. In the end I accepted this offer as the only alternative would be to send a letter of demand and then proceed to the Small Claims Courts.

It's a shame the .....



Posted in Property Talk, Housing & Rental