How to Import American Items When Moving to Singapore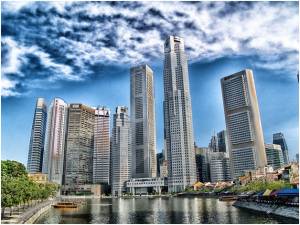 Moving to Singapore from America is going to be an exciting, yet possibly daunting time and you will need to figure out how to relocate your personal belongings as you work to import them to the country. Everything you bring to Singapore is controlled by Customs and all goods are subject to duty payments or Goods and Service Tax (GST). Individuals also need to acquire a Customs permit to import goods and to pay the required taxes on them.
Let's take a quick look at how you can import American items to Singapore when you make your move.
First, you will need to register to import goods into Singapore and you can do this by registering with the Accounting and Corporate Regulatory Authority of Singapore. This is especially a need if you are a business or plan to import business property. Once this is taken care of, you will need to submit documentation of all property you plan to import and find out what the GST fee or import duty fees will be. All household goods will incur a GST when bringing them into Singapore.
GST Relief
You can apply for relief from paying the GST by showing proof that you are one of the following:
A foreigner relocating to Singapore to live or to migrate
A returning Singaporean resident returning home after living overseas
To obtain the relief once you prove those things, you need to show you will be changing your permanent residence to Singapore, that you own the property, have owned the property for no less than three months and will be shipping everything via sea or air.
Not Eligible for GST Relief
Some items are not eligible for GST relief and will need to be paid for. These include:
Motor Vehicles
Aircraft (private)
Boats
Yachts
Liquors
Commercial Goods
Shipping Personal Items
To ship personal goods by sea or air, you will need to speak to Singapore Customs and you must file a Declaration of Facts (DOF) which not only shows what you are importing, but also allows Customs to check and see if you are eligible for relief from GST.
Receiving Your Property
Depending on whether you ship via sea or air, you will need to arrive in person, or you may have your agent arrive, and pick the property up at the PSA shipping port (if by sea) or the Changi Airfreight Center (if by air). The property, along with the approved GST relief form or payment for taxes will need to be handled at this time before the property may leave the port.
Importing a Motor Vehicle
Many people visiting Singapore long-term or making a permanent relocation have a need to import a motor vehicle for personal use. First, you need to speak to a reliable auto transporter in the United States to start the process of shipping a motor vehicle.
An international moving company such as A-1 Auto Transport can assist with filing necessary documentation and scheduling the vehicle for transport to the exit port, passing customs and shipping to Singapore for delivery at your new residence. For best results, start planning this move early so you have everything taken care of in time to ship when needed.
To ship a car, you will need the following:
Bill of Lading
Commercial Invoice
Inspection Certificate
Odometer Reading (Photos will suffice)
Engine Chassis Number
Registration of Vehicle
Vehicle Title
Proof of Shipping Charges
Customs will send the owner an approval letter, and once received, GST and import duties will need to be paid before the vehicle can be shipped. Once the vehicle has been received and removed from the warehouse upon arrival, owners will need to check with the Land Transport Authority (LTA) for registration requirements to be able to drive in Singapore.
Importing Pets
Pets incur the GST just as all other imports. You may apply for relief of the GST when importing a pet under the following circumstances:
The pet is brought by air and the CIF value is not more than $400. You will not need a custom's import at this time. (This is for those planning extended stays or vacations in Singapore)
If the owner of the pet is relocating to live in Singapore, and has already been given relief for importing other personal goods, then relief can also be given for the pet.
You will need the following documentation to bring the pet to Singapore:
Passport
Proof of residency
Proof of overseas study (or employment)
Proof that all fees are paid
Items That Are Prohibited for Import
Some items are prohibited from being brought into Singapore and these include some of the following:
Chewing gum
Police scanners
Firecrackers
Military communication equipment
Tobacco (all forms including chewing, smoking etc.)
Controlled drugs
28 Jun 2018
Singapore Expats
If there are many already incorporated in Singapore then obviously there are experts already here who know how to set it up. Maybe you aren't talking to those who know. I cannot believe those already set up were able to do it without any legal help and if they did, maybe you are not contacting the .....



Posted in Business in Singapore
I don't understand what you are trying to say with your cryptic message.




"there are .....



Posted in Business in Singapore
Re: May 1, 2021. Covid 19 community cases. What Happened?
Vietnam is now doing 21 day quarantine.



Posted in General Discussions