Moving Into Your First Home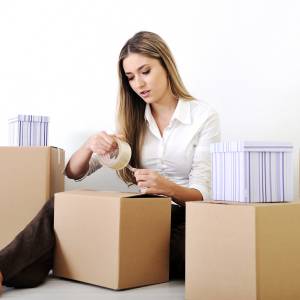 After living in the family home for all your life, saving every penny, and finding that starter apartment or house that suits your needs, it's finally happening; you're officially flying the nest. Moving out of mum and dads is an exciting and magical time as we get to experience true independence or, perhaps, we get to play house with the person we love the most. It is truly a milestone that you can be proud of. In the midst of this happiness, however, there are practical realities that often get pushed to the side to worry about later. This article will help you face these realities head on so moving into a wonderful new home is nothing but a breeze, and even assembling the flatpack furniture will be done with a spring in your step.
Everything and the kitchen sink
When we pack a bag to go on holiday, or even just stay at a friend's house, there is always something we forget. Our toothbrush is still sitting in the holder at home, or that spare pair of jeans are left on the line. When you move into a new house, forgetting essential items is a hassle you can do without as the last thing you need is to be cooking dinner after a busy day of moving in to find you forgot to bring the pots and pans. This is a problem easily remedied by knowing what you need long before you move in. One of the easiest ways of doing this is printing off a checklist and ticking off the items as you pack as that way you'll know what you still need to buy when you're settled in. An alternative way of doing this is to make of note of all the utensils, cleaning items, and household amenities you use in an average day and make a checklist of your own, tailored to you.
Being covered for those rainy days
When we move into our first ever property, as exciting as it is, this new adventure can pose challenges to us that we haven't prepared for. As we get used to this independent living, the water bill could slip our minds, or we could find damp in the ceiling as we try and keep on top of everything else; after all, we're only human, and these things will happen from time to time. One way of preparing for these unforeseen costs is to get a credit card, but being a young person, it is a sad fact of life that your credit score is not yet at the high level we would like it to be which means it can be hard to secure a credit card to help us cover the unexpected events and costs of running our own homes. A solution to this is to find credit cards that cater to young people developing their credit score. By looking at the advice from Bonsai Finance, you can make an informed, logical, and beneficial decision to help keep you afloat as you embark on this new life journey.
Flying the nest solo
If you are moving into your new home to live alone, this can initially seem like a scary prospect, especially after being surrounded by parents and siblings for the whole of your life previously. However, living alone is an amazing time, and you need to remember to make the most of being independent. In this home, you make the rules and only have yourself to report to; the freedom will be unlike any other you've had before, and this is an exciting thing. One very important thing to remember is to go out and not isolate yourself in these new surroundings. When you first arrive, there may be a degree of loneliness you will have to confront, but this will pass as you make friends, get used to the new environment you're in, and learn to love independence.
Making a life together
Another possibility is that you are taking the big leap and moving in with your boyfriend or girlfriend. This is not only a life milestone but a milestone for, what likely is your first proper relationship. As we get swept up into the domestic romance, we can sometimes gloss over how much a relationship will change when we live together and lose sight of what it means to live with a romantic partner. The first thing you need to be prepared is that the excitement of seeing them after long periods of time will go, but this can be replaced by the new excitement of making a life together. Living with your romantic partner is a chance for you to grow closer and look forward to your bright future together, whatever that may entail.
A fresh start
Whilst some of us liked to stay close to where we grew up; many choose to start afresh in a new city or town, diving head first into the unknown. When embarking on this thrilling prospect, it's good to know how to make the most out of moving somewhere new, whether you are making a move with someone you love or taking the plunge all by yourself. An easy way of doing this is to get involved in a local club or sports team to get you talking to the locals and making the social connections essential for making your move to a new place a success. If nothing else, it is an opportunity to learn a new skill, language, or game which could prove a hobby for life.
The most important thing to remember when moving into your first home is that you have achieved an amazing feat that you can be proud of. This is a fresh chapter in your life of which you are the sole author, so it can be anything you want it to be. Get out there, well prepared for those rainy days and ready to make the most of the sunny ones.
06 Jul 2018
Singapore Expats
Benefits of using the best mini stepper?
If you enjoy exercising at home, a can be a great piece of equipment. Most of them not only save small space, but also provide relatively effective training. Here's more information on mini steps and some tips.

There are .....



Posted in Aesthetic Enhancement & Cosmetic Surgery
Re: Recommend general surgeon/clinic


Wasn't BBCDoc able to answer your questions, neither here or via PM?


He asked me via PM and i had explained in detail


And also .....



Posted in Staying, Living in Singapore
Re: Recommend general surgeon/clinic

Wasn't BBCDoc able to answer your questions, neither here or via PM?


He asked me via PM and i had explained in detail



Posted in Staying, Living in Singapore