Living as an International Student in Singapore - The Frugal Way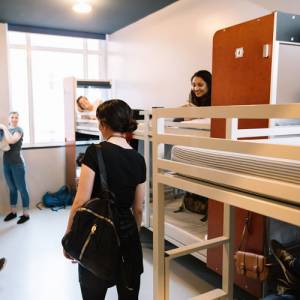 Singapore is an incredible city. Metropolitan and vibrant, people from all around the world try to make it their home. Situated in South-East Asia, the small island is well-known for the incredible mix of cultures that make it so appealing to an increasing number of people. And the amazing thing about Singapore is that it has an incredible education system, giving the world some of the best-prepared experts in multiple domains. The business and industry are also well-developed, opening palpable horizons for all students that come here to finish their degrees. Unsurprisingly, few of them look forward to going back to their home countries, as the prospects they have here beat those present in their origin countries. The workplace culture in all enterprises established here is an intricate mix of global perspectives rooted in traditional Asian beliefs and values.
But before landing in Singapore and starting your new, successful life as an international student, you have to follow some of the tips and tricks below.
Get your paperwork in order
You have to be fully aware that, in Singapore, a simple tourist visa won't be enough to study here. You will have to be the holder of a Student Pass, which is always issued by the Singapore Immigration & Checkpoints Authority. This will only be necessary after you get accepted into one of the Universities in Singapore. Luckily, the whole process can be managed online, by accessing this platform.
If you want to supplement your income while studying in Singapore, the good news is that part-time jobs are also permitted under the same visa and also under certain conditions. Each university has a designated office which is dealing with such matters, so before applying for a part-time job make sure to check in with the designated office. It's worth noting the fact that for a part-time employment you need papers to prove the university authorization. This seems like a hassle, but the process and rules are only implemented to assure a perfect work-studying-life balance for each international student and not only.
Approximate living costs
While being a perfect university centre, the living standard is quite high, the city has some very high scores in all crucial areas. Singapore is in the top 10 the most expensive cities to live in the world, although other Asian cities are more expensive – Tokyo and Osaka. The annual living costs of a student in Singapore can be as high as S $4,700. Like in many other cities from all around the globe, most of your income will be spent on rent, although you could consider finding an accommodation facility with a strong focus on foreign students. These are more likely to have affordable rental rates than other housing options available.
The food in Singapore is rather affordable, especially if you eat in or use your University's food outlets. If you prefer eating out, make sure to search well for your restaurant of choice, as the prices vary widely, from S$10 per meal, to considerably higher scores in exclusive establishments.
To avoid unnecessary fees in Singapore, you might want to get a bank account. There are numerous establishments you can visit in your search for the most appealing packages for students.
How to find a suitable living place?
For international students, there are plenty of housing options they can rely on, which are also quite affordable.
On-Campus Halls of Residence – this is a very affordable option, but unluckily, the demand exceeds the available places. Generally, this option is fully reserved to full-time post-graduates. Also, new research programmes students are reserved some on-campus places. The accommodation provided by universities is oftentimes restricted to a year's interval, a period after which you will be forced to find other housing options. The same goes if you are a student moving here with your family or partner. Such housing options are not suitable for couples or families.
Private shared flats – if you search well, you might be fortunate enough to find a private shared flat, another affordable option, which you will be renting from the owner directly. Keep in mind that this is an affordable option as long as you share it with other students. Otherwise, the costs might be a tad too high. The monthly approximate rent per student can reach approximately S $400.
Private hostels – this is another affordable option which you can take into account, but make sure to see the facility before renting a room. These vary incredibly in conditions and facilities, and you want to make sure that you rent one that meets your usual living standard.
Housing Development Board (HDB) flats – these vary in monthly rents quite a lot, from S $250 to S $1,000. However, in many cases, these are a cheaper option than private flats.
Private Flats for alone living – this may be the most expensive option that you have, and you can easily spend more than S $1,000 per month.
Culture, entertainment and day-to-day living in Singapore
In spite of its relatively small size, the country is notorious for the multiculturalism and the intricate mix of traditions from different cultures, but also modern, cosmopolite views on life and entertainment. The for main ethnic groups account Malaysians, Indians, Eurasians and Chinese, to which we should add an increasing number of representatives of western cultures that come to Singapore to find a more developed economy and society. Singapore is filled with multiple shopping malls, museums, art galleries, bars and restaurants, all designed differently, all encompassing various tastes. If you are keen on sports, you should consider one of the multiple sports centres, scattered all around the city.
These are some facts that will help you live a decent life in Singapore as a student. While you cannot decrease the living costs completely, you can at least try to follow our tips and tricks when it comes to finding a suitable accommodation facility. As previously mentioned, rent accounts for most of the expenses of a student, on a monthly basis.
26 Jul 2018
Singapore Expats
Re: Ants are driving me mad!!!
Of course I am being serious. I didn't even laughed about it in my post. I really can't find any support group online.



Posted in Staying, Living in Singapore

If you want to redefine marriage, then can two BFFs marry even though it's a totally platonic relationship?

Yep. Why not? There are many 'conventional' marriages that are effectively 'platonic' because circumstances, .....



Posted in General Discussions
If you want to redefine marriage, then can two BFFs marry even though it's a totally platonic relationship?



Posted in General Discussions