6 Must-haves for first-time expats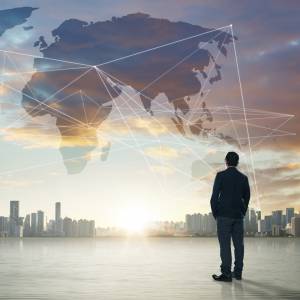 When you're moving abroad for the first time, there's an awful lot to think about. From organising accommodation to figuring out tax and visa rules, it can be easy to get bogged down in bureaucracy and overlook simple ways to take the stress out of international relocation.
If you're organising your very first international move, there are a handful of very simple ways to take the stress out of settling in.
From things you can install on your phone to the 'big things' to set up before you go, here are six definite must-haves for any first-time expat heading abroad.
1. International bank accounts
When you're trying to juggle organising accommodation, lining up your new job and planning the logistical exhaustion of moving yourself and your possessions to a whole new country, sometimes there are everyday essentials that get overlooked.
In many locations, getting credit as an expat can be nigh on impossible, and just because you've opened up a local bank account, that doesn't mean to say you'll be able to use it in the same way and to the same extent as bank accounts you've previously had.
International bank accounts are a complete essential when you're commencing an expat adventure, making it pain-free and effortless to receive salaries and make payments across borders. HSBC is a popular pick, operating in 30 countries and offering single log-in management for multiple worldwide accounts, but shop around to see which bank best suits you.
2. Instant translations and language apps
Unless you're already fluent in the language of your new location, you're going to benefit from practising a new native tongue. And while you're learning, you're going to need a hand translating things like signs, menus and other written text.
Google Translate is an invaluable free translation service that can instantly convert anything your camera is seeing from foreign-language copy into more familiar words and sentences. Though not always flawless, it's a big help while you're settling in and even offers the option of full offline functionality in case you don't yet have an international SIM card in your phone.
When you're not busy converting restaurant menus and signage into a language you understand, it's a must-do to get practising the lingo of your new home. Apps like DuoLingo and Beelinguapp are great for beginners, with free versions and plenty of exercises covering everything from dining out and tourism to colloquialisms.
3. VPN apps
WhatsApp? Check. Google Translate? Check. But have you got an app that can connect you with all the TV shows you've been watching back at home? One that can also get you discounts on flights to visit relatives, and work its way around geo-restrictions on news content?
To ensure that you can still access the internet freely wherever you are, and that you won't lose track of the TV shows you love, a virtual private network or VPN app is definitely on the must-have list.
Though they're really supposed to be a privacy and security tool – and they do a great job of turning the dubious public WiFi at airports and coffee shops into your own secure network – most people abroad use VPNs for their other benefits. Because they connect users to the internet via servers in other locations, they allow you to browse the internet as if you're actually located where one of those servers is.
That means you can use an American server to watch US TV shows, or one in the UK for your British fix even if you aren't in those countries. Equally, if you're moving to a country where internet use is heavily restricted, it's likely you can get around the restrictions by switching your VPN app on. As a real bonus, the location spoofing mechanism also means you can access cheaper flight prices which are sometimes offered to people in other countries – so when you're flying home to see family or simply jetting off on a trip somewhere, you can shop around for better deals.
4. A stash of any medicines you need
If you take a particular prescription medicine, or even a regular over-the-counter product, make sure you go armed with as much of it stored for use as you can. It can be more difficult than you'd think to find the medicines you usually take, or simply get a brand new doctor to prescribe them for you.
By going prepared with a backup supply of any medications you regularly need or use, you can make sure you don't end up caught short. You may also need to think about an international health insurance plan, depending on where you're headed, to make sure you can always access medical care easily when you need it.
5. Reliable video chat
Though a big part of life as a new expat is making friends with people in your new location, and switching off from social media feeds that are full of life in your previous home, having a reliable video chat service is definitely a must. Unless you've set out to disappear completely, most of us are keen to keep in touch with friends and family elsewhere in the world. Rather than spending cash on expensive international phone calls, or relying entirely on text messaging apps, it almost goes without saying that video chat services like Skype and Google Hangouts are definitely worth installing on your phone or computer.
Depending on where you're moving to, you may need to ask those you wish to chat with to install different apps than they're used to. In China for example, WeChat and Pinngle are the go-tos, though you can still use Skype if you've installed it before setting off (as it doesn't appear in Apple's App Store or Google Play Store in China).
6. A great navigator
Finally, one more piece of software that's invaluable while you're getting your bearings; be sure to install a great navigation app. CityMapper and Transit are popular for their clear and detailed information on public transport services, the cost of different ways to get from A to B and estimated travel durations, though Google Maps also has a decent functionality for helping you find your way around.
Many navigation apps allow offline use, provided you've downloaded a timetabled map before going offline, though it's worth noting that any live travel updates won't be passed on to an offline user.
Eventually, you'll be fully settled in and living like a local, but while you're still getting your bearings it's definitely fair to say that the last must-have in your expat armoury should be navigational help.
29 Jul 2019
Singapore Expats
Re: PR Approval Probability 2022
Maybe it depends on their area of research. Anyway, I guess the take away is that there are some factors which might give you an edge, but still nothing is guaranteed.



Posted in PR, Citizenship, Passes & Visas for Foreigners
Re: PR Approval Probability 2022

One small add on - Applicants with research/PHD background are in a totally different bucket which will likely give them an edge. Not saying everyone will get it, but many would.

Hate to burst your bubble but I feel PhD .....



Posted in PR, Citizenship, Passes & Visas for Foreigners
Re: PR Approval Probability 2022

Additionally, SF, I am guessing that doctors are also not going to be thrown into the same bucket as IT professionals. The former I think are far more scarce and the latter are a dime a dozen.


Surely, yes. There will be .....