Tanglin's IB Diploma Results Amongst Best in the World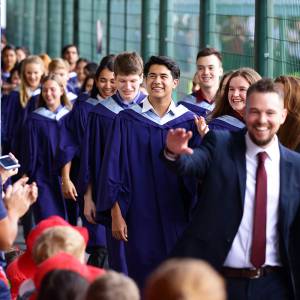 Well done to the Class of 2019 for their outstanding International Baccalaureate Diploma Programme (IB Diploma) results this year. We are extremely proud of our students' achievements as 100% successfully achieved the full IB Diploma compared to the world average of 77.4%.
This year, the average score was an outstanding 38.1 points out of 45, well above the world average of 29.63.
Further, two students achieved the maximum 45 points, placing them in the top 0.13% of students in the world who achieved this incredible result.
Other achievements include:
• Nine students scored 42 points of more
• Over 60% of the cohort scored an outstanding 38 points or more
• 96% of our students scored 32 points or more
• An impressive seven students achieved the prestigious bilingual Diploma.
Once again, our students' IB Diploma results have surpassed global and Singapore averages with Tanglin Trust School positioning in the top 3 international schools in Singapore over the last three years and amongst the top 10 independent UK IB Diploma schools in 2018.
Craig Considine, CEO of Tanglin Trust School said: "These provisional results reflect the considerable hard work, commitment and effort of our students who over the past two years have undertaken a 4,000-word self-researched essay on a topic of their choice and an independently managed project as part of the school's Creativity, Activity, Service (CAS) programme, in addition to studying six specific subjects. Our students are now equipped to take responsibility for their own learning and engage meaningfully in real world situations."
We must also thank our dedicated, resourceful and enthusiastic teachers, many of whom are IB Diploma leaders, who support our students in finding their passions and realising their potential.
We congratulate each of our IB Diploma graduates, many having secured their first choice at top universities around the world. We wish them every success as lifelong learners who have the skills to contribute with confidence to our world.
For more information about Tanglin Trust School's Sixth Form and IB Diploma Programme, please contact our Admissions department.
30 Jul 2019
Tanglin Trust School
Re: Highest educational certificates [PR Application]
hi
very good
https://panteaco.ir/services/%d8%b4%d8%a7%d8%b1%da%98-%da%a9%d8%a7%d8%b1%d8%aa%d8%b1%db%8c%d8%ac-%d8%af%d8%b1%d9%85%d8%ad%d9%84-%d8%a7%d8%b5%d9%81%d9%87%d8%a7%d9%86/



Posted in PR, Citizenship, Passes & Visas for Foreigners
Re: Finnair recruitment at jobsdb.com.sg
Anyone going for the swim test this coming Tues 9.30am to 1pm ?



Posted in Airline Careers
Re: 25 old Female wants to make friends in singapore

Hi, I am Indian girl, 22 year old, I'm looking to make some friends and hang out with! Let me know what you think!




Posted in 20's Club
Hello! Anybody went for medical on 13/14th of Jan?? Please PM me :)



Posted in Airline Careers
Re: Sponsoring Dependant Pass (DP) for newborn child
yeah, i got the DP for my son in mid 2018 with a consideration of MoM, with a support document from my employer citing that my salary would meet the eligibility criteria in the subsequent assessment.

but there was no option to combine the salaries of parents to meet this MoM's criteria.

Regards



Posted in Relocating, Moving to Singapore