Non-tourist places to visit in Singapore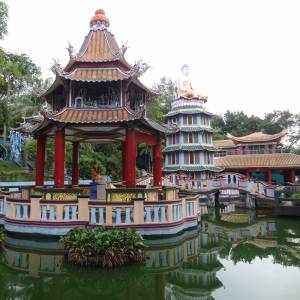 From futuristic Supertrees to the Marina Bay Sands hotel, Singapore's top attractions rank among the world's most iconic sights. Some of the loveliest places in Singapore, however, are overshadowed by these attractions, and remain under the radar to all but the most determined of tourists. Rather than fighting your way through crowds, it might be worth taking the time to explore the following places at your leisure instead:
Old Hill Street Police Station
Gazetted as a national monument of Singapore, the former police station is a popular location for those looking to take an Instagram-worthy shot with its rainbow-hued window shutters. Apart from its attractive façade, the building's interior incorporates striking Italianate elements such as arcades, courtyards, loggias and balconies. The building has since been converted into the headquarters of the Ministry of Communications and Information, and the Ministry of Culture, Community and Youth, but you can still soak in the history of these old police quarters which had even been occupied by the Japanese military police once. The main courtyard of the building is now an air-conditioned space called the ARTrium where exhibitions and performances are regularly held.
Parkview Square
One of the most recognisable buildings in Singapore, Parkview Square is fondly called the 'Gotham building' by locals who associate the glamorous Art Deco design of its building with something straight from Batman's Gotham City. Even before you get close to it, you will notice four tall statues, each bearing a globe in his hands, on either side of the building. More statues can be seen in the building's open plaza, where you might spot world-famous luminaries such as Abraham Lincoln, Chopin, Dante, and Salvador Dalí. Once you enter the opulent lobby with its intricate details and 15-metre high ceiling, you'd be hard pressed to remember that you are in an office building. Parkview Square also houses the stunning Atlas bar and the Parkview Museum which opens from 12 to 7pm daily except on Sundays, so you'd have a legitimate excuse to loiter in the building for as long as you like.
Mustafa
For a taste of 24-hour shopping, Mustafa Centre in Little India is the place to visit. The behemoth shopping centre began as a simple retail store on Campbell Lane in 1971. From its initial offerings of clothes and electronic goods, Mustafa's selection expanded to include household goods, jewellery, toys, and many other types of goods. Today, Mustafa Centre houses a Mustafa department store which incorporates two separate shopping centres, and a rooftop restaurant. It remains a popular haunt for those looking for a bargain on its 300,000 different items.
Gillman Barracks
For a taste of art and history, the art cluster at Gillman Barracks is hard to beat. The colonial barracks were built in 1936 by the British for their infantry, and included living quarters for the officers, barracks, and sports facilities. Today, the colonial buildings house local and international art galleries, non-profit organisations such as Art Outreach, shops and restaurants. Visitors to Gillman Barracks can visit the art exhibitions and attend art talks at the NTU Centre for Contemporary Art. Those with children can take them to the Playeum's Children's Centre for Creativity where interactive spaces and installations encourage the kids to express their artistic side.
Haw Par Villa
Western parents may frighten their child into being good with admonishments of being on Santa's naughty list, but Chinese parents have no qualms about bringing that philosophy to a whole new level. At Haw Par Villa, the Ten Courts of Hell are depicted with extravagant flair through explicit dioramas of eternal damnation and torture. Those who disrespect their parents will have their heart ripped from their chest, for example, and those who cheat or misuse books will have their bodies sawn in half. In spite of, or perhaps because of the graphic visuals, this attraction had once been a very popular choice of destination for school trips. Apart from the Ten Courts of Hell, Haw Par Villa also houses many statues of characters from Chinese classics such as the Romance of the Three Kingdoms, Journey to the West, and the Legend of the White Snake.
09 Sep 2019
Rayne
Re: Working from home decreasing or increasing productivity?
WFH needs lots of discipline! Easily will drift off to the bed, TV, games and more ...

Agree with the others that WFH + HBL for kids = nightmare!!!



Posted in General Discussions
Re: Would a US bought TV work in Singapore?
I think it would work if you convert the voltage, then it depends on whether the channels are available in your area. might help regarding VPN issues



Posted in Computer, Internet, Phone & Electronics
Re: When do you think we can stop wearing masks?

does this mean we're all pretty much doomed to wear masks while outside until there are 0 cases islandwide?

I'm afraid it'll probably be mandatory for some time, even beyond a zero case period. The approach here is .....



Posted in General Discussions
Re: Extend STVP after pass cancellation due to Covid-19 flight cancellations.

@serenoli, they gave her the extension for 30 days


Hi Jaychen,

After your wife extension for 30 days which is until April 30, did she manage to go back to your home country? If no, did you apply for STVP extension again? .....



Posted in PR, Citizenship, Passes & Visas for Foreigners
Re: 15 minutes high intensity workout at home
1 to 2 kg? Over what kind of time frame?



Posted in Beauty, Health & Fitness