Top Five Shopping Destinations in Singapore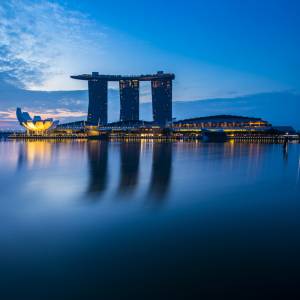 Singapore is a metropolis of epic proportions and a great place to live for any expat. It has so much to see and do that if you plan accordingly, every second you have free can be filled with wonder and enjoyment. If shopping is one of those activities you enjoy, from the thrill of the hunt for bargains or the perusal through beautiful one-of-a-kind couture, Singapore has something for everyone.
1. Orchard Road
Orchard Road is a one-stop destination for all your shopping needs. It is a boulevard that features multiple malls and endless stores from international brands to local boutiques. With opening hours that start early morning from 9 to 10 am, and close at 10, you have ample time to visit and shop till you drop.
2. Marina Bay
Marina Bay is a glamorous attraction and features a cluster of malls – one of which even features a canal inside. Great for an offbeat shopping experience where you can delve into local and international brands you might have never heard of, Marina Bay is a great place to shop, relax, and enjoy yourself.
3. VivoCity
VivoCity is one of the largest malls in all of Singapore and is located on the Harbour Front. There is a store for every brand you can name, and even features a sky park that offers beautiful views and an amphitheater for when you want to take a moment's breather.
4. Haji Lane
Haji Lane is located in the Arab Quarter of Singapore and is a great place for those who want to hunt down unique finds. Featuring vintage stores and unique boutiques, this is the place for eclectic shopping.
5. Clarke Quay
Clarke Quay is infamous for its luxury waterfront restaurants, but that isn't all there is to do. Clarke Quay is also home to high-end brands from around the world, making it a great place for some shopping and some fine dining.
How to Improve Your Shopping Experience Further
Choose a Credit Card that Rewards You
Credit cards are essential for building credit no matter which country you are currently living in. The same applies when you are a new expat in Singapore. You will need to be strict with your spending, yes, but the rewards for using a credit card to scratch your fashion itch far outweigh the negatives.
Before you jump on just any credit card, however, it is important to know which one to choose. Comparison sites like Finty.com make it easy to compare the rewards offered by the top banks in the country, and as an added bonus offers additional rewards when you apply for your new credit card through them.
This way, you can earn points on your purchases and build up your credit score while you are enjoying those top five shopping destinations in Singapore.
Shop When It's Hot
The Great Singapore Sale occurs every year between May to July. It's the best time to shop and get a great deal on clothing, accessories, and more. If you want to shop a great deal outside of those times, then head to any of Singapore's great outlet malls, or treat yourself to something special and unique from a local designer boutique.
18 Sep 2019
Singapore Expats
Today I went and bought a whole Batang(spanish mackerel) from the wet market. It weighed slightly more than 1kg, the price was $12 per kg and the whole fish cost $14. Batang is a very good fish for Indian style cooking.

Actually we dont do the elaborate Indian curry on a regular basis, more of a .....



Posted in General Discussions
Re: Is it even worth living in SG anymore as a foreigner?
I would never live in a condo. Atleast in HDB people seem a bit more real. They go to the wet market and fair price themselves. In HDB lift, I have mostly seen people who are acknowledged my presence. In a condo setting, they would treat me as if I am invisible.

Today I struck a conversation with .....



Posted in General Discussions
Re: Best gym for working adults
Anyone visits Virgin Active? I like the decor..the vibes it gives, clean and modern.



Posted in Beauty, Health & Fitness