The Best Industries to Find Work in as an Expat in Singapore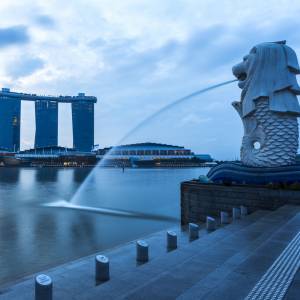 The beauty of living and working in Singapore is that there are plenty of exciting industries to choose from. It's what has helped the city-state become one of the most progressive on the planet.
Knowing and understanding the types of existing and burgeoning employment sectors is a tremendous advantage to those moving to the Lion State and looking for work. If you're keen to settle down in Singapore and build a career for yourself, read on as we take you through the strongest and most fascinating professions to work in.
Digital media
Singapore views itself as a leader in global media. It is said that Singapore's media industry contributes some S$2.4 billion value added to the city's economy. Meanwhile, a report from PricewaterhouseCoopers (PwC) states that media and entertainment spend in Singapore is set to grow by 3.5% per annum in the next five years. Plans are already well underway to equip the city's media industry to become digital-ready, while the digital marketing landscape also looks set to take off in a big way, with 8.4% compound annual growth expected in the local digital advertising market.
Global banking and finance
For several years, Singapore has been a leading player in the world of finance. More than 200 national and global banks, hedge funds and wealth management firms are based in the city-state. One area of finance where Singapore particularly excels is its forex market, which currently houses the fourth-largest foreign exchange trading centre on the planet. Forex traders in Singapore don't just trade the Asian currency pairs; they've very much got their finger on the pulse of North America and Europe too. Competition for financial trading jobs in Singapore is fierce, given the potential profits available, so networking in this field is more important prior to your move than at any other time.
Healthcare
Singapore's medical and healthcare standards are among the highest throughout Asia. Subsequently, medical tourism has become something of a trend in the city-state. In fact, 550,000 patients from overseas are said to visit Singapore for treatment every year. At the time of writing, there is said to be more than 100 small and medium-sized enterprises operating in Singapore's med-tech space, which is a sector that's sure to grow further in the coming decade.
Freelance/Gig economy
More people are choosing to work as a freelancer or within the so-called "gig economy" in Singapore. According to the Ministry of Manpower, the city-state had over 200,000 freelancers living and working there in 2016. Flexibility is the key driver behind the rise of freelance work in Singapore. Technology is making it possible to work from home in roles that used to require people to be stationed in an office headquarters. Of course, the challenges for expat freelancers in Singapore are not only to maintain a steady stream of work, but to make up for the lack of workplace benefits such as health insurance or paid vacations that traditional workers receive.
There's lots to be excited about when considering living and working as an expat in Singapore. The cost of expat living is cheaper in the Lion State than comparable expat cities like Hong Kong. Increased foreign direct investment and rapid economic growth means that the demand for highly skilled talent in Singapore will continue to rise, increasing the opportunities for those bold enough to make the move.
14 Oct 2019
Singapore Expats
Re: PR Approval Probability 2022
Maybe it depends on their area of research. Anyway, I guess the take away is that there are some factors which might give you an edge, but still nothing is guaranteed.



Posted in PR, Citizenship, Passes & Visas for Foreigners
Re: PR Approval Probability 2022

One small add on - Applicants with research/PHD background are in a totally different bucket which will likely give them an edge. Not saying everyone will get it, but many would.

Hate to burst your bubble but I feel PhD .....



Posted in PR, Citizenship, Passes & Visas for Foreigners
Re: PR Approval Probability 2022

Additionally, SF, I am guessing that doctors are also not going to be thrown into the same bucket as IT professionals. The former I think are far more scarce and the latter are a dime a dozen.


Surely, yes. There will be .....