Luxury Travel Tips When Going On Holiday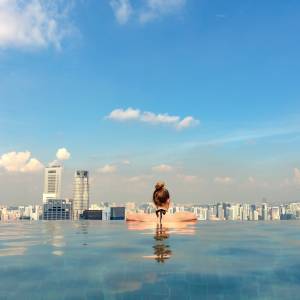 Contrary to popular belief, traveling in luxury doesn't always mean breaking the bank. There are actually a lot of strategies that can improve your traveling experience, and make it more luxurious even with a shoestring budget.
Careful planning is necessary for a luxurious trip. For example, creating a budget for an upcoming out-of-town holiday trip allows you to financially prepare. This way, you can have the best travel experience without spending a lot. A budget can also keep stress at bay, making your trip more memorable.
For you to experience luxury whenever you're traveling, take the time to prepare for your trip by following these tips:
Travel Out Of Season
It'll be hard for you to experience luxury if you choose to travel during the peak season. Aside from paying expensive airplane tickets, visiting a country when demand is high also means that you'll have lesser options in choosing accommodation and you'll be required to rub elbows with other tourists.
You can experience traveling in luxury if you choose to visit a destination during the off-peak season. For example, if you're going to travel to Singapore, it's best if you determine the country's off-peak season. This should be done before checking flights to Singapore and paying for an airplane ticket and accommodation.
Aside from local holidays observed in your destination, the summer months and weekends are considered as travel peak season, as well. Avoid scheduling your trip around these dates so you'll have more options to choose from.
Look For Better Accommodations Other Than Hotels
For travelers who want to experience luxurious travel, booking a 5-star hotel is one of their first courses of action. With the amenities they can enjoy from the hotel, they'll have peace of mind knowing that they're paying for the best.
Five-star hotels might be a staple in every luxury travel, but this doesn't mean that this is your only option when it comes to accommodations. By researching more about your next destination, you'll know that there are still less common but equally luxurious places to stay.
Looking for other accommodations aside from hotels will not only make your trip more unique; it also allows you to socialize with the locals in the area. They can provide useful tips on how you can get around the city.
Always Compare Prices
Going on a holiday will require you to manage several things. You have to book flights, accommodation, and local tour packages. Taking several flights to arrive at a specific destination will require you to do more.
Before paying any service for your upcoming trip, take the time to scout for options, and compare prices. Once you've chosen a destination, look through different airline companies, and check their ticket prices. The same should also be done before booking for accommodation and tour packages.
Depending on the number of options you have and the amount of money you're comfortable in spending, making comparisons can be tedious. However, it should always be done as it allows you to look at your options on a macroscopic level.
When comparing options, don't just focus on how cheap or expensive a particular service is. Determine if the price actually provides value to your money. For the accommodation, how far or near is it in the attractions you want to visit? Are there any restaurants and convenience stores near the accommodation?
Paying for a cheap hotel but requires you to travel for hours just to eat and see local attractions doesn't provide value to your money. This can only result in stress, inconvenience, and a lot of unexpected costs.
Try Out Local Cuisines
Trying out the local cuisine in a new destination is always a good way to spend any trip. This experience allows you to be exposed to other types of foods and satisfy your taste buds. This is especially true if you're an obsessed foodie.
You can start your food journey by doing some research weeks before your scheduled trip. What dishes originated in your place of destination? Are these dishes served in local restaurants or do you need to ask for help from a local guide to direct you to a restaurant? How much do these dishes cost?
List down all of the dishes you want to try out and come up with an estimate for each of these dishes. When you know what to eat and how much to pay for it, your upcoming trip will surely be luxurious without costing a lot of money.
Preparedness Translates To Luxury
Traveling can provide a lot of health benefits, but hopping on a plane when you're unprepared can only result in stress and costs. Being unprepared will also hinder you from experiencing luxury when traveling.
Take your upcoming trips up a notch by spending it in luxury. Luxurious travel will surely be one for the books, especially if you didn't have to spend a lot of money for the trip!
15 Nov 2019
Singapore Expats
Re: My Nightmare Experience with a Property Agent
It's to the advantage of the local and expat landlord population.

Only when we see someone notable and embarrassing for the Singapore govt stitched up will this change. This is partly why local landlords are not keen to rent to certain parties who have influence.



Posted in Property Talk, Housing & Rental
Re: Will Darlie toothpaste be next?
I remember when that blew up over here. In fact, if we search the archives here around 2016 or 17 I believe there was a thread on it as well.


Italy responded! https://www.youtube.com/watch?v=0bDqAkgAblI



Posted in Leisure Chat, Jokes, Rubbish
Re: My Nightmare Experience with a Property Agent
Hi Lisa,

They offered to return a total of $2683 back to me. This was from a deposit a 5600 so total deductions of just over 3000 sgd. In the end I accepted this offer as the only alternative would be to send a letter of demand and then proceed to the Small Claims Courts.

It's a shame the .....



Posted in Property Talk, Housing & Rental