5 Top Trips to Take From Singapore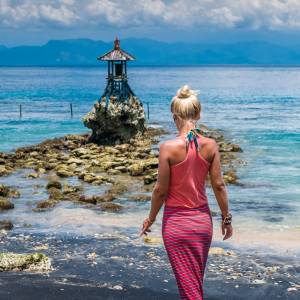 If you have recently moved to Singapore as an ex-pat, you may be overwhelmed by the colorful sights and places to explore in this small but beautiful city-state. However, Singapore is surrounded by many more of the most diverse and exciting locations in Southeast Asia. Once you have moved to Singapore, you would be missing a wonderful, once-in-a-lifetime opportunity by simply staying within the city. If you want to take a short trip from Singapore, we've ranked some of the best places to choose on your travels.
Bali, Indonesia
When most ex-pats think of coming to Asia on holiday, they think about traveling to Bali. Although Bali is only a relatively small island, at only 5,780km squared, it is known to be the hub of Indonesia and Southeast Asia as a whole, with its inviting hotels, bars, and clubs, as well as its tropical climate. If you want to join the flocks of travellers Instagramming lonely island swings and beautiful white sand beaches, one of the best ways to explore Bali and the surrounding islands is to consider going on a travel tour. Exoticca travel tours offer a range of destinations in Southeast Asia, including tours which journey between Bali and other areas of interest, such as Kuala Lumpur in Malaysia.
Malacca, Malaysia
If you want to become a tourist for the weekend, traveling to Malacca in Malaysia is a popular option for ex-pats in Singapore due to its vast array of attractions, from zoos and water parks to the beautiful beaches that the city is known for. Take the whole family to experience this idyllic location where you will never be far from history, whether that is taking in the Portuguese and Dutch architecture or trying some of the delicious food, such as laksa.
Bangkok, Thailand
Although you can get a wonderful experience as an ex-pat in Singapore, there is nothing quite like feeling like a backpacker for the weekend, and most backpackers end up in Bangkok. Perhaps you want to visit the world's biggest Chinatown and experience the bright lights of modernity and its astonishing cityscapes, or maybe you want to enjoy the vivid culture of the country, such as visiting the Grand Palace. Even if you only want to relax, there is something for you, with the city known for the expertise of its massage therapists.
Hanoi, Vietnam
Hanoi has something for everyone, with its year-round moderate climate ensuring that you have a pleasant stay whenever you choose to visit. If you are looking for a travel destination where you can immerse yourself completely within the culture of Southeast Asia while escaping the cityscapes of Singapore, Hanoi is the right location for you, with its historic Old Quarter and beautiful buildings such as the Hanoi Opera House and Presidential Palace.
Yangon, Myanmar
However, if you want to escape the flock of tourists flooding into Southeast Asia, why not visit somewhere off the beaten track? Yangon in Myanmar encapsulates the positives of the continent, with Myanmar home to some of the most famous sights in Southeast Asia, such as its iconic pagodas and Chaukhtatgyi Buddha Temple.
10 Dec 2019
Singapore Expats
Re: Timeline of my husband's initial PMLA and LTVP and renewals, then finally PR!


let's say it is approved in March and given a 1-year LTVP, will the expiry date of the new LTVP be May 2024 or March 2024?

Expiry date is based on when you go down to .....



Posted in PR, Citizenship, Passes & Visas for Foreigners
Re: My Nightmare Experience with a Property Agent
It's to the advantage of the local and expat landlord population.

Only when we see someone notable and embarrassing for the Singapore govt stitched up will this change. This is partly why local landlords are not keen to rent to certain parties who have influence.



Posted in Property Talk, Housing & Rental
Re: Will Darlie toothpaste be next?
I remember when that blew up over here. In fact, if we search the archives here around 2016 or 17 I believe there was a thread on it as well.


Italy responded! https://www.youtube.com/watch?v=0bDqAkgAblI



Posted in Leisure Chat, Jokes, Rubbish