Government support for industries impacted by COVID-19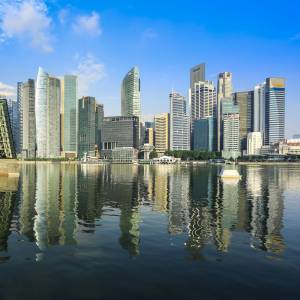 Since COVID-19 landed on Singapore's shores, numerous local enterprises and industries have felt its impact. For a country that depends heavily on trade and tourism, the global slowdown and absence of tourists have hit businesses hard. Industries that have been the most affected by the COVID-19 will receive the most government support.
Jobs Support Scheme
On 18 February 2020, Deputy PM Heng Swee Keat announced that a new Jobs Support Scheme would be created to help enterprises pay a portion of local employees' wages. Employees who work in the worst-hit industries will be able to get more support from the government. The government will fund 75 per cent of each local employee's wage in the aviation and tourism sectors, and 50 per cent of the wages of those working in the food and beverage industry. Through this scheme, companies in the worst-hit industries may be able to afford to retain their employees and ride out the storm.
Additional support for the tourism sector
As the tourism industry has been badly affected by the coronavirus outbreak, numerous measures have been put in place to help keep companies in this sector afloat. Tour operators, hotels, serviced apartments, and enterprises in the Meetings, Incentives, Conferences and Exhibitions (MICE) industry, will benefit from more government support during this period. For example, the Singapore Tourism Board (STB) announced that license fees for hotels, travel agents, and tour guides would all be waived, and that the STB would fund part of the cleaning costs for hotels that provided accommodations to confirmed and suspected cases of COVID-19. In the latter case, up to 50 per cent of third-party professional cleaning fees would be covered by the STB. For hotels with confirmed cases, the reimbursement would be capped at $20,000. Hotels with suspected cases only would have the sum capped at $10,000.
Property tax rebates would also be given to licensed accommodation providers and MICE venues. A Temporary Bridging Loan Programme will also be set up for companies with cash flow difficulties. Under this programme, 80 per cent of the risk will be borne by the Singapore government, and 5 per cent interest will be charged.
Additional support for the food and retail industry
Due to the self-isolation efforts of some of the population as well as the lack of tourists, companies in the food and retail industry have also been badly affected during this period. As part of the government effort to support these companies, qualifying businesses will be given a 15 per cent rebate on their property tax. A month's rental will waived for stall owners in hawker centres and markets managed by the National Environment Agency, while tenants of the Housing Development Board and other government agencies will receive half a month's rental waiver. Should these parties have cash flow problems, they will also be able to talk with the relevant agencies to negotiate flexible rental payments.
Additional support for the aviation industry
As more and more countries enact travel restrictions in an effort to curb the spread of COVID-19, Singapore's aviation industry is also feeling the heat. By 17 March 2020, two well-known carriers, Singapore Airlines and Singapore-based Jetstar Asia, announced major capacity cuts, raising fears of further cost-cutting measures and their consequent impact. As announced in the Budget 2020, Changi Airport will be given a 15 percent property tax rebate. Aircraft landing and parking charges will be subsidised, and rental fees will also be waived for airlines, ground handlers and cargo agents. Unionised companies operating in the aviation sector will also be able to apply for additional funding to provide employees with skills upgrading and other training.
Additional support for point-to-point transportation
For taxi drivers and private-hire car drivers, a support package of $172 million in total has been created. Additional support will also be provided to such drivers, with $300 provided per vehicle per month all the way up to September. Local taxi companies will also be given $2,200 for every unhired taxi. License fees for taxi operators and ride-hailing operators will be waived for half a year, while private bus operators will be given a rebate on road tax for one year, and have parking fees at government-managed facilities waived for half a year.
27 Apr 2020
Rayne
Re: PEP processing time (personal employment pass)
Hello Guys,

My PEP is approved today. Applied on 20/04. This forum has been quite helpful with all the suggestions and information. Thanks Guys for sharing !! And Good luck to all the ones who are waiting for the approvals. I'm sure the process is now expedited and all the pending applications .....



Posted in Relocating, Moving to Singapore
Re: US hit with 60,000 new Covid19 cases in a day
Sadly so do I, including relatives.



Posted in General Discussions
Re: Operating company with fintech account only
Perfect, I'll use the corporate account of Transferwise as the main account of the company.

Thanks again!



Posted in Business in Singapore

Hi,
Recently, I just received the IPA letter, and I would like to ask in the list of documents and facilities that I need to prepare for the checking appoitment with ICA have include this item:

vii. the Letter of Consent to .....



Posted in PR, Citizenship, Passes & Visas for Foreigners
Sticky Thread gives you access to a direct channel to your most potential customers. Choose from relevant categories to have your stickies in.

Advertising rates are S$450 for a 6 months exposure and S$850 for a one year exposure.

Contact us at enquiry@singaporeexpats.com today!



Posted in Careers & Jobs in Singapore