How to make sure your portfolio is recession proof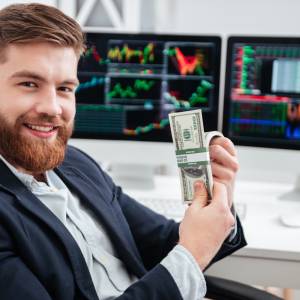 When times are tough economies are one of the first things to take a hit. With the public not buying, companies not trading and the stock market feeling the pressure, it can raise concerns where your own investment portfolio is concerned. But what can you do to ensure you're as recession proof as possible? Are there certain investment areas that are better under these circumstances than others?
A diverse portfolio can prove to be a durable source of income for many. If you have the right support, knowledge and trading software available to you, you could reap the benefits of investing and build a recession proof portfolio that's built to last.
What are the pros of investing in fixed income assets?
A well-balanced portfolio that includes fixed income assets can both diversify and mitigate portfolio risk. When the market is shaky, as it is in the current climate, high-quality assets tend to either go flat or up in value. The types of fixed income assets such as corporate bonds, government bonds and company stocks, can often reduce the overall risks of your portfolio, as they are more stable than pure equity holdings.
What are the negatives?
The main downside to investing in fixed income assets is that they generally do not provide you with a great potential on return. Because they are seen as one of the safest forms of investing after cash deposits, the money you will make on them is much lower vs. any high risk investing opportunities.
Ways to protect your investment portfolio
There are a number of ways in which you can ensure your portfolio is protected in the event of a recession. If you're worried in the current climate, here are a couple of ways you can protect your investments:
Diversify: This is probably the most popular way to ensure you have some level of protection. If the market takes a dip, having a more diversified portfolio will outperform a concentrated one. By owning a large number of investments in more than one asset class, you will be reducing the risk.
Dividends: Investing in dividend-paying stocks is probably one of the least known ways to protect your portfolio. Owning stable companies that pay dividends is a proven method for delivering above-average returns. When stock prices are falling, the cushion that dividends provide is important as it usually results in lower volatility.
Protecting your portfolio from the worst
It's important in this day and age to protect your investments, after all we know how drastically things can change from one day to the next. Each strategy out there will protect your portfolio (and money) from the inevitable volatility that encompasses the investment world! Not all of them will suit you, but by putting some of them in place, it might just give you that next layer of protection you need.
06 May 2020
Singapore Expats
US hit with 60,000 new Covid19 cases in a day
What an astonishing number...

https://www.channelnewsasia.com/news/world/covid-19-coronavirus-us-new-cases-60000-12916410?cid=FBcnaandfbclid=IwAR2ly6SdhQWRjbDAhx3rkSrt8zipej4iqvHif3bph7iOj_vTZzLmsD7So4E



Posted in General Discussions
Re: Operating company with fintech account only
I'll thank you now, PNGMK :D

Just to make sure: does TransferWise replace a traditional bank account for a brand new company with probably 1-2 payments per month?

At least for now (around 8-12 months), once we start selling we can always open a DBS account if required (although I prefer not to .....



Posted in Business in Singapore
Re: How has Covid19 affected you?
Missed my FIL funeral. I won't be able to see my mother who turned 80 for Xmas. Those are the main impacts. I care about relationships, not material objects.



Posted in Staying, Living in Singapore
Re: Insurance with competitve rates

Im not promoting any insurance companies.


Lol I know, neither was Muhd_Umar but he got the tic..toc treatment so I was just helping out the mods.



Posted in Insurance
Re: Insurance with competitve rates


Medical what? Hospitalization or Critical Illness or what?

Also what is your key criteria? to cover gov hosps or private, .....



Posted in Insurance