EtonHouse International School at Orchard receives its IB Diploma Authorisation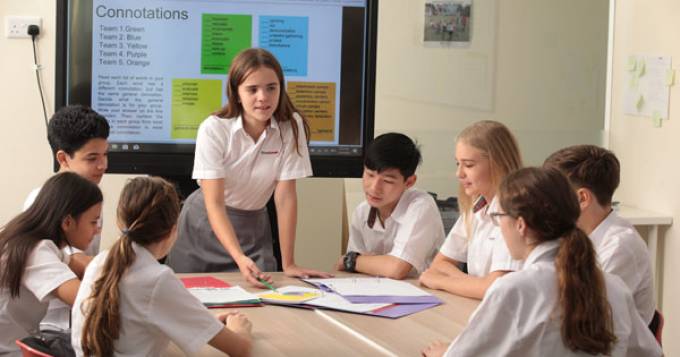 Singapore, May 2020 – EtonHouse International School is officially an authorised International Baccalaureate (IB) World School for the Diploma Programme (IB DP) which is offered at the Orchard campus.
From August 2020, EtonHouse's Year 12 students studying at Orchard will commence the IB DP, a widely recognised and respected programme by universities worldwide.
The authorisation of EtonHouse Orchard's IB Diploma Programme brings the total number of IB World Schools at EtonHouse to 10. This is a significant milestone for EtonHouse's 25th year anniversary. It also makes the Orchard campus the first in Singapore to be authorised to run the IB DP programme, 2 years since it commenced operations. EtonHouse Suzhou in China is the first EtonHouse campus in the group to offer the programme.
After the authorisation visit, IB representatives commented "It takes a village to educate a child. Your school lives that. We could see the bond, the passion, the community."
They added that "The school leadership has led the process well. You have come a long way in a short period of time. The school is very much on the right track. It is really good for the school to have such an experienced Principal and IB Diploma Coordinator, with such strong IB backgrounds, leading the school."
Along with the IB authorisation, EtonHouse will also be launching a scholarship scheme for the IGCSE and IB Diploma Programme. This will include a total of 10 scholarships including heritage scholarships for existing EtonHouse students to commemorate the 25th anniversary of the Group.
The scholarship grant fully covers application fees, capital levy and school fees throughout the duration of the course. This amounts to an estimated $37,000 per year for the IB DP and $35,000 for the IGCSE over 2 years to be renewed on a yearly basis. It amounts to a scholarship grant of more than $700,000.
To maintain the scholarship, students are expected to exhibit exemplary behaviour, maintain a minimum predicted grade A for Cambridge IGCSE or a minimum 6 per subject at IB Diploma. They should also actively contribute to the school and the immediate community.
EtonHouse Orchard's IB DP candidacy period formally began in September 2018, shortly after the school opened in the same year. EtonHouse Orchard is currently a candidate school for the IB Primary Years Programme (PYP).
Mr. Ng Yi Xian, Executive Director of the EtonHouse Group said, "I am very proud of what the school has achieved in a very short span of time. We offer a unique and modern approach in the K12 pathway in collaboration with our students who have helped design the school. It is our vision to shape the future through education and we hope with the academic scholarships we will be able to reach out to more students who will benefit from this education. The first IGCSE results have been promising and I have no doubt that the school will continue to excel with the IB authorisation now in place".
The IB DP was established to provide students with a balanced education, facilitate geographic and cultural mobility and to promote international understanding. Due to its international focus, holistic approach to education, and rigorous standards, the IB Diploma continues to gain popularity with
governments, universities, schools, students, and parents.
To learn more, log on to www.ehis.edu.sg or e-mail enquiry@etonhouse.com.sg
29 May 2020
EtonHouse International School
Re: PEP processing time (personal employment pass)
Hello Guys,

My PEP is approved today. Applied on 20/04. This forum has been quite helpful with all the suggestions and information. Thanks Guys for sharing !! And Good luck to all the ones who are waiting for the approvals. I'm sure the process is now expedited and all the pending applications .....



Posted in Relocating, Moving to Singapore
Re: US hit with 60,000 new Covid19 cases in a day
Sadly so do I, including relatives.



Posted in General Discussions
Re: Operating company with fintech account only
Perfect, I'll use the corporate account of Transferwise as the main account of the company.

Thanks again!



Posted in Business in Singapore

Hi,
Recently, I just received the IPA letter, and I would like to ask in the list of documents and facilities that I need to prepare for the checking appoitment with ICA have include this item:

vii. the Letter of Consent to .....



Posted in PR, Citizenship, Passes & Visas for Foreigners
Sticky Thread gives you access to a direct channel to your most potential customers. Choose from relevant categories to have your stickies in.

Advertising rates are S$450 for a 6 months exposure and S$850 for a one year exposure.

Contact us at enquiry@singaporeexpats.com today!



Posted in Careers & Jobs in Singapore