Increasing WFH productivity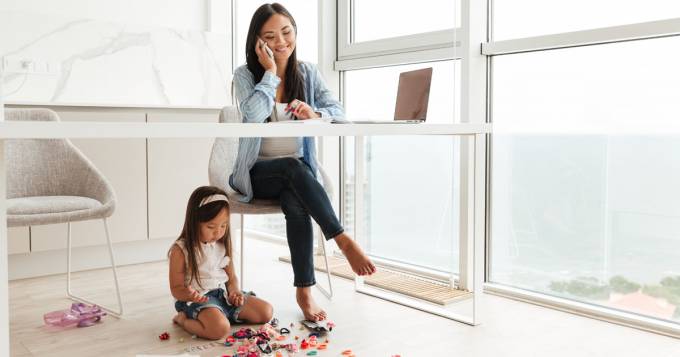 Depending on who you ask, working from home, commonly referred to by the handy acronym WFH in the Singapore context, is a polarising issue for many working adults. While many parents bemoan their inability to work as efficiently as they would normally have done in the office, it's not unusual for their concerns to be linked to childcare issues as they find themselves having to juggle work and parenting responsibilities. Once students return to school, however, their attitudes towards WFH seem likely to change. For others, WFH presents a unique set of challenges, and this is especially so, for those who have no prior experience with WFH. From hardware issues, to the high number of attention-grabbing distractions lying in wait, WFH can induce sky-rocketing stress levels in some and cause their productivity to plummet.
To increase their productivity levels while practising WFH, all while keeping it an enjoyable and relatively stress-free arrangement, people may choose to use the following tips:
Keeping to a schedule

Keeping to a schedule is possibly the best way to help people increase their productivity. While some people may imagine that a schedule simply separates the morning's work from the afternoon's, with just an hour for lunch separating the two, the truth couldn't be more different. Creating a more detailed schedule that breaks down exactly how much time they plan to spend on different tasks allows people to avoid getting distracted and even accomplish more by the end of the day.

Taking breaks

While focusing on one's work is definitely important, building rest periods into one's schedule may counterintuitively raise productivity instead. In the office, it is easier to remember to rest whenever colleagues come over for a quick chat, or when one has to take a slightly longer detour to get to the office pantry for a fresh cup of coffee. At home with everything we need at our fingertips, some of us may need to set reminders so that we don't spend hours at a go hunched over our laptops. Taking breaks help us to keep our energy levels up throughout the day and stay sharp. By breaking up challenging or lengthy tasks into shorter ones, and rewarding ourselves with short breaks at the end of each task, we also become more motivated to complete our work and do so on time.

Make the most of our time

Though a culture of presenteeism has been much more prevalent in Singapore, WFH is steadily transforming the way people work. Instead of focusing on the number of hours employees spend at work, more and more companies are demonstrating trust in their employees by focusing on measureable goals, targets and deadlines. Employees who choose to work through their lunch hour may choose to end work earlier, while those who finish their tasks ahead of time have the freedom to do what they like for the rest of the day. People who choose to work smarter and not harder have greater motivation to stay focused and be more productive, now that they no longer need to remain physically present in the office just to fulfil their working hours.

Practise compartmentalising

Remembering to leave work at the end of the day may seem as though one is stating the obvious, given that most of us should be well-acquainted with our contractual working hours. However, not all of us are actually good at doing this. WFH makes it easy for people to check just one more email, or to finish one last task, while the minutes tick by without them noticing. Without co-workers preparing to leave for the day, and without having to commute, physical 'hints' that we, too, should be preparing to 'switch off' for the day have disappeared. For some, the problem persists even after they shut down their laptops. The sight of a work laptop and other work paraphernalia can remind people of unresolved work issues, deadlines and urgent tasks, and wind up causing stress even after they are off the clock.
To combat this problem, people could learn to compartmentalise better. Packing away the laptop and files could be one easy fix to get work out of sight and out of mind, while doing a specific activity or running through certain steps at the end of the day could be another. For example, putting the work phone on silent mode or creating a list of tasks to be completed for the next day, are all good markers to help your brain realise that it's the end of the day, and that it's time to disengage. Enjoying a better work-life balance, and returning to work the next day feeling refreshed instead of worn-out, is arguably the first step in raising our productivity.
17 Jun 2020
Rayne
Pretty normal..usually more obvious towards the end of the second trimester or third trimester.



Posted in Moms Group
Re: Benefits outweigh the risks of mRNA vaccine?
Let's face it, short-term, there will always be outliers, side-effects, regardless of what vaccine you use, or indeed any medical treatment you apply in general, tried and true included. Clearly though, as of the here and now, statistically, the benefits of mRNA outweigh the risks.

But going .....



Posted in Beauty, Health & Fitness
Re: PR approval chances (applied in 2022)

Is it still necessary for me to keep ICA updated in my pending PR application since I will be receiving a renewed EP from the same employer? e.g. email ICA/etc.) In addition, my base salary will be modestly increased. Is it .....