5 things parents like about GIIS (Primary School)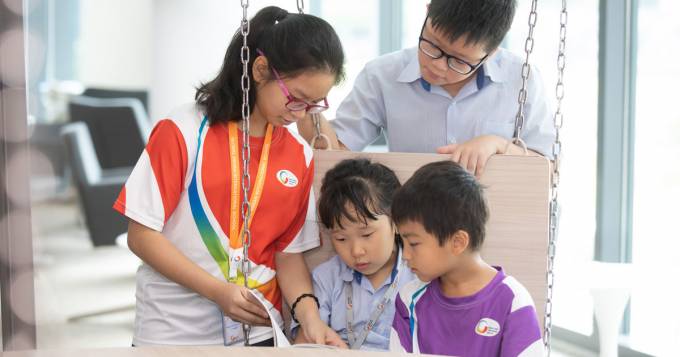 Global Indian International School, the K-12 school is a preferred choice by more than three thousand students in Singapore.
The school's two campuses – SMART Campus at Punggol and East Coast at Cheviot Hill are specially designed to deliver a world-class holistic education that any expat parent would look for their children.
What is it that makes GIIS a popular choice for parents who are looking for a wholesome education, especially in the primary years?
Five compelling reasons for parents to choose GIIS for primary grades:
Bilingual Programme
Mastering Mandarin and English languages at an early age is a great start towards being a global citizen. The Chinese-English Bilingual Programme at GIIS helps the students master the two most widely spoken languages in the world and also gives them a chance to get exposed to two different cultures.
The content rich Bilingual Programme is closely aligned to IB PYP framework and is delivered by two native Mandarin and English teachers to ensure that students learn both the languages with equal dexterity.
A moderate fee structure for the Bilingual Programme at GIIS makes it affordable for parents who want their children to be bilingual speakers.
Dual Curricula Option
Students get to choose between International Baccalaureate's Primary Years Programme, which is an internationally recognised primary grade framework OR CBSE, which is the national curriculum of India.
With the option to choose between two curricula, the school offers just the right flexibility that an expat parent is looking for.
Both are acclaimed curricula for primary grades and offer strong academic foundation along with developing the traits of a 21st century learner.
The best part is yet to come, the students enjoy the flexibility to switch from one curriculum to another, anytime during Grade 1 to 5. If a student feels that a particular curriculum is not aligned to their learning style, they can opt for the other choice.
Holistic Framework
A good balance of academic and personality development of children is the key outcome that parents expect from a primary school.
While all schools talk about this, GIIS is a step ahead in implementing that!
The school has an award-winning 9GEMS framework in place that is entwined in the curriculum to focus on the development of students in these nine areas - Academic, Sports, Visual and Performing Arts, Innovation and Creativity, Universal Values & Ethics, Community and Care, Entrepreneurship & Leadership, Skill Development and Personality Development.
Nextgen Infrastructure - Asia's First SMART Campus
The flagship campus of GIIS, SMART Campus, located in the digital business district of Punggol, has become the epitome of new age learning.
With 90+ Digital Classrooms, Data Analytics in Sports (SPEDAS), Facial Recognition Devices, Students' Lounge, Learning Commons and over 40 Skill-Based studios, the campus is like a dream come true for next generation learners who need a versatile learning environment.
Skill-based studios like Radio Studio, TV Studio, Culinary Lab, Maker Lab, Environment Lab, enable students to learn futuristic pursuit.
As a result, starting at an early age students learn unique skills like recording podcasts, conceptualising TV shows and the art of culinary.
Moderate Fee
Premium does not always mean expensive. GIIS offers a world-class international education at a fee which is 40% lower than other international schools in Singapore.
GIIS is one of the only schools that offers world-class international curricula like IB PYP and a robust Bilingual Programme at such a moderate fee for primary grade students. Students from over 42 nationalities enjoy a global outlook to education and acquire a firm academic foundation.
Do you want to visit the campus and experience the 21st century learning environment that primary grade students enjoy at GIIS, click here now to contact for a campus tour.
13 Oct 2020
Singapore Expats
Pretty normal..usually more obvious towards the end of the second trimester or third trimester.



Posted in Moms Group
Re: Benefits outweigh the risks of mRNA vaccine?
Let's face it, short-term, there will always be outliers, side-effects, regardless of what vaccine you use, or indeed any medical treatment you apply in general, tried and true included. Clearly though, as of the here and now, statistically, the benefits of mRNA outweigh the risks.

But going .....



Posted in Beauty, Health & Fitness
Re: PR approval chances (applied in 2022)

Is it still necessary for me to keep ICA updated in my pending PR application since I will be receiving a renewed EP from the same employer? e.g. email ICA/etc.) In addition, my base salary will be modestly increased. Is it .....