Five reasons why you should take a trip to New York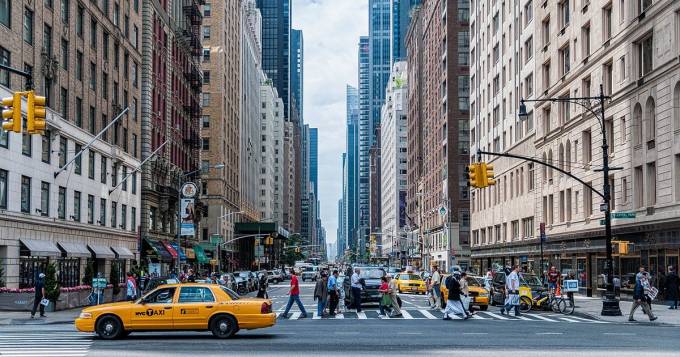 New York: it's an iconic city that many of us feel like we know so well, even though we may never have been there. That's because we've probably got a favorite film or TV series that's been set in this amazing place - and the spectacular views and sights are a popular choice for eye-catching images we may have in our homes.
So should you still consider a vacation to NYC if you think you know it already? Well, there's nothing quite like experiencing a place for yourself even if you've seen it in the cinema or on TV. When you're ready to book your next holiday, here are five reasons why you should visit New York:
Architecture
There's architectural evidence of almost each era, which makes for a unique mix of past and present. You have gothic and art deco structures that look like works of art, sitting in between skyscrapers made of metal and glass. New York's personality shines from every corner - from the beautiful Rockefeller Plaza to the iconic Chrysler Building. Just a walking or driving tour of the city will show you even more of its architectural delights.
Entertainment
NYC is known for its links to this industry - from the theaters of Broadway to the TV studios at Rockefeller Plaza. The theater district is a must for tourists, so catch a show and fulfill this unmissable opportunity. You can even take in a tour of the studios at Rockefeller or in Times Square.
Parks
Go to New York in the fall and you'll get incomparable beautiful views of Central Park. So take this chance to see the fabulous foliage at this iconic park if you plan your visit at this time of year. For some of the top places to view the park, try Conservatory Water for the hawthorn trees and their red berries, or the Ramble in the center for the huge tupelo tree and its beautiful shades of purple, red and yellow leaves.
If you feel inspired to see other foliage finds on your US trip, then book Newark airport parking before your flight. You can reserve your parking lot, and it's easy to do - and all for a great price.
Food
The range of incredible food on offer is just one of the reasons to visit New York. You can go to Chinatown and enjoy Chinese, Korean and Indonesian cuisine, have Caribbean food in Queens, or try a slice of New York pizza. There are many other foods on offer in the city - and, if you want to try some fine dining, some of the world's top restaurants are situated in New York.
Iconic status
There are plenty of sights and symbols that have achieved icon status in New York, one of the most famous cities in the world. There's the Manhattan skyline, the yellow taxi cabs, and the many bridges that cross over the Hudson river - you can see all of these and more when you visit New York City. So why not start planning your trip there now?
18 Oct 2020
SG Expats
Re: If you are here for money, when will you stop?
To add to WD40's topic I'd say a bit factor in when you leave is around your marriage or partnership. I've seen people leave early for that (one of our better members Hanniroo for one). A broken or struggling marriage here is no fun.



Posted in General Discussions
Re: looking for guitar tuition
Hi, have u found yr guitar tuition. If u have not, I can find for u from Trust agency.

Regards,
Cindy



Posted in Parenting, Family & Schools
Re: Time between IPA to Travel Approval (EP GRANT)
Well Smoulder, unfortunately from India, there are limited flights and only people I know, who successfully managed to get entry approval, are nurses and healthcare staff. But then, I know a very small sample.

Let's hope I get an immigration approval soon after IPA, I would hate to sit jobless .....



Posted in PR, Citizenship, Passes & Visas for Foreigners
Re: Company Director and tax residence
As long as you have a permanent residence in Singapore, you can travel all you want. You're still resident for tax purposes. The EP, as PNGMK noted, confirms this.



Posted in Business in Singapore
Depends on your destination in US. Probably United or Qatar



Posted in Business in Singapore