What Makes GIIS Preschool a Great Choice?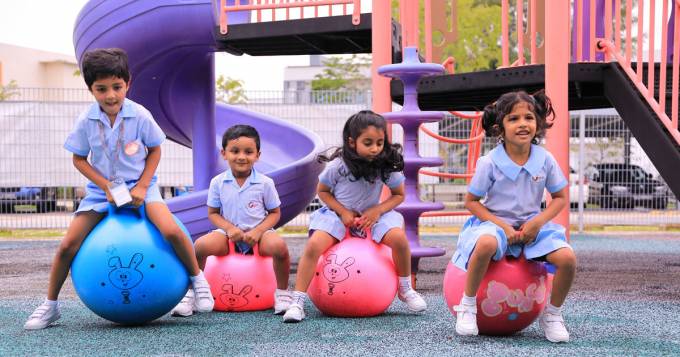 Finding a good preschool in Singapore is a tricky task as there are abundant choices available. Most of us look for a preschool that is nearby, safe and will keep the child happy and engaged. But is that all your child's preschool should offer?
What about a good curriculum, strong academic foundation, higher exposure, all-round development and wider facilities?
If you are a sensitive parent who is aware of these factors and their importance in the development of children during early years, then look no further.
The preschool at Global Indian International School ticks all the boxes above!
Award winning curriculum – Global Montessori Plus Programme, a much esteemed curriculum that has won laurels for combining the best practices of early childhood Programmes in the world, will offer a solid foundation to your child with its five strong pillars. Apart from the language and math literacy, your child will excel in public speaking, develop higher sensitivity to environment and surroundings and will be ready to perform well in the primary school at the end of three years.
Wider Exposure – A K-12 school, GIIS will offer your child much wider exposure than a stand-alone kindergarten. The skill-based education, which is at the crux of the school's pedagogy, offers exposure to kindergarteners to a number of unique talent areas like culinary, dance, music, drama, pottery making and a host of other areas. Over 40 unique skill-based studios at SMART Campus offer a wonderful hands-on learning experience to juniors. Check out the skill based education at GIIS.
Qualified Teachers – Warm and patient teachers with a wealth of experience in early childhood education unfold the preschool curriculum methodically and gradually. Their individual attention and personal connection with every child goes a long way in helping the students achieve their potential to the fullest at the end of three years.
Affordable Fee – Well, international Preschools in Singapore are expensive. Parents do feel the heat of paying a high sum of fees even as their kids are just at the first step of their educational journey. GIIS believes in offering quality education at an affordable fee. No wonder, the school's fee is 40% lower than other international schools in Singapore.
That's not all, once your child joins the preschool at GIIS, he or she is all set for a versatile academic experience till Grade 12. International curricula options like IB, Cambridge and CBSE, Chinese-English Bilingual Programme, scholarship programme, chart out an enriching learning experience for students and chisel them into well-rounded and academically brilliant individuals.
So, as parents we should not look for the most comfortable option when it comes to choosing a preschool, because that might deprive the young ones of the foundation and exposure that they deserve in early years.
Check out more about the Preschool Programme at Global Indian International School. The next in take is in January 2021! Contact the school to know more details and book your seat.
GIIS has dedicated kindergarten facilities at both its campuses – SMART Campus, Punggol and East Coast Campus, Siglap. A safe and efficient transport service caters to students island-wide in Singapore.
10 Nov 2020
Singapore Expats
Pretty normal..usually more obvious towards the end of the second trimester or third trimester.



Posted in Moms Group
Re: Benefits outweigh the risks of mRNA vaccine?
Let's face it, short-term, there will always be outliers, side-effects, regardless of what vaccine you use, or indeed any medical treatment you apply in general, tried and true included. Clearly though, as of the here and now, statistically, the benefits of mRNA outweigh the risks.

But going .....



Posted in Beauty, Health & Fitness
Re: PR approval chances (applied in 2022)

Is it still necessary for me to keep ICA updated in my pending PR application since I will be receiving a renewed EP from the same employer? e.g. email ICA/etc.) In addition, my base salary will be modestly increased. Is it .....