4 Best Fitness Centers in Singapore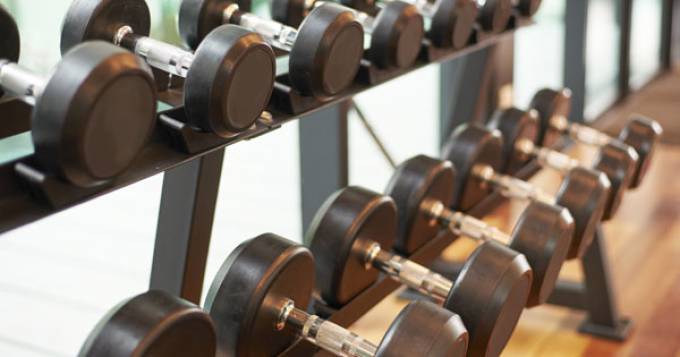 The quality of a fitness center can make or break a workout. Luckily, in a city as large and diverse as Singapore there are plenty of fitness centers to choose from to take your wellness goals to the next level. So whether you want to lose some weight, build muscle or simply stay on top of your exercise game, here are some of the best gym options in the city.
F45
With multiple locations around Singapore, F45 is all about getting results with 45-minute circuit training sessions. The Aussie studio prides itself on delivering "motivation and encouragement in a group training facility" to create a "pulsing, upbeat environment where goals are met and exceeded."
Focusing on strength training and cardio, the sessions combine high intensity interval training, circuit training and functional training based on everyday movement. While each session is run by F45 trainers, the facility also features multiple TVs on the front wall of the studio that offer additional information about each workout.
Genesis Gym
Catering to professional athletes and complete beginners, Genesis Gym offers training that "promises to give busy people the life skills to achieve their personal fitness goals in a healthy way." The gym's individual and small group training programs are tailored for busy professionals who don't have hours to spend at the gym. Kyle Litvuck from SUPPLEMENTSCOUTS says that gyms such as Genesis help individuals achieve faster results by not only focusing on fitness but also the nutritional aspects of health training. "As a rule of thumb, holistic training programs that provide diet advice tend to work better than ones that only focus on workouts. This is important in a country that has the second highest number of overweight individuals in the ASEAN."
Beat X Studio
Beat X Studio is all about group fitness—after all, there is no better way to get healthy than with others who are on your wavelength. Designed to burn calories and sculpt muscles, the classes are lively, interesting and intense. Try rebounding (trampoline exercises), boxing, riding or battleground (circuit classes involving weights, obstacle courses and high intensity interval training). The fitness center features three studios with lights and music engineered to make you give it your all each time you workout.
The PIT
Billing itself as being in the business of "making people stronger, fitter and faster," the PIT is here to unleash your inner athlete. With intense programs designed to achieve set goals, this fitness center is definitely not for the faint-hearted.
The gym's personal training and group workout sessions focus on strength and conditioning training, and are ideal for those who like to push their boundaries. At the same time it is open to all willing to work hard, no matter your fitness level. So "whether you are a weekend warrior, fitness aficionado or an elite athlete, the PIT has what it takes to bring you to the next level."
12 Dec 2020
SG Expats
Re: Chance of Singapore Citizenship
As mentioned by others, chances of SC for you are fairly low. However, even if you cannot keep extending your REP, you should be able to come back to Singapore as spouse of SC (on LTVP). If your HDB is jointly owned (vs you as an essential occupier) and in the event that your REP is lost (if you .....



Posted in PR, Citizenship, Passes & Visas for Foreigners
1. You are married for a VERY short time - this is likely the main reason for the rejection. Also she is from Vietnam, you are Bangladeshi living here from the 90s. It may look much like a marriage of convenience.
2. Your salary is low - the gov considers if your salary is good enough for 2 .....



Posted in PR, Citizenship, Passes & Visas for Foreigners


If anyone is "angry" about how the better offs live… that's the kind of small mindedness that is keeping 'em poor.

It's called crab mentality in the .....



Posted in General Discussions