GIIS East Coast Campus: A Premier Destination for World-Class International Education in Singapore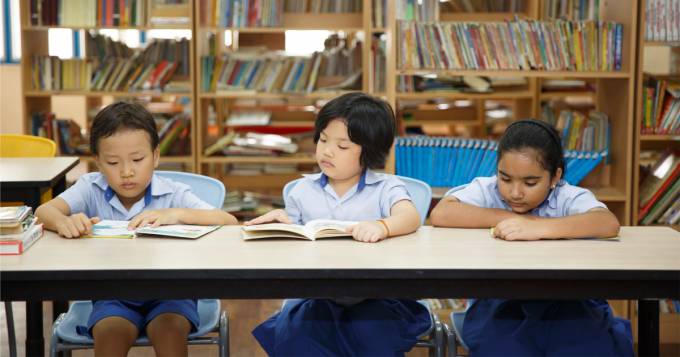 Nestled in a quiet neighbourhood, away from the crowds and clamour of downtown, you'll find Global Indian International School (GIIS), an international school in east of Singapore.
Like GIIS' twenty other campuses around the world, the East Coast campus offers a world-class education in a beautiful landscape. Its modern infrastructure and thoughtfully designed facilities align with GIIS' mission to prepare students to thrive amid the challenges of the 21st century. Here's a closer look at the highlights of this vibrant campus.
Prime Location
GIIS East Coast campus is spread out over 8.8 acres of lush green space in a diverse community seven kilometres from Singapore's central business district. The school is removed from the hustle and bustle of Singapore's core, making it possible to provide students with large, well-ventilated classrooms and a variety of dedicated learning spaces. This ideal location contributes to a calm atmosphere that allows children to focus on learning and discover potential they didn't know they had.
State-of-the-Art Facilities for 21st Century Learning
This international school in east Singapore is equipped with forty digitally enabled classrooms. Whiteboards and smart TVs provide a backdrop for teachers to present lessons or display student artwork and projects. Educators also use these technologies to virtually connect to other GIIS campuses or bring guest speakers into their classrooms. An audio-visual room for up to fifty students provides ample space to bring various classes together for presentations and collaborative projects. Speciality rooms serve as studios for drama, yoga, art, dance and music.
The school library features computer terminals, an audio-visual area, cosy reading spaces and an impressive collection of more than 4,000 books. The school librarian works closely with students to sharpen their interest in reading and guide them in building research skills.
Robust Sports Programme
This campus once housed the first sports school in Singapore nearly forty years ago. The East Coast campus is home to basketball and tennis courts, a 400-meter synthetic track, soccer fields and cricket nets and pitches. The school's Gold Squad programme provides specialised training to students who want to excel in sports. This prepares them to compete in athletic tournaments for international students.
A Comprehensive Education
The East Coast school offers several internationally recognised curricula to children from Kindergarten to Grade 10. Kindergarten students follow the Global Montessori Plus programme, which combines principles from the world-renowned Montessori curriculum with modern best practices in early childhood education and includes after-school enrichment.
Older students can choose from various curricula. Those in Grades 1-5 may opt to use the International Baccalaureate Primary Years Programme (IB PYP), an inquiry-based approach that transcends traditional subject areas for real-world application. Or, they can opt for Central Board of Secondary Education (CBSE), the Indian national curriculum which has a student-centric approach and offers a strong hold over concepts.
GIIS also offers the Cambridge Lower Secondary Programme (Grades 6-8), which prepares students for the International General Certificate of Secondary Education (IGCSE) and the International Baccalaureate Diploma Programme (IBDP).
GIIS gives students the flexibility to switch between curricula up to Grade 8.
That's not all, students get the opportunity to learn foriegn languages like French, Tamil, Mandarin and Hindi. Extracurricular and co-curricular activities are an important part of life at GIIS. Students can choose from among 37 different after-school clubs and classes.
After School Enrichment Programme for Kindergarten - Highly affordable Kindergarten Enrichment Programme is offered to meet the needs of parents who prefer their children to stay and learn in school for extended hours. Children spend constructive time learning important skills that improve their early childhood experience.
Green Spaces for Exploration and Creativity
Connecting with nature is beneficial for learning and development. GIIS East Coast offers plenty of green spaces, such as a sandpit and playground, for exploration and learning. These spaces are a vital part of the "green curriculum" at GIIS. Students participate in initiatives, such as composting and planting trees at the herbal garden and sell their produce at school-sponsored events.
That's not all, the East Coast Campus has an Afterschool Enrichment Programme for kindergarten which offers enrichment classes to preschoolers at a highly affordable fee and in a safe, familiar and conducive environment. Now isn't that a boon for parents who want their preschoolers to stay a little extra in school and learn new skills there!
GIIS East Coast campus provides a holistic education at a highly affordable fee, with scholarships available. This international school in east Singapore is a premier choice among families looking for a top-rated learning environment. Visit GIIS East Coast to learn more.
17 Feb 2021
Singapore Expats
Pretty normal..usually more obvious towards the end of the second trimester or third trimester.



Posted in Moms Group
Re: Benefits outweigh the risks of mRNA vaccine?
Let's face it, short-term, there will always be outliers, side-effects, regardless of what vaccine you use, or indeed any medical treatment you apply in general, tried and true included. Clearly though, as of the here and now, statistically, the benefits of mRNA outweigh the risks.

But going .....



Posted in Beauty, Health & Fitness
Re: PR approval chances (applied in 2022)

Is it still necessary for me to keep ICA updated in my pending PR application since I will be receiving a renewed EP from the same employer? e.g. email ICA/etc.) In addition, my base salary will be modestly increased. Is it .....