Life in Singapore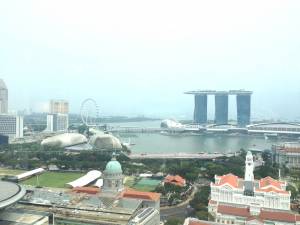 Life in Singapore – An Introduction
Ask anyone what they know of Singapore and the answers are likely to give you a fascinating glimpse into life on this tropical island. Of the many responses to this question, the following two are likely to be the ones most frequently encountered:
1) It's like a part of China right?
2) It's that country where they put a boat on top of a building right?
If you're reading this post, chances are, you already know the answers to both questions. Nevertheless, to the curious and the uninitiated, we would love the chance to tackle some of the most common questions asked about Singapore.
What's the story behind it?
Once a small fishing village, Singapore became a British colony in 1824. It fell to the Japanese in 1942, became a part of Malaysia in 1963, and was shortly evicted, thereby becoming independent in 1965.
Why can't I spot it on my map?
Singapore is the world's one and only island city-state.
In other words, the entire country consists of a single city.
This incredible fact, once divulged, often leads to Singapore's identity as a country being called into question, especially by those accustomed to living in much larger ones. Nevertheless, this Southeast Asian country has been an independent nation for the past 51 years.
By 2015, the country's territory extended across 719.1 square kilometres, and is roughly of the same size as the state of Kentucky. Unlike Kentucky, however, Singapore also enjoys the dubious honour of having the third-highest population density in the world. If you're committing the figure above to memory, do check again at a later date, as Singapore has a tendency to grow in size over time through industrious land reclamation works.
What's the weather like?
Upon leaving the airport, first-time visitors may be pleasantly surprised by the warmth and humidity of the Garden City. Coats aren't necessary as temperatures range between 22 and 35 degrees throughout the year. The coolest period takes place from December to February, while the warmest falls between April and June. If it gets too warm, follow the locals and flee inside the nearest shopping centre as most have interiors maintained at a cool 20 to 22 degrees.
If you're in Singapore to bask in the sunlight and feel the sea breeze in your hair, however, you may wish to avoid the rainy Northwest monsoon season that falls between December and January, and the Southwest monsoon season between June and September. Also, due to forest fires in Sumatra, a 'haze season' typically descends upon Singapore between July and August.
Will I be able to communicate with locals?
If you have managed to entrap an unwary Singaporean with your wily conversational skills, we heartily congratulate you, as the average Singaporean is an elusive and taciturn creature with a paralysing fear of small talk. Nevertheless, once you've got the conversation flowing, you'd find it easy to converse with anyone in Singapore.
English is the first language, or the language of business and administration, spoken by the people here. Most are bilingual. The second language elected is dependent on the ethnicity of the student, the most common being Mandarin Chinese, followed by Malay and Tamil.
What does a Singaporean look like? How can I tell when I'm talking to one?
The short answer is, you probably can't. Unless one judges by their attire or by the way they speak, it can be difficult to come up with a one-size-fits-all description of Singaporeans.
In addition, many foreign-born citizens become permanent residents each year and are welcomed into our society as fellow Singaporeans. A sign of the growing awareness of the multiracial nature of Singaporean society is the creation of double-barrelled race classification of children with parents of different races. Instead of the stock classification of "Eurasian", children born after 2010 may have their official racial classification listed as "Indian-Chinese" or "European-Malay" for instance.
Going back three or four generations, it is possible for the majority of the local population to trace their roots back to immigrant forefathers from regional countries. Much of the population today remains Chinese, with the Malays, Indians, Eurasians and other ethnic groups making up the balance.
When in Singapore, do as the Singaporeans do. The second part of our introduction to life here aims to provide nuggets of knowledge when it comes to the idiosyncrasies of local culture, as well as to provide a brief rundown of the many queer and wonderful things afforded by life on this sunny island.
What can I expect to see in Singapore?
Overlooking the Marina Bay, is perhaps Singapore's most iconic building—the Marina Bay Sands resort—where three curved towers appear to support an elongated boat on the roof. Next to it you'd find the Art Science Museum, a building shaped like an upturned palm held out to the sky, surrounded by elegant lotus ponds. A few steps later, you'd confront 50-metre tall "supertrees" from Gardens by the Bay as they tower over you with their massive concrete and metal frames. The modern landscape of today's Singapore creates one of the most arresting and spectacular skylines in the world.
However, this doesn't mean that Singapore has cut off all ties with the past. A significant proportion of Asian and colonial architecture have been preserved and restored to their former pristine and beautiful glory, looking almost as though they had been built only the day before. A good example of this would be the National Gallery of Singapore which opened at the end of 2015. The building comprises of the old City Hall and the Former Supreme Court, which are both stellar examples of the classical architectural style.
Why do people keep asking me if I've eaten?
In Singapore, it is common to hear this question in place of the standard 'How are you?' In a similar fashion, this greeting does not demand very much by way of answer other than a general affirmative. The pervasiveness of this greeting, however, is a clear indicator of the extent to which food lingers on the edges of the Singaporean consciousness.
Singaporeans take their food seriously, and many even go so far as to consider it to be an integral part of their national identity. Here, local hawker fare is feted in the annual Singapore Food Festival, and forms a major draw of the Singapore Day celebrations that are held in major cities such as London, New York and Shanghai to provide overseas Singaporeans with a taste of home. Some of the most best-loved dishes include Hainanese chicken rice, laksa noodles, and chili crab with fried buns.
Due to the ethnic diversity in Singapore, restaurants offering the local fare from every corner of the world can be easily located. At your average neighbourhood hawker centre, a slew of Chinese, Malay, Indian, and Western food stalls can be found. Meals at these informal eateries are very affordable, and these days, many hawker centres are beginning to include Thai, Japanese and Korean food stalls as well. However, if fine dining is your cup of tea, then the only thing you'd have to worry about is making your reservations early enough to book a place at these exclusive establishments. The top restaurants here in Singapore are established by the biggest names in the culinary scene such as Daniel Boulud, Mario Batali, Wakuda Tetsuya, and Joël Robuchon.
But Singapore's pretty tiny—is there anything fun to do there?
The top tourist spots of the Garden City, predominated by venues boasting the loveliest gardens and conservatories, are definitely worth a visit. These include the Singapore Botanic Gardens (a famous UNESCO World Heritage Site), Gardens by the Bay, Singapore Zoo, and Sentosa Island. The last, is less than 5 minutes away from the main island, and holds a whole host of attractions such as Fort Siloso, Marine Life Park, Madame Tussauds, and Universal Studios Singapore.
Fans of the arts who are looking to appreciate the visual arts or to catch a performance in Singapore have no need to despair, as the local scene has enjoyed a steady growth over the past ten years. For music performances, the iconic Esplanade, fondly referred to as "the Durian" for its spiky architecture, has one of the most beautiful concert halls in the world, accompanied by state-of-the-art technology guaranteed to provide a superior acoustic experience. Fans of the visual arts will adore visiting the museums with their various collection foci and curatorial strategies. These would include the National Museum of Singapore, the Singapore Art Museum, the National Gallery of Singapore, and of course, the Asian Civilisations Museum.
For those who prefer eating and shopping—also considered the top two pastimes of locals—don't fret as numerous shopping centres are often found in close proximity to MRT (Mass Rapid Transit) stations all across the island. Hop on the metro, and you could visit over ten shopping centres in a day if you wished to. The most popular Orchard shopping district can be easily reached through the Orchard, Somerset and Dhoby Ghaut MRT stations. International brands such as Zara, Uniqlo and H&M abound, but all manner of traditional wares, vintage clothing, and local designer apparel are available as well.
04 May 2016
Rayne
Re: Spending majority of year in Sing as a Retired Tourist?

TBH, I can't imagine spending the majority of the year in Sing as a retired tourist. What in the world would you do with your time? Unless you have family here or something?


How would it be any more boring here than any .....



Posted in Relocating, Moving to Singapore
Most newcomers to this forum are phony, so you'll have to do better than hello.



Posted in Entertainment, Leisure & Sports



Something new I heard today is of your PR pending shows 4 lines then it's a good chance else it shows 1 or .....