Record-breaking Results by GIIS' IB Diploma Programme students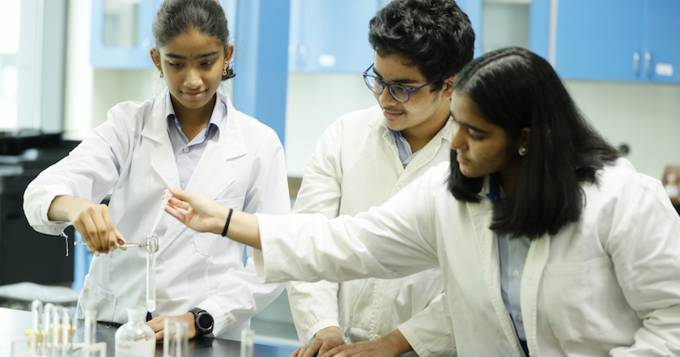 The International Baccalaureate® (IB) Diploma Programme (DP) is a highly reputed international high school curriculum for students from 16 to 19 years of age. This pre-university programme is held in high esteem by global universities. Recent results of the IBDP exams have seen an outstanding performance by students of the Global Indian International School (GIIS), Singapore.
The IB Diploma Programme supports a breadth and depth of knowledge among students in their chosen subjects, as well as developing them physically, intellectually, emotionally and ethically. Students participating in the IBDP study at least two languages and four other subjects from different areas like Science, Mathematics, Humanities and the Arts.
The IBDP is an assessed programme, which means that all students take external assessments and exams to confirm their knowledge and abilities at the end of the rigorous 2 year programme. Excellent IBDP results typically ensure optimal university placement and help in securing future career opportunities.
Worldwide, there were over 87,000 candidates for the IB Diploma Programme for the May 2021 session, slightly more than the prior year. Most IBDP students in Singapore were able to take safely administered external exams and externally-evaluated assessments this year despite the challenges due to COVID-19 safety concerns and restrictions.
The IBDP exams have a total of 45 points distributed across all subjects and core components, and the worldwide average score was 32.99 out of 45 points. Overall worldwide, 88% of students passed the IBDP, a percentage far-exceeded by Singapore's IBDP students, who had a 97.9% pass rate.
Global Indian International School (GIIS) students stand out among world IB schools and Singapore's highly competitive IB schools. Their results in the 2021 IBDP exams were outstanding, with 50% of students graduating with scores of 40 points or more! 14 GIIS students received a perfect score of 45 making them "World Toppers," recognised for their achievement of a perfect score in the IB Diploma Programme. An additional 9 students achieved "Near Perfect" scores on their exams, with 44 out of 45 points. GIIS' school average far exceeded the international average at 38.64 out of 45 points.
Over the past year, students, teachers and families have been challenged by the COVID-19 crisis. Ms. Melissa Maria, GIIS SMART Campus Principal, said, "This is a stupendous result for GIIS in a year of pandemic difficulties." Coming to the conclusion of two years of hard work and study, GIIS students achieved their excellent results with extensive support from GIIS' dedicated IBDP teachers who provided high-quality, uninterrupted education through virtual means, when needed, and on their SMART campus.
GIIS is able to provide education via physical and virtual classrooms, offering an uninterrupted digital platform. In addition, events and projects at GIIS continued throughout the year uninterrupted, in some cases virtually, reducing any adversity related to the COVID-19 pandemic.
GIIS has a Top-50 IBDP World ranking awarded by Education Advisers Ltd., an independent agency located in the UK. With three-quarters of GIIS teachers possessing over five years of experience teaching the IB Diploma Programme, and 60% who are also IB examiners, GIIS students benefit from their expertise and guidance in day-to-day lessons and receive one-on-one guidance where needed.
Students also benefit from a 21st-century learning environment that includes digital classrooms, dedicated collaboration spaces, and skill-based studios, including culinary labs, radio & TV studios, and Design and Technology labs. Over 80% of the IBDP students at GIIS are placed in the world's top universities, including Oxford, Cambridge, Brown, NUS and NTU. As a result, university applications from GIIS typically experience a high success rate.
GIIS is part of the Global Schools Foundation and an international network of 21 award-winning schools located in eight countries. The schools are collectively recognised for their learner-centred curricula, including the IBDP. They are also noted for their ability to help students develop healthy personalities and academic skills in a supportive, multicultural and diverse environment. The GIIS Nine Gems™ model allows students to achieve a holistic balance between academics and real-world experience, along with development in many other essential areas of learning. Combining its 21st Century learning environment with opportunities for creativity in the arts, physical education, ethics and entrepreneurship, students at GIIS receive a well-rounded education and experience.
GIIS offers all of these benefits to IBDP students at a moderate fee. Infact, it is one of Singapore's most affordable international schools providing the IB Diploma Programme. The school continues to grow and develop and is incredibly proud of this year's outstanding IBDP results.
If you would like to speak to GIIS about your child's education, you can contact the school to schedule a one-on-one meeting with an admissions counsellor.
24 Jul 2021
Singapore Expats
Re: PR through Chinese nationality or highest earner?
You can't hear tone of voice when you read text on the internet anyway. HPforlife's post was hardly "passive aggressive" to me.

I knew a PRC Chinese with a PhD who failed to get PR and she applied twice in 4 years. She left for Canada and is on track to get Canadian PR now. So it isn't .....



Posted in PR, Citizenship, Passes & Visas for Foreigners
Re: PR through Chinese nationality or highest earner?

I have done quite a lot of research - and not just on these forums. I did not state that nomad's situation is like mine, merely stated that race (or nationality as was implied) was more important than earnings in some cases, since as .....



Posted in PR, Citizenship, Passes & Visas for Foreigners
Re: PR through Chinese nationality or highest earner?


Thank you for bringing forth another example of such a situation. This goes to show that race could be a more important factor than earnings.


Hi OP. Had you done .....