Benefits of letting your children play outside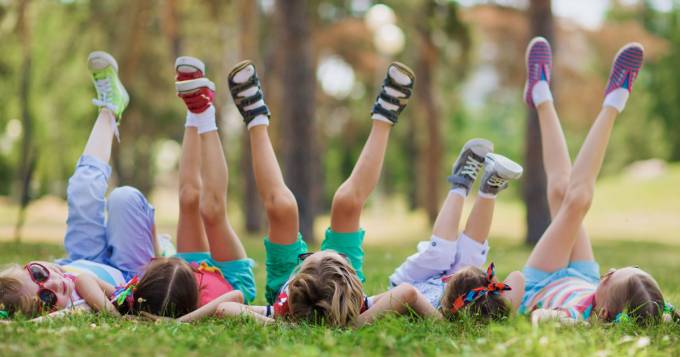 During the holiday season, more so than at any other time during the year, parents are willing to cut their children some slack from their schoolwork and allow them to take the time to enjoy themselves. As parents may not fancy having their children while away their hours on their gadgets, they may find themselves signing the kids up for holiday courses designed to provide the child with an added educational bonus while being fun and engaging enough to avoid having the child resent the idea of more schooling during the holidays. Unfortunately, both activities often require children to remain indoors.
Instead of requiring your child to stay cooped up in the sterile indoors, why not encourage unstructured play and exploration outdoors? Such activities provide plenty of benefits such as the following:
Encourages creativity
Children are naturally imaginative, and the bounteous wealth of their active minds can be seen clearly when they invent or adapt games for their amusement, when they haven't any toys or electronic gadgets at hand. As children spend increasing amounts of time indoors with their beloved mobiles or computers, soon they would no longer need to think up new pastimes for themselves, as there is no lack of images, videos and games available online. Even playing a simple game of hide and seek with friends could be helpful in encouraging your child to work his brain by thinking creatively and learning to work as a team.
Cultivates independence
When children are left to their own devices, and aware that it's up to them to resolve any difficulties they encounter now that mummy and daddy aren't just a yell away, they develop a strong sense of independence. Whether it's riding a bike down to the corner bakery on their own for the first time, or spending time at a park with a friend, small challenges that the children undertake and succeed on their own are instrumental in helping them to build a sense of confidence in themselves from young.
Strengthens friendships
While it's possible for your child to make firm friends in school, at courses or online, it may be hard for him or her to deepen friendships without having a shared base of experience. Children who change classes at the end of year and fear being separated from their close friends, are more likely to need regular playdates with their close friends to reassure them that their friends aren't disappearing from their side. Playing outdoors together fosters a strong bond between the children, and helps them to learn that friendships transcends can transcend boundaries. They may not attend the same classes, courses or schools anymore, but there's no reason why they can't ride their bicycles together or explore a park.
Develops physical skills
Many of us are probably guilty of this. Glued to the latest Netflix drama, we find ourselves stuck on the couch at home all day and rising only to make ourselves a sandwich for lunch or to get the pizza from the delivery boy. It's no longer second nature for many of us who live in this city, to head outside for an enjoyable stroll after dinner or to go trekking in a nature reserve for the pleasure of it. Studying may be important, but now is the best time for your child to learn to trek, to climb a tree, to balance on rollerblades, or even to pick up a sport like swimming or badminton. Not only would these activities benefit your child's health, they also help to encourage healthy living and train physical coordination.
17 Aug 2021
Rayne
Re: Looking for one or more squash partners
Hi Guys I'm moving to Bayshore Condo and looking for partners for squash or tennis.



Posted in Sports & Recreational Partners & Team
I don't really understand why you'd want to apply for PEP. If you're officially still employed for a few months, why don't you just use that time to find a new job instead? In the eyes of ICA, it'd look like a normal job change and it wont hurt your chances with your PR application either .....



Posted in PR, Citizenship, Passes & Visas for Foreigners
If you try to renew your REP without a job, it won't be instantaneous and ICA may call to ask why you are not working etc before probably giving you an REP for 1 year to allow you to find a job.

Or you could do exactly what SMS said, which is to wait till you find a job and then renew your REP .....