6 Minimal Interior Design Tips You'd Absolutely Love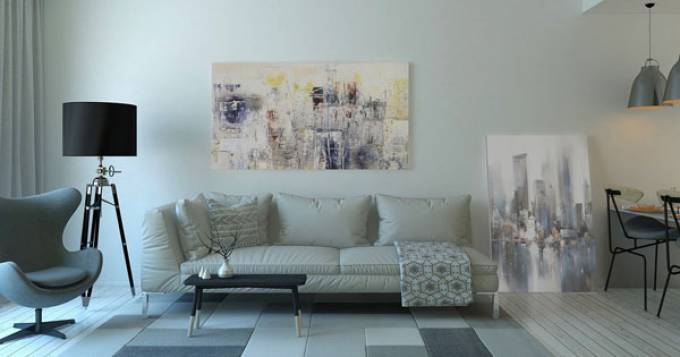 The art of making something shine without altering it too much is what makes minimalism a very sophisticated skill that takes years to hone. The idea of adding or subtracting and making little adjustments to enhance the overall appeal of a particular space is at the heart of minimalist interior design models.
Less is more is the philosophy to go by when it comes to HDB minimalist design models. Simple designs, decluttering existing aspects and highlighting the architectural features make a space look super elegant and refined. If that is something that you crave, these minimalist interior design tips are just what you need.
Minimalist interior design projects don't necessarily eliminate the scope of having fewer storage spaces and furniture. Instead, it is simply a play on perception so as to make it look like there's nothing much happening around the space. Follow these simple tips to get amazed:
Tip #1: Go Monochrome
For a minimalist interior design HDB, always opt for the same shade on the colour pallet or contrast two colours like black and white. This adds depth to the visual of the entire space without making it look too extra. The colours can also vary in hue and saturation, but the effect remains constant.
Tip #2: Pattern Play
There should be a symmetry of lines and shapes whenever you think about minimalist interior designs. For example, a continued pattern of concentric circles or parallel lines can create a huge impact while focusing on a bare minimum. Patterns can comprise any geometric shapes, prints, checks and other such strokes that are uniform and do not overwhelm the surroundings.
Tip #3: Accents for Accessories
The actual decluttering happens here. We often try to fill up all empty walls and spaces with insignificant objects that neither add value nor do anything to improve the look & feel of the designated space. Simple objects, motifs, showpieces or frames that centre the attention to one specific detail are some home décor accents that should be taken into account consideration for minimalistic interior design models.
Tip #4: Make Way for Light
Minimalism is best highlighted with light. If your space allows for an open window, there is nothing better than natural sunlight filling up the room. It gives off such fine vibes that scream minimal interior design.
Tip #5: Stick to Wallpapers
Wallpapers add that extra layer of texture that really outshines without it being too extravagant. Rather than going too hard with wallpapers, you could choose one wall and decorate it with printed wallpapers with a bright or dark tinge. This will shift focus to that specified wall making it a successful minimalist interior design hack.
Tip #6: Spacious Living
Filling all corners of a room is never a wise decision. Too much going on at once in terms of furniture, showpieces, art pieces, designed walls, hanging lampshades etc., are all elements that should not be present everywhere, all at once. Scattering these elements uniformly into all corners whilst keeping some areas empty is pro-minimalism. These empty spaces are purposed to provide a sense of relief so that one can find another extraordinary element more visually appealing.
'A beautiful mess' is understandable metaphorically, but there's no such thing when it comes to minimalist interior designs. Uncluttering the mess is the key to minimalism, and these 6 tips will make you achieve just that.
At Livspace, you get to consult with specialists committed to giving you spectacular HDB minimalist designs. You can choose from over 8,000 products that resonate the most with your minimalist style. Discover new looks for your home today and get in touch with experts at Livspace.
20 Sep 2021
SG Expats
My understand between checked baggage vs cargo for pets:

Checked bagged is when owner flies with pet on the same flight. The pet's carrier is tied to the owner's name and I read if the pet's carrier goes missing, it might be harder to track?

Cargo is tied to the pet's name and has .....



Posted in Relocating, Moving to Singapore
Hi I wouldn't do that coz, as i said earlier its not the sole reason. I don't want to mislead anyone.

Thanks



Posted in PR, Citizenship, Passes & Visas for Foreigners
Hi, Is it possible to share what kind of commercial property U bought?. I am interested in buying small scale commercial properties.