Top Expatriate Enclaves in Singapore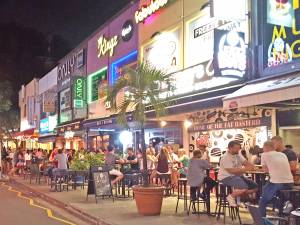 Often described as a country where 'East meets West', Singapore is well known for its ability to bridge Asian and Western cultures in spite of its small geographic size. The size of the country is no sure sign of homogeneity throughout the island however, as each individual pocket with its mixed demographic and varying landscape bears a different charm.
An expatriate-friendly neighbourhood could provide a way for a wary visitor to dip his toe into local waters without straying too far from his comfort zone. When you're homesick for that familiar taste of steak and frites from back home, or yearning to grab a pint and watch rugby with your mates, the siren call of these neighbourhoods may soon become irresistible. If you're keen to live in an expatriate community, here are five neighbourhoods which might be of particular interest to you.
Robertson Quay
Of the three quays in Singapore, the other two being Boat Quay and Clarke Quay, Robertson Quay occupies the largest area and possesses the most relaxed riverside atmosphere. This is a popular area with expatriates, and the area is chock-a-bloc with family-friendly restaurants, bars and cafés. Even after the sun goes down, it's not uncommon to see young children riding their bicycles or playing with the dog, while their parents sip their drinks at an alfresco restaurant nearby. The laid-back atmosphere that underpins the Robertson Quay area provides its residents with an oasis of calm in a frenetic city.
Katong
If you're the sort who loves keeping up with the Jones, you might find yourself bang out of luck in Katong unless you're intending to run for Prime Minister. Did you know that Senior Minister Goh Chok Tong, as well as the family of the founding father of the nation, Lee Kuan Yew, both lived in this illustrious area? Today, Katong remains a popular haunt of both the expatriate and local crowd for its innumerable eateries. Chic cafés abound in the area but the savoury street food is what draws the crowd. Everything from the internationally-famous Katong Laksa, to Nasi Lemak and prawn noodles can be found in this neighbourhood. If you love the sea, you'd adore Katong as it's only a ten minute drive away from East Coast Park.
Bukit Timah
One of the most attractive areas for expatriates is the centrally-located Bukit Timah neighbourhood. This area is famous for having more private housing than public housing, and it also has an especially high density of colonial-style terrace houses and bungalows. Some of the best public schools in Singapore are located in the area, making it an incredibly popular choice for parents as well. As it is located near reservoirs, nature reserves and other forested areas, many species of birds and animals such as the greater racket-tailed drongo, the crested serpent eagle and the long-tailed macaque can be spotted in the neighbourhood, making it a great choice for nature lovers.
Holland Village
When the Holland Village MRT station opened in 2011, long-time fans of this bohemian enclave were torn between gratitude at having their travel time cut in half, and dismay in the knowledge that visitor numbers were sure to rocket. In the Holland Village neighbourhood, clothing and shoe tailors, organic produce grocers, craft specialists, New Age spiritualists, and art galleries abound. Known for their individuality, the trendy establishments here are far more likely to set the trends than follow them. It's not just a place for those in search of kindred spirits on their quest for well-being, but also a popular hangout for locals and fellow expatriates due to its numerous eateries and watering holes that open till late.
Sentosa
Perhaps the most expensive and prestigious of all neighbourhoods, the residential enclave on this offshore island is particularly attractive to those with a strong desire for privacy and a love of the sea.
Known as Sentosa Cove, the resort-style residential area is monopolised by private property, with condominium units forming the bulk of it, and includes a yacht club and marina. Clinics, salons, grocery stores, retail stores, and restaurants are easily accessible as well. For those who drive, the Central Business District is only 10 minutes away, thereby allowing homeowners to have the best of both worlds—an engaging day at work in the busy city, and the quiet and peace of a seaside apartment at the end of the day.
01 Jun 2016
Rayne
Re: Spending majority of year in Sing as a Retired Tourist?

TBH, I can't imagine spending the majority of the year in Sing as a retired tourist. What in the world would you do with your time? Unless you have family here or something?


How would it be any more boring here than any .....



Posted in Relocating, Moving to Singapore
Most newcomers to this forum are phony, so you'll have to do better than hello.



Posted in Entertainment, Leisure & Sports



Something new I heard today is of your PR pending shows 4 lines then it's a good chance else it shows 1 or .....