Innovative New Full-Day Preschool Opens at GIIS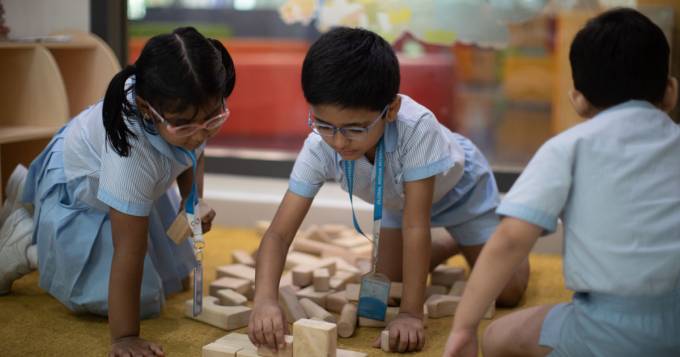 Your child's brain will develop more in the first five years than it will during any other stage throughout life. This is why it's so important to nurture curiosity in early learners. Fortunately, Global Indian International School (GIIS) is taking strides to meet this challenge. GIIS, Singapore has recently commenced a day-long preschool option for students aged 2.5 to 5 years old at both its SMART campus in Punggol and its East Coast campus.
The Extended Global Montessori Plus Programme
As an early learner in the extended Global Montessori Plus (GMP) programme at GIIS, preschoolers focus on much more than just numbers, letters and colours. From 9 am until 3:30 pm, they enjoy a structured day packed full of time spent with friends, classmates and dedicated teachers. They gain essential skills in socialisation, collaboration, exploration and creative thinking.
The day-long preschool programme at GIIS has been thoughtfully crafted and well designed to include a blend of academic lessons combined with physical movement that's perfect for preschoolers. The six-hour day will be split into two segments, with a morning session and an afternoon session. Both will allow ample time for students to do the things young children do best, such as engaging in active play and interacting with classmates. But in addition to this, there are also planned lessons in various categories, including:
Language and mathematics
Music and movement
Environmental awareness
Motor skill development
Life management skills
Sensory exploration
Through age-appropriate activities such as storytime, role-play, dance, art and exercise, preschoolers will learn valuable skills in GIIS' day-long preschool programme.
More Than Just Academics: All-round development
GIIS is well known for promoting a multicultural environment that includes students from around the globe, and their new extended preschool programme is a great addition. Immersed in a classroom atmosphere where faculty and students value kindness and international-mindedness, student-led learning is a wonderful way to start young learners down a path to daily engagement. GIIS students are engaged in what goes on inside the classroom, but a focus on student agency also brings older students out into the community to help wherever they see a need.
Now, with the new full-day Kindergarten programme that started in October 2021, even very young students have the opportunity to participate in the same rich tradition of community engagement.
Objectives of Full-Day Preschool at GIIS
The Global Montessori Preschool Programme at GIIS has clear objectives. They include:
Increasing students' physical and creative capabilities
Sharpening students' sensory and cognitive skills
Building age-appropriate social skills
Boosting students' confidence and self-esteem
Creating a safe, personalised learning experience
The programme itself is based upon five pillars that are aimed at improving skills in multiple areas, including language development and communication, socio-emotional development, cognitive and numeracy development, physical development, and art appreciation. It provides a well-rounded day that feels more like play, for young children, because it was designed this way intentionally.
Students enrolled in the new preschool programme will also enjoy a brief rest period during the afternoon session.
About the Preschool Teachers at GIIS
GIIS onboards only the most qualified Early years educators to oversee their youngest learners. These teachers must not only have degrees in early childhood education, but they must meet additional rigorous standards that test their passion, empathy and sensitivity. As a result, children who attend preschool at GIIS are fortunate to have wonderfully creative and well-appointed individuals as teachers.
Learn More About the Extended Montessori-Plus Programme at GIIS
If you're the parent of a preschool-age child who is searching for the right preschool programme in Singapore, we encourage you to consider the preschool options at GIIS (Regular and Extended programmes). Aside from keeping young students fully engaged and learning, a good preschool prepares them for success as they progress from grade to grade. The preschool programme offered at GIIS is a top choice for early learners. GIIS students perform at high levels of academic achievement, and many go on to pursue graduate-level degrees.
But it all has to begin somewhere. And now, even your youngest child can be a part of Global Indian International School through their award-winning GMP extended preschool programme.
If you're interested in learning more about enrolment, contact our friendly admissions counsellors or schedule a campus tour today. Seats are filling up fast, and your early learner shouldn't be the one left behind.
06 Oct 2021
Singapore Expats

What happened in the end? Did she move back to Thailand or did the 1st born get PR/citizen?


It does not matter what the outcome is. If 20 years ago LHL's letter could not work for ICA, it will never work now and forever .....



Posted in PR, Citizenship, Passes & Visas for Foreigners


In the past I believe it's had some weight though (correct me if I'm wrong), though now it's pretty much meaningless.


Dont think so.

A real life case

a Male .....



Posted in PR, Citizenship, Passes & Visas for Foreigners

In the past I believe it's had some weight though (correct me if I'm wrong), though now it's pretty much meaningless.


Dont think so.

A real life case

a Male Singaporean try to get PR or citizenship for his 1st born (boy) .....