6 Quiet Getaways in Singapore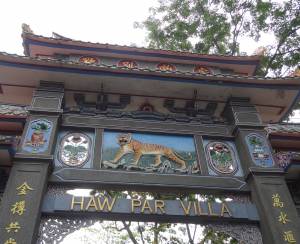 You've probably had your fill of skyscrapers and air-conditioned comforts in Singapore.
If you're looking to escape banal urbanity and get in touch with nature or the spiritual, you're off to a great start. Here's 6 quiet outdoor places in Singapore to satisfy the contemplative explorer inside you.
Tanjung Rimau (Sentosa's hidden caves)
Picture a deserted beach with corals and little crabs scurrying along the coastline, wind in your hair, salty spray on your face, and a cave that lies hidden among the cliffs for your uncovering. Well, that's what you're in for at Tanjung Rimau – a haven from city chaos. Take a five-minute stroll from the edge of Shangri-La's Rasa Sentosa Resort's compound, go down a rocky slope and you'll find the unadulterated beach waiting.
Location: Behind Shangri-La's Rasa Sentosa Resort; a five-minute walk from the edge of the compound
Schedule a free guided tour with Sentosa via email: nature@sentosa.com.sg
Kampong Lorong Buangkok
Kampong Lorong Buangkok is Singapore's last kampong ("village" in Malay) standing since 1956. Currently a stone's throwaway from high-rise flats and bustling traffic, Kampong Buangkok is an odd but welcome respite from the reality of urbanisation. Here, you'll walk on dirt paths, find rusted zinc-roofed houses, see 'free-range' chickens roaming, friendly village folk and the whole rustic-sleepy-town charm going on.
Location: Off Gerald Drive in Yio Chu Kang
Bollywood Veggies
Bollywood Veggies is not just a ten-acre organic farm but its also a sanctuary from the hustle and bustle to city dwellers. Reputed as the largest local producer of bananas, you can imagine the variety of fruits and vegetables you'll find there. Nestled in the Kranji 'countryside', you'll be sure to get all the peace and quiet you seek. Stroll amongst an eggplant plantation, witness adorable pineapple and dragonfruit 'babies' emerging from their stalks, take in lungfuls of fresh air and let lush greenery refresh your senses. With a handful of activities you can add to your itinerary, such as paddy planting, cooking lessons, and a museum tour among others, you're in for a fruitful date with nature. When you're done exploring, you can conclude your trip with delicious green eats at the farm-to-table concept bistro, Poison Ivy.
Location: 100 Neo Tiew Road, Singapore 719026 (Kranji)
Website: http://bollywoodveggies.com
Japanese Cemetery Park
Take an interest in the history of Singapore and Japan's relations? This remnant and reminder of the Japanese occupation in WWII is not to be missed. Established in 1891, the park was burial ground for Japanese merchants, prostitutes, soldiers, and convicted war criminals after the Japanese surrendered in 1946. The place was gazetted as a memorial park by the Singapore government in 1987 and holds almost 1,000 graves – a third of which belongs to karayuki-san (Japanese prostitutes). Here, you'll be able to find a stone garden, prayer hall, and gravestones and memorials constructed by prisoners of war for deceased generals and soldiers. The park is currently in the care of Lim Geok Qi, a caretaker who lives on the cemetery land and who serves as a guide for park visitors.
Location: 825B Chuan Hoe Ave, 549853
Sungei Buloh Wetland Reserve
Welcome to the largest mangrove forest in Singapore. If you're looking to experience mudflats, a sprawling coastal forest, rich flora and fauna, mudskippers and diverse creatures, it doesn't get any better than Sungei Buloh wetlands. Come on a weekday and you'll feel as if you have the entire reserve to yourself, where you'll be treated to a still quietness save for the chirping of birds and rustling leaves. With up to seven kilometres worth of walkable trails, you have plenty of opportunity to connect with nature and find yourself.
Location: 301 Neo Tiew Crescent, 71892
Website: http://www.sbwr.org.sg
Haw Par Villa
Contrary to its name, Haw Par Villa probably isn't what you imagine it to be. Bearing similar themes to Dismaland's disturbing dioramas, Haw Par Villa is like a graphic amusement park that leads you on a journey to discover Chinese mythology and hell (based loosely on buddhist beliefs). Created with the intention to impart Chinese cultural values hinged on morality and spirituality to society, the makers never did spare a single detail. Be prepared to walk through thousands of plaster statues depicting Chinese deities, battle scenes, brutal torture, eerie lighting and a taste of traditional Chinese surrealism. While the graphic nature of the exhibits doesn't exactly qualify the park as a peaceful place, you'd still be able to find some peace and quiet spending time by the bridges, pagodas or with the turtles by the pond.
Location: Haw Par Villa Station by MRT (CC25)
28 Jul 2016
Maxine Loh
Re: Spending majority of year in Sing as a Retired Tourist?

TBH, I can't imagine spending the majority of the year in Sing as a retired tourist. What in the world would you do with your time? Unless you have family here or something?


How would it be any more boring here than any .....



Posted in Relocating, Moving to Singapore
Most newcomers to this forum are phony, so you'll have to do better than hello.



Posted in Entertainment, Leisure & Sports



Something new I heard today is of your PR pending shows 4 lines then it's a good chance else it shows 1 or .....