6 Unique Attractions in Changi Airport You Won't Find Anywhere Else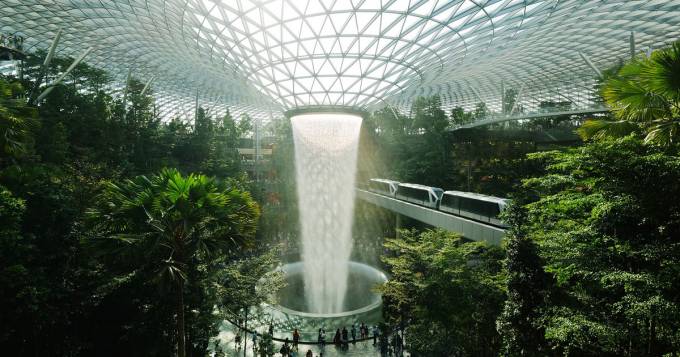 It is usually the case that when one travels to another country, the airport is simply a necessary stopover before one reaches their final destination. It's rarely the case that a traveller looks forward to the airport itself. But Changi Airport, which has won the Skytrax World Airport Awards' top distinction eight times and is the 2021 winner of the World's Best Airport Staff award, is sure to be one of the highlights of any kind of trip to Singapore.
On top of being one of the world's busiest airports—overseeing flights to more than 300 cities and serving more than 68 million passengers in 2019—Changi Airport is also home to premier public parks, world-class retail and dining destinations, and other attractions.
If you have the pleasure of jetting off to Singapore soon, what major Changi attractions should you look forward to? To answer that question, here are six unique attractions that you can find within the vicinity of Changi Airport, and that you won't be able to enjoy anywhere else in the world.
A Resplendent Indoor Waterfall
One must-see attraction that will wow enthusiasts of art and architecture is the HSBC Rain Vortex, which is located at the Shiseido Forest Valley at the Jewel Changi Airport retail and entertainment complex. Covering seven storeys, it is the world's largest indoor waterfall—and arguably the most beautiful, regardless of whether it's being viewed at daytime or at nighttime.
By day, travellers will be treated to the sight of natural sunlight shining down into the complex. At night, they can catch light shows that use the waterfall as a dynamic display. The HSBC Rain Vortex is a testament to the splendor of Singapore as a garden city and as an ultra-modern metropolis, and if you want a snapshot of both, don't miss a visit to the waterfall.
A Picturesque Topiary Walk
Yet another green attraction that will appeal to nature-loving travellers is the Topiary Walk, which is nested inside Jewel's Canopy Park. Visitors can feast their eyes on the Walk's most famous animal topiaries, like the candy-pink elephant sculpture, the open-mawed red and yellow crocodile, the lifelike brown orangutans, and the rainbow-coloured chameleon. The Topiary Walk is the ideal place to stretch your legs, relax, and take photographic mementos of your trip to Singapore.
Themed Indoor Gardens
Changi Airport has several other themed indoor gardens in Terminal 1 alone. There's the Arrival Garden, which serves a warm welcome to both new visitors and returning Singapore residents. Its majestic plants mimic the natural habitat of dragonflies, and the garden is replete with stunning dragonfly topiaries. There's also the fascinating Cactus Garden, which showcases the diversity and resilience of these plant species, and the Piazza Garden, which pays tribute to Singapore's vibrant and multicultural society. If you're looking for a way to refresh yourself after long hours on an aeroplane, the themed indoor gardens in Terminal 1 are excellent places to go.
Exquisite Art Installations
You won't have to go to an art gallery or museum to get a glimpse of Singapore's artistic excellence and traditions. There are a number of eye-catching art installations inside Changi Airport, and it would be a shame to leave Singapore without checking out at least one of them. Some of the best examples are in Terminal 3, like Baet Yok Kuan's Birds in Flight sculpture and Han Meilin's Coming Home sculpture. The former conveys hope and freedom in an artistic rendition of the Arctic tern, and the latter is an expression of the Confucian value of filial piety.
Creative and Expansive Playscapes
If you're travelling with kids, or if you're simply young at heart, you should check out some of Changi Airport's play attractions. Jewel's Canopy Park is home to the Discovery Slides, which is equal parts playscape and visual wonder. If heights aren't a problem for either you or your children, you can enjoy a view of Jewel from the Manulife Sky Nets, a vantage point that provides a 360-degree view of the complex. Your kids will also love running through the mist machines at the Foggy Bowls and pretending to fly amongst the clouds. Indeed, parents and children alike will be happy to kill long hours of layover time at any one of these locations.
Invigorating Interactive Exhibits and Games
Boredom and lack of intellectual stimulation may be real problems at other airports, but they certainly won't be at Changi Airport. Inside the Jewel complex alone, there are two miniature labyrinths that visitors can walk through: the lush Hedge Maze and the mind-boggling Mirror Maze. Jewel is also the location of the Changi Experience Studio, a one-of-a-kind theme park that celebrates the magic of aviation. In Changi Experience Studio, visitors can get to know the history of the award-winning airport through interactive exhibits and engage in friendly competition with each other through a virtual race.
Changi Airport is proof that not all airport experiences have to be tiresome and boring. Make the most of your next full trip or layover in Singapore by visiting these awesome attractions!
24 Nov 2021
SG Expats
Re: Looking for one or more squash partners
Hi Guys I'm moving to Bayshore Condo and looking for partners for squash or tennis.



Posted in Sports & Recreational Partners & Team
I don't really understand why you'd want to apply for PEP. If you're officially still employed for a few months, why don't you just use that time to find a new job instead? In the eyes of ICA, it'd look like a normal job change and it wont hurt your chances with your PR application either .....



Posted in PR, Citizenship, Passes & Visas for Foreigners
If you try to renew your REP without a job, it won't be instantaneous and ICA may call to ask why you are not working etc before probably giving you an REP for 1 year to allow you to find a job.

Or you could do exactly what SMS said, which is to wait till you find a job and then renew your REP .....