Top 5 Living Room Design Trends You Need to Know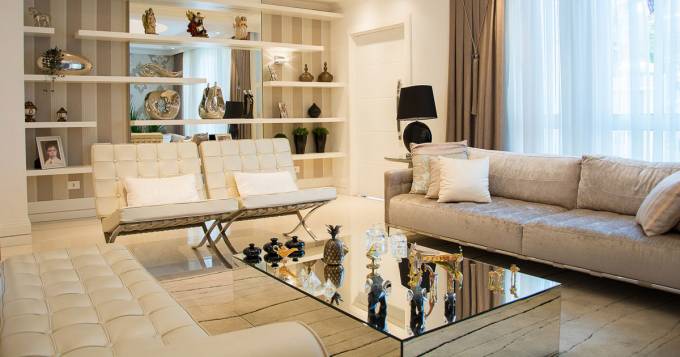 The living room is where we spend most of our time, be it to unwind & relax on a quiet Sunday evening or catch up with friends & family over dinner. So, it makes sense to have a living room that is cozy and comfortable yet functional and well-designed. But finding the right balance isn't always easy, especially when there are countless living rooms design you can explore and choose from.
If you're also on the lookout for some stand-out living room ideas, you're at the right place, as we're going to give you the much-needed design inspiration for your living area. And whether your aesthetic is something chic, earthy, or neutral, we have you covered. So, keep reading to know some of the best and trendiest living rooms design options!
Neutral All the Way
While most people love playing around with bold colors and patterns, some of us prefer neutral hues. So, if you're also someone who reaches for beige and ivory colors over the reds and yellows, this living rooms design option might be it for you. The color palette for this design remains largely neutral, with the sofas and tables being the focal point. But if you'd like just a splash of color to balance things out, a quirky lamp or wall painting might make a great addition.
Functionality At Its Best
We can all agree that functionality trumps everything else, which is why the functional living rooms design is the go-to choice for most. Even better, this design is ideal for people looking for small living room ideas, as space is not of utmost importance as far as functionality is concerned. So, with this option, you can go for a floor-to-ceiling console, a wall-mounted television for better cable organization, translucent drawers at the bottom, and overhead shelves to add dimension.
A Play of Colors & Textures
If you want a living room that is colorful and cheery, this is one of the best living room ideas you can consider. The best way to bring this living rooms design to life is by going for a colorful sofa such as eggshell blue, lilac, or warm yellow and pairing it with a layered coffee table. You can also add structured lighting, patterned throw pillows, or abstract wall art that matches your aesthetic.
The Contemporary Chic
The contemporary chic design is trendy, minimalist, and lavish all at the same time. Better yet, it is an excellent option for those on the lookout for small living room ideas, as this living rooms design can be easily customized and personalized. So, if your style is all about that chic factor, go for a neutral-toned L-shaped sofa with a bright orange or pink armchair. For that contemporary touch, you can opt for a marble accent wall paired with ambient lighting and a matching rug.
Earthy & Minimalistic
If you love indoor plants, ample seating, bright lighting, huge rugs, and an earthy color palette – look no further than this living rooms design idea as it is the perfect combination of minimalistic and cozy. The best way to set up such a living area is to go for a low-floor sofa and a contour chair and ottoman so you can have sufficient seating space. As far as décor goes, you can pair the furniture with an area rug, art frames, and hanging light fixtures in gold tones.
Now that you know some of the top living rooms design trends, it might be time to look for well-known and reliable interior design experts such as LivSpace. LivSpace offers a wide range of living rooms design options that you can choose from, and you can even opt for a free online consultation if you wish. So, what are you waiting for? Explore their living room designs today and get one step closer to your dream home!
07 Dec 2021
SGExpats
We are likely moving to California at the end of next year, we certainly won't be spending near as much $ as we do here.

I have scoped out the best high schools for my son, nearly as good as SAS, but free. That alone will be a huge weight lifted. I've been checking out used cars on Carfax.com .....



Posted in General Discussions
Listings on PG in the last 2 months...definitely more supply

15/7/2023- 30,000
22/7/2023- 30,200
29/7/2023- 30,100
5/8/2023- 30,300
12/8/2023- 30,400
19/8/2023- 30,700
26/8/2023- 30,900
2/9/2023- 31,100
9/9/2023- 31,600
16/9/2023- 31,700
23/9/2023 -32,200



Posted in Property Talk, Housing & Rental
Try these people..... I cannot vouch for them as I've never needed a translator but apparently they are also accepted by the various ministries here.

https://www.singaporetranslators.com/