Housing in Singapore: A Guide to Private Property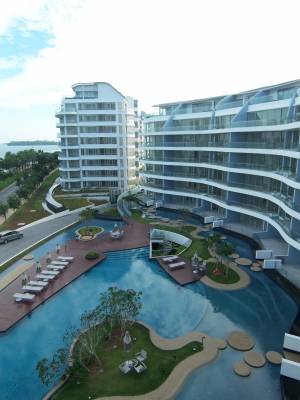 Facing the strict rules and regulations that govern the purchase of public property in Singapore by foreigners, many expatriates snap up private property such as condominium units, flats, or leasehold estates. In a country which possesses one of the highest costs of living in the world, prohibitive prices however, encourage many to rent rather than buy.
However, don't lose hope yet, as prices of private residential properties have been steadily declining since 2014. According to the Urban Redevelopment Authority (URA), prices of private residential properties have also decreased in price by 0.7% in the first quarter of 2016 in comparison with the last quarter of 2015. Whether you're interested in renting or purchasing, take a look at the available types of private property listed below and find the one most suited to your needs.
Condominium
Condominiums are a good compromise between the individuality of landed property and the simplicity of HDB apartments. Condominiums provide security in the form of guardhouses that are set up at the entrance of the compound, where security guards screen visitors and their vehicles to ensure that all unwanted guests are kept out. Security passes may also be necessary in order to gain entry into the compound or even to access lifts. Those with children may also fall in love with the convenience and security provided by such apartments, as the young ones would be free to run amok in the compound's playground or meet their friends for a friendly game of tennis.
Family gatherings or mid-sized events are a breeze to organise as many condominiums have function rooms that residents can rent for a day. These rooms usually include a small stage area and come fully furnished, so all you'd have to take care of are the venue decorations, the food, and of course, the guests. Most condominiums will include facilities such as a gym, swimming pool and a tennis or badminton court. At some of the more exclusive condominiums, spas, heated pools and Jacuzzis are available, as well as multiple function rooms that may double up as yoga or exercise venues.
Terrace House
A relic from British colonial times, terraced housing (or terrace houses) has undergone many changes over the years, reflecting both local attitudes and government rules concerning such accommodation. The architectural styles of these buildings—that may double up as shophouses or kindergartens in some instances—may differ widely as a result of European, Chinese, Malay or Indian influences. Many of the newer terrace houses built offer a wide front yard with enough space for one or two vehicles, and may even include enough space for a small garden to be grown. Terrace houses are considered landed property, and as such, foreigners are required to seek government approval if they should wish to purchase such housing.
Semi-Detached House
While a terraced house is attached on two sides to adjacent units, semi-detached houses are typically constructed in pairs, with any one side of each unit attached to another unit. Such houses usually provide the occupant with a great deal more space, and unlike terraced houses which typically have two floors, semi-detached houses may be constructed with anything between two to four levels.
Bungalow
The most luxurious of all housing types in Singapore, the bungalow, like other housing types, is not exempt from the class differentials that help to tell the common bungalow (read: very expensive) from the truly exclusive bungalows (read: extremely expensive). The names are themselves an indicator of this differentiation. According to the Urban Redevelopment Authority, houses built with a minimum plot size of 400 square metres are simply known as bungalows, while those built with a minimum plot size of 1,400 square metres are called 'Good Class Bungalows' (GCB). In 2015, two record-breaking transactions went through—a GCB at Ridout Road sold for S$91.7 million while another was sold for a record 'per square foot' price of S$2,190. Today, it is unsurprising to find GCBs with amenities such as a private cinema, entertainment hall, library, roof terrace or even an infinity pool.
15 Dec 2016
Rayne
Re: My Nightmare Experience with a Property Agent
It's to the advantage of the local and expat landlord population.

Only when we see someone notable and embarrassing for the Singapore govt stitched up will this change. This is partly why local landlords are not keen to rent to certain parties who have influence.



Posted in Property Talk, Housing & Rental
Re: Will Darlie toothpaste be next?
I remember when that blew up over here. In fact, if we search the archives here around 2016 or 17 I believe there was a thread on it as well.


Italy responded! https://www.youtube.com/watch?v=0bDqAkgAblI



Posted in Leisure Chat, Jokes, Rubbish
Re: My Nightmare Experience with a Property Agent
Hi Lisa,

They offered to return a total of $2683 back to me. This was from a deposit a 5600 so total deductions of just over 3000 sgd. In the end I accepted this offer as the only alternative would be to send a letter of demand and then proceed to the Small Claims Courts.

It's a shame the .....



Posted in Property Talk, Housing & Rental