The Best Singapore Souvenirs for Family and Friends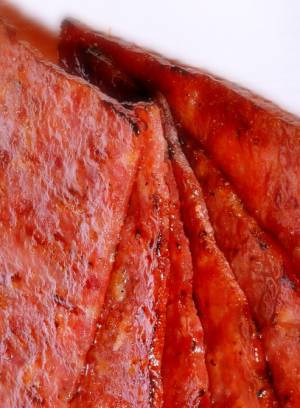 Forget about mass-produced Merlion mementos, cheap, made-in-China figurines labelled "made in Singapore" and Merlion-shaped chocolates. We've collated a list of souvenirs which we believe are just about ten times more meaningful and desirable to souvenir recipients. After all, the best souvenirs should authentically represent Singapore and showcase the city-state's uniqueness. Time to up the souvenir-giving game!
Tau Sar Piah (bean paste pastry)
A traditional Chinese baked pastry teemed with savoury or sweet bean paste, the Tau Sar Piah – "bean paste biscuit" in Singapore's Teochew dialect – traditionally plays an important role in Chinese ritualistic ceremonies and in maintaining social relations. The exchanging of such food gifts is seen as a token of goodwill and well wishes to older generation Singaporeans. Nowadays, the pastry has become more of a local delight that's consumed on normal occasions. In recent years, you can even find more contemporary flavoured fillings such as durian or green tea.
While you may sometimes see Tau Sar Piah being sold at supermarkets or in pre-packed forms, for a taste of true blue Singaporean Tau Sar Piah, it's best to purchase from freshly baked confectionary shops like Loong Fatt Tau Sar Piah, located along Balestier road. There are in fact, a few renown confectionary shops which hand make their pastries daily.
And don't worry about taking the pastries on the plane. All you need is an air-tight container for the pastries to keep fresh.
Price range: S$0.60 onwards
Where to buy:
Loong Fatt Tau Sar Piah, 639 Balestier Road. Singapore 329922 | Tel:62534584
Sze Thye Cake Shop, 2 Beach Rd, Singapore 190002 | Tel: 96581286
Ng Kim Lee Confectionery, 4 Chun Tin Rd, Singapore 599591 | Tel: 64663515
Traditional (old school) Singapore biscuits
Curious to know the kind of snacks your Singaporean colleagues grew up eating? Well, you can bring a taste of that back home. We're certain these biscuits will tickle, if not intrigue some palates. Already plenty rare in Singapore, you should get your hands on these elusive finger delights before they get phased out by the tides of progress.
It's hard to put into words the value of traditional biscuits but they are an indelible part of many Singaporeans' childhoods. More than taste, these old school biscuits represent the memory of a Singapore in times past, less the stateliness of its present-day achievements.
When choosing your souvenirs, do keep an eye out for these traditionally popular flavours: Ais Gem, Marie Biscuits, Chocolate Wafer and Pineapple Jam.
Price range: S$3 onwards
Where to buy:
Biscuit King, 130 Casuarina Road, Singapore 579518
Bakkwa (Barbequed Meat)
Bakkwa can be considered the Chinese version of jerky. Traditionally, Bakkwa was the result of a food preservation technique developed before refrigerators existed. However, this preservation method has evolved since first generation migrants brought it into Singapore. Today, this savoury sweetmeat is grilled over charcoal to retain its juiciness and take on a smoky flavour. Bakkwa is now a local delicacy and an indispensable part of Chinese New Year festivities, often given to elders, parents or friends to celebrate the occasion. If you're looking to share with your family and friends a uniquely Singaporean palate experience, Bakkwa hits the spot.
Price range: S$45 to S$70 per kilogram
Where to buy:
Bee Cheng Hiang
Fragrance
Kim Hock Guan
Lim Chee Guan
Singapore Sling
We're pretty sure you've at least had a sip of the national drink of Singapore but did it cross your mind to purchase it as a souvenir? While the Singapore Sling was first concocted in 1915 at Raffles Singapore, it is now available in ready-to-drink 40ml to 70ml bottles.
Price range: S$30 to S$80
Where to buy:
Raffles Hotel Long bar
Raffles Gift Shop
Major supermarkets (Jason's, NTUC, Cold Storage)
Singapore Orchid gifts
When speaking of Singapore icons, one cannot fail to mention the Singapore Orchid. Appreciated for its beauty and the Vanda Miss Joaquim's significance as the National Flower, gifts bearing the flower are synonymous with being uniquely Singaporean.
A homegrown brand with its roots seeped in Singapore's cultural heritage, RISIS is known for its hand-picked, gold-plated orchid gifts. If you're looking for a souvenir which is presentable, endearing and representative of Singapore, RISIS offers a wide selection of premium gifts for one and all.
Price range: S$60 onwards
Where to buy:
National Orchid Garden at Singapore Botanic Gardens
Takashimaya, Ngee Ann City Shopping Centre
The Shoppes, Marina Bay Sands
Suntec City Mall
Tangs Orchard
Tangs Vivocity
Changi Airport, T3
Knick knacks by Singapore designers
From Nasi Lemak Tea, Singapore Sling Marmalade to Singlish notebooks and tote bags bearing traditional icons in contemporary-style graphics – local gift shop Naiise. has a dedicated section stocking edible, wearable and lifestyle products designed by Singaporean designers. A perfect place to find interesting, pop-culturesque designer gifts with that Singaporean twist at highly affordable prices. Better still, Naiise.' products often come together with a descriptive label explaining the significance and inspiration behind the designs – allowing foreign friends who may be unfamiliar with the Singapore culture to better appreciate your gift.
Price range: S$3 onwards
Where to buy:
Clarke Quay Central
Katong I12
Suntec City
The Cathay
Orchard Gateway
Westgate
30 Dec 2016
Maxine Loh

Hi Everyone,

I've been frequenting this forum ever since I started applying for PR few years back. (Already got 2 rejections)

I had changes in my circumstances so I decided to apply again.
I just want to know how my .....



Posted in PR, Citizenship, Passes & Visas for Foreigners


Hi, just want to ask the chances of my baby to get her LTVP approve. She was born here last Oct. And our profile below.

Husband
Race: Malaysian Chinese
Status: PR for 2yrs .....



Posted in PR, Citizenship, Passes & Visas for Foreigners
Hi Everyone,

I've been frequenting this forum ever since I started applying for PR few years back. (Already got 2 rejections)

I had changes in my circumstances so I decided to apply again.
I just want to know how my chances would be in the eyes of the people here in the forum.

Me
Race: .....