Why is Sentosa Cove a desirable place to live and invest in?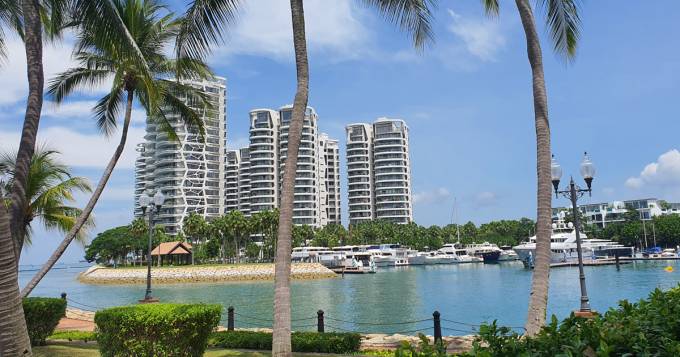 Sentosa Island is not only home to a suite of entertainment venues, but also an upscale home to condominiums and landed houses. During Covid19 times, many people saw the opportunity to enjoy a more relaxed life since many started to work from home. Sentosa become home to many Singaporeans and foreigners and is gaining popularity with the locals for live and invest because of its affordable prices as compared to mainland property prices.
Scenic Location
Sentosa is a beautiful island located off the southern coast of Singapore. It boasts stunning beaches, lush greenery, and scenic views that attract millions of tourists every year. The natural surroundings make it an attractive place to live.
Entertainment and Activities
Sentosa is home to various entertainment and leisure activities such as Universal Studios Singapore, Adventure Cove Waterpark, and Madame Tussauds wax museum. There are also several dining and shopping options, making it an exciting place to live.
High-End Residences
Sentosa is known for its luxurious and high-end residences, including bungalows, condominiums, and villas. These homes offer exclusive and sophisticated living options, making it an attractive choice for those seeking upscale living arrangements.
Security
Sentosa is a gated community that provides a high level of security, giving residents peace of mind. The island is also relatively crime-free, making it a safe place to live.
Stunning sea view
Many condominiums and landed houses face the direct and unobstructed sea view which you can enjoy the sunrise and sunsets which no other place can offer.
Proximity to City Center
Although Sentosa is an island, it is located just a short distance from Singapore's city center, making it convenient for residents to access all the amenities and facilities the city has to offer.
Convenience
Albeit located in an island, many did not know that Sentosa is only 7 minutes drive to Vivocity and Harbourfront MRT station. For those who do not drive, it is accessible by public transport bus 123 or Sentosa buses which can take you to either the beaches, RWS or Sentosa Cove Village. Buggies are allowed within the Sentosa Cove compound for residents to get around to the nearest shops and eateries.
Sentosa is also a cycling haven for those who enjoy cycling with the family.
Overall, these factors, among others, may make Sentosa Cove an appealing place to live for some people.
07 Mar 2023
Singapore Expats
We are likely moving to California at the end of next year, we certainly won't be spending near as much $ as we do here.

I have scoped out the best high schools for my son, nearly as good as SAS, but free. That alone will be a huge weight lifted. I've been checking out used cars on Carfax.com .....



Posted in General Discussions
Listings on PG in the last 2 months...definitely more supply

15/7/2023- 30,000
22/7/2023- 30,200
29/7/2023- 30,100
5/8/2023- 30,300
12/8/2023- 30,400
19/8/2023- 30,700
26/8/2023- 30,900
2/9/2023- 31,100
9/9/2023- 31,600
16/9/2023- 31,700
23/9/2023 -32,200



Posted in Property Talk, Housing & Rental
Try these people..... I cannot vouch for them as I've never needed a translator but apparently they are also accepted by the various ministries here.

https://www.singaporetranslators.com/