Meiko Tailor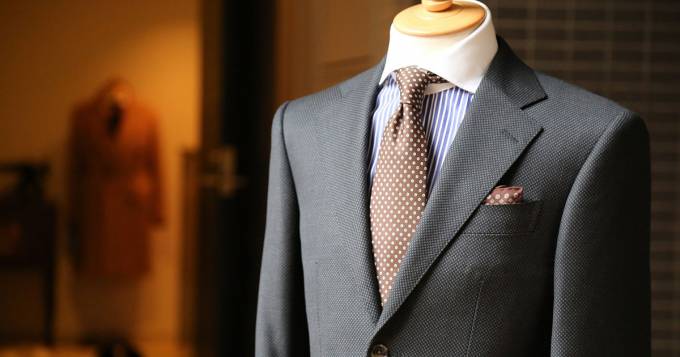 There are a few things that a self-respecting individual should be looking to invest in at a certain age: real estate, high-performing stocks and quality bespoke apparel that are comfortable, well-fitting and timeless. In truth, nothing lends an air of confidence as much as a high-quality, tailored suit. It simply puts a pep in one's step, making one stand taller and making others stand back and take notice.

Nonetheless, choosing the right 'expert' to craft your investment suit can be challenging, especially if you're in a new country and still relatively unfamiliar with the local brands. One thing is for sure, when it comes to high-quality artistry such as bespoke tailoring, nothing beats good, old-fashioned experience as proof of the trade. This is what sets Meiko Tailor in a league of its own in bespoke dress-making.

With over 50 years of experience in the bespoke tailoring scene, Meiko Tailor is renowned as Singapore's very own homegrown pioneer bespoke tailor. What differentiates Meiko Tailor from the rest of their competition is their bespoke suit construction, where they always insist on making the suit jackets the full-canvas way, thus allowing them to create their unique brand of house style in suit crafting, trouser cutting and shirt making.
The team of skilled artisans at Meiko Tailor, led by Master Tailor Chung himself, spends hours hand-crafting each tailored suit from beginning to end, and the amount of time spent working. Attention to detail is evident in the quality of the bespoke crafted attire.

For Master Tailor Chung, every piece of bespoke apparel crafted for his clients has to be tailored to fit their bodies comfortably. To him, comfort has to come before aesthetics. There's little point in wearing a piece of clothing that does not feel comfortable, let alone investing a lot of money in one.

Meiko Tailor pays special attention to details from the cut to the fitting and from the design style selection to the choice of fabrics and buttons to go with the. As bespoke suits are investment pieces, the entire dress-making process takes plenty of thought to ensure clients get the best Meiko Tailor experience.

Going a step further to enhance their bespoke tailoring experience, Meiko Tailor has also engaged in the service of a resident personal styling advisor who is trained and certified by the Academy of ImageWorks (AIM). When in doubt, Meiko Tailor's certified styling advisor will be able to help you with practical styling advice and advise you on the colour profile that complements your skin tone and body type, ensuring that you will look your absolute best in your power suit.

In addition to crafting bespoke suits and providing personal styling consultation, Meiko Tailor also offers door-to-door service for busy clients who are always crunched on time. Got a nice suit you like that doesn't quite fit well? Perhaps you've lost weight over the years, and your clothes no longer fit well? Worry not, as Meiko Tailor also offers an alter-to-fit service so that you can salvage what's left of your favourite suit.

Finally, when it's time to leave Singapore and return to your home country, Meiko Tailor can still cater to you via their overseas orders service (provided your measurements stay the same). Simply click 'mail order', and you will be attended to immediately.

To set a dress-making appointment or learn more info about Meiko Tailor, please visit their website here.
04 May 2023
SG Expats
Re: Service apartment for long term stay

There is one called Great World City Service Apartment. It is in the city center and is connected to mall, supermarket and Subway station. I stayed there when I came first to Singapore 7 years before.


I know several people .....



Posted in Relocating, Moving to Singapore

Hi All,
I moved to a landed property about 1.5 years ago. Three weeks after we moved in, the landlord sold the property. As we had a two-year lease, we were not concerned. The new landlord came to meet us and let us know that they would .....



Posted in Property Talk, Housing & Rental
Posted in Property Talk, Housing & Rental