Exploring Singapore in the Lunar New Year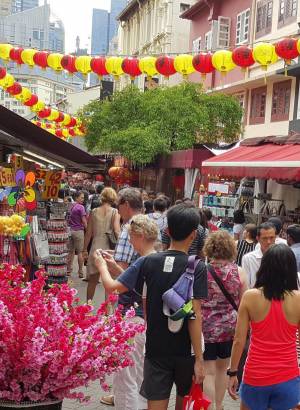 A week or two after Christmas, just when you've sadly resigned yourself to the end of festivities, you might notice that the streets are lighting up once again. Noisy and chaotic stalls are suddenly popping up everywhere, the lights seem to have turned a suspicious shade of orange and there is an overwhelming profusion of red everywhere you turn. All these are pretty good signs that the Lunar New Year is approaching and that people have begun their preparations for this festival—arguably the largest and most important in Chinese culture.
In every bazaar that pops up during this period, you'd definitely be able to spot some of the most recognisable Chinese New Year symbols. Large decorations of mandarin oranges, firecrackers, and red packets for instance will adorn individual stalls, market squares and even street lamps. Some of the larger markets will even go so far as to include towering statues of the God of Fortune, an especially welcome sight during the festival where prosperity, usually above all other blessings, is cherished.
So during this holiday period, don't forget to head down to these neighbourhood markets to bask in the atmosphere. Do take your time when browsing through the wide selection of goods available as well. You'd be able to find everything from delicious street snacks to special wall decals. These decals typically commemorate the zodiac animal of the year, and many of the others bear the shapes of special Chinese characters. These characters represent blessings, and are thought to be especially auspicious when used in the household at the very start of the year. The most common wall decoration is likely to be the character 'fu' which signifies 'good fortune'. Interestingly, this decoration is intended to be placed upside down, as the word 'dao' is a homonym for both 'upside down' and 'arrive', thereby indicating a wish that good fortune would soon arrive.
The Lunar New Year festivities usually coincide with a ticketed event that's worth attending for the atmosphere of festive gaiety as well as for the sights offered. The Chingay Parade is Southeast Asia's largest float procession and a grand spectacle is almost certainly guaranteed. The floats are accompanied by popular music, special effects, lion dances, and fireworks. The Chingay Parade, though open to everyone from all races and religions today, is a festival that had its roots as a procession that took place during the Lunar New Year celebrations. For added enjoyment of the New Year atmosphere, make sure to buy a ticket in advance to be able to view the parade from a good spot, and stay after the conclusion of the parade for the annual street party.
In the days leading up to the Lunar New Year, Chinatown becomes especially hectic and lively as storeowners get ready to meet the demands of a steadily swelling crowd. Though always worth a visit, Chinatown attracts many more visitors than usual during this period, and business booms for stalls selling festival goods such as fresh flowers and plants, barbecued meat, New Year pastries, preserved fruits and decorative goods. A series of performances also take place, ranging from those conducted by traditional Chinese dancers to acrobatic stuntmen from Chinese troupes and brave local lion dance troupes.
Last but not least, one of the most important events for New Year revellers is the River Hongbao. Set up during the Lunar New Year period, the River Hongbao has been organised every year since 1987. During this vibrant two-week event, spectacular fireworks are set off to entertain the crowds, traditional dances and performances are held, giant lanterns are set up and numerous stalls hawk all manner of goods and delicacies to tempt the tumultuous crowds. To enjoy and gain a better understanding of Chinese culture with a Singaporean twist, make a trip down to the River Hongbao before the festival comes to an end.
01 Feb 2017
Rayne
Hi I received an interview invitation for Qatar airways, pls feel free to give tips on how to ace the interview, thanks in advance?
What are the perks of you know of?



Posted in Airline Careers
I'm more than halfway tempted to delete my entire post, except that I can't figure this out.

It wasn't a year ago that MoM announced that DP's on LOC were going to have to get their own EP's and that DP's with their own business could run until the next renewal cycle. Referencing this forum post: .....



Posted in Business in Singapore
PR application- Highest standard passed clarification
Hi All,

I'm planning to apply for PR and wanted to check on the Highest standard passes drop down in the form. I have a Bachelors in Engineering followed by a Post Graduate Program in Management from an Indian institute which is considered an MBA in India and also accredited by Association of .....