5 things every expat must try in Singapore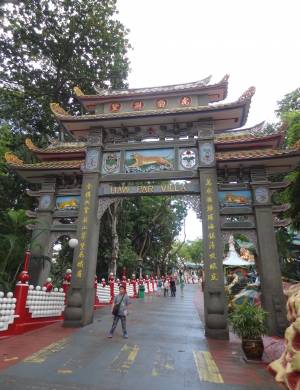 Singapore is without a doubt, a concrete jungle with skyscrapers and air-conditioned shopping malls at every turn. Nevertheless, if you think that that's all there is to the city-state, you can't be more mistaken. While Singapore's rapid development and economic progress are factors that make it stand out, what really makes your experience in this city 'uniquely Singaporean' aren't always the same ones that put us on the world map – well, not always anyway. In this article, we'll skip the usual – the zoo, museums and glitzy malls to bring you a few must-try activities from a local's perspective.
Explore a modern cultural enclave
Take a breather traversing Tiong Bahru's peaceful, quiet lanes and bask in the location's quaint yet modern charm that is the result of well-contrasted vestiges of the old and new. On the ground floor of beautifully preserved art deco style shophouses, you'll find traditional coffee shops sandwiched between cool 'indie' shops, restaurants, cafes and bars. This, coupled with the general tranquil atmosphere of the place make Tiong Bahru a welcome diversion from the hustle and bustle of the city surrounding it. As one, if not the most dynamic and vibrant neighbourhood in Singapore, this certainly makes it a place worth exploring.
Where:
Yong Siak Street
Guan Chuan Street
Eng Hong Street
Tiong Bahru Road
Eat at a hawker centre
You can't say that you've lived in Singapore unless you've at least eaten at a hawker centre. An essential part of local culture, hawker centres are go-to places for a wide variety of mouthwatering local dishes, and sometimes innovative meal options – all at extremely economical prices. And yes, the dimly lit, damp, marginally begrimed floors, multitude of smells and curt vendors who often speak a mixture of broken english and dialect are unique characteristics of Singapore hawker centres – for which accords the place a certain nostalgic beauty, some locals might add. If you're someone used to dining at places with great ambience, eating at a hawker centre might mean getting out of your comfort zone but it definitely is worth the trip, at least once in your life.
Where (non-exhaustive list):
ABC Brickworks Market & Food Centre
Blk 6 Jalan Bukit Merah, Singapore 150006
Maxwell Food Centre
1 Kadayanallur Street, Singapore 069184
Redhill Market and Food Centre
85 Redhill Ln. Singapore 150085
Visit Haw Par Villa (Tiger Balm Gardens)
Haw Par Villa is a free-entry 'graphic' amusement park located on the grounds of a hillside villa along Pasir Panjang Road. Built in 1937, this establishment is one of the remaining cultural-historical sites in Singapore that is relatively untouched by modern development – making it a monument of sorts. It has over 1,000 statues and larger-than-life dioramas that vividly depict Chinese folklore, beliefs, legends and hell based liberally on buddhist and Taoist beliefs.
These exhibits were meant to impart knowledge on values and beliefs that are traditionally esteemed highly in Chinese culture. Being the only such theme park in Asia, we highly recommend visiting this place for a one-of-a-kind experience before it gets phased out by new developments.
Where:
Haw Par Villa
262 Pasir Panjang Road, 118628
Visit a pasar malam (night bazaar)
A remnant of Singapore in its 1950s, pasar malam (night bazaar in Malay) used to be a weekly affair organised by street hawkers. Vendors would gather in the open to sell food, snacks, clothing, footwear, daily necessities and furnishings. Nowadays, pasar malam are held at specific locations on a monthly basis, or more commonly during festive occasions such as Chinese New Year, Hari Raya Puasa and Deepavali. A typical scene at a pasar malam in Singapore generally includes a line of brightly-lit tarpaulin tents, a riot of smells – from fried food to sweet snacks – the chaotic sight of stalls and people interacting, and a whole lot of noise. If you can make some time, grab an opportunity to check out a pasar malam.
Late-night shopping at Mustafa
One of the few 24-hour malls in Singapore, Mustafa is the one-stop place for everything – and we mean 'everything' – that you need. From daily necessities to electronics, accessories to fashion (though some might dispute that) and food, Mustafa is the vibrant mall that never sleeps. Located in culturally-rich Little India, you'll be greeted by many Indian sweet and coffee shops on your way to the mall. With an open mind, shopping at Mustafa will prove to be unlike any other shopping experience you've had.
Where:
Mustafa Centre
145 Syed Alwi Rd, 207704
17 Mar 2017
Maxine Loh
Re: My Landlord won't return our safety deposit
I honestly thought she got everything handled. yes we have our receipts and also, yes, we have messages from our landlady from way before.



Posted in Property Talk, Housing & Rental
Re: My Landlord won't return our safety deposit
How can your roomie and you rent a place without any Tenancy Agreement??????

1. Is there any rental payment receipt, deposit receipt or proof of payment to Landlord monthly?
2. Is there any email or message proof about this rental?

If any of the above is a Yes, you should try to lodge a claim at .....



Posted in Property Talk, Housing & Rental
Re: Plastic surgery in South Korea?
I'll PM you about the price. I don't want to get in any trouble by publicly sharing their price info :p So you are staying in Korea for 2 weeks then. I think that is enough time. They take out the stitches after 7 days so you should have .....



Posted in Aesthetic Enhancement & Cosmetic Surgery
My Landlord won't return our safety deposit
Hello! I'm new here in Singapore and i need some advise.

My room mate and i are renting a room under an old couple's HDB. NO TENANCY AGREEMENT was given to her (roomie got in singapore first). we werent registered as well (They said they were waiting for me but roomie started renting out 1st if .....



Posted in Property Talk, Housing & Rental
Re: Decline Job offer After IPA Approved