Finding the right serviced apartment in Singapore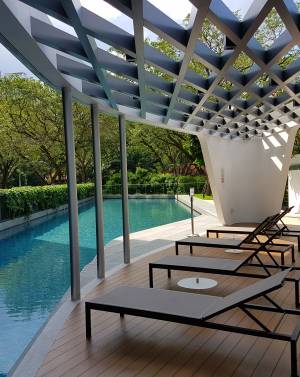 We've all gone on staycations before, mainly to indulge in a few days' stay at a hotel where we don't have to worry about doing any chores and can simply remain happy in the knowledge that someone's around to tend to our every need. But staycations rarely last more than a week—anything in excess of 6 days at a good hotel would make a sizeable hole in our packets and we may begin to feel uncomfortably self-indulgent for forking out large sums to occupy a single room.
Serviced apartments could be an excellent alternative for longer stays. The rent includes utility bills and services such as apartment cleaning or customer care, and may even include hotel-like amenities, all for a price which is lower than that which a hotel would charge. As you would be renting an entire apartment, there'd be much more space for you to work, relax and cook. Entertaining people at your apartment would also be easy, convenient, and private. With several rooms in each apartment, you'd hardly feel cramped for space or made to feel uncomfortable with sharing your private space with others.
Of course, all this comes at a price. You may not always have access to the full range of services offered by hotels or luxury treatment such as chauffeur services or complimentary breakfasts, but if you just need a place that comes without a frightening price tag or the responsibilities of house ownership, a serviced apartment may be, well, right up your alley.
When searching for the ideal serviced apartment, three main factors should be considered:
Amenities
If you're staying for a week or two, you might be able to get by without a microwave. But if you're the sort who regularly subsists mainly on precooked meals, a long stay in an apartment without one is going to be cause for annoyance. Which household appliances can you not live without? Which amenities would you prefer to have on the compound? There are studio apartments that cater to every desire and budget, but some prior research is necessary in order to dig out these gems. If price is not a major factor in your decision, some of the more popular studio apartments in Singapore offer flat-screen televisions, home theatre systems, and even access to fitness centres, pools, and spas.
Services
While serviced apartments don't offer as large a range of services as big-name hotels, basic housekeeping is always offered as part of the package. This takes place once a week or even once a day, and ensures that your place is always kept spick and span. If the apartment is located at a distance away from the nearest bus stop, it could be worth your while to check if shuttle bus services are provided. The more luxurious studio apartments do provide shuttle bus services to popular shopping haunts and business centres so you'd never have to worry about getting lost or squeezing with the crowds in the mornings. Complimentary breakfasts are also included at certain studio apartments. If all you're looking for is a quick bite to eat before your 9am meeting, this breakfast service could be a godsend for you.
Location
If you're in Singapore for a leisurely holiday, a serviced apartment that is near to a bus or MRT interchange is definitely something that you should be on the lookout for. Having a place that is less than fifteen minutes away from an interchange would allow you to get your exploration done with the maximum amount of convenience and the minimum amount of commuting time. If you're in Singapore mainly for work, however, then it would be much better to have an apartment that is close to your workplace, and within walking distance of a bus stop or MRT station.
Different locations also affect the quality of life at your apartment. While it may be tempting to say yes to that apartment that's just five minutes away from Orchard Road, it may not be your best bet if you're in any way averse to crowds. If you're not keen on close contact with wildlife, apartments that are located at Bukit Timah, Mandai, or MacRitchie may not be suitable as Singapore does have its share of monitor lizards, macaques and civet cats. Before moving in, do some research and find out which neighbourhoods you'd feel most comfortable in, as you'd be staying in that location for some time.
05 Apr 2017
Rayne
Re: Will Darlie toothpaste be next?
I remember when that blew up over here. In fact, if we search the archives here around 2016 or 17 I believe there was a thread on it as well.


Italy responded! https://www.youtube.com/watch?v=0bDqAkgAblI



Posted in Leisure Chat, Jokes, Rubbish
Re: My Nightmare Experience with a Property Agent
Hi Lisa,

They offered to return a total of $2683 back to me. This was from a deposit a 5600 so total deductions of just over 3000 sgd. In the end I accepted this offer as the only alternative would be to send a letter of demand and then proceed to the Small Claims Courts.

It's a shame the .....



Posted in Property Talk, Housing & Rental
Re: Will Darlie toothpaste be next?


I went to quite a few minstrel shows back in the day when I was still in high school. In fact, The Elks Club used to have a big deal out of their production in my .....



Posted in Leisure Chat, Jokes, Rubbish