Singapore heard: Bars with the best live music for expats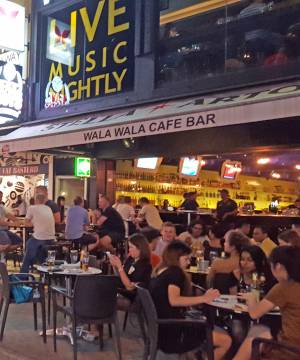 Whether you're a music lover or are simply keeping a lookout for decent spots to unwind after a long day at work, we've got you covered. Here are some recommended spots with great live music and winning atmosphere which will undoubtedly leave you with an unforgettable experience. And we've thoughtfully listed them by genre for your convenience.
Blues
Crazy Elephant
A mainstay of Singapore's live music and nightlife scene, Crazy Elephant is a well-loved rock and blues station known for its spirited live performances. Boasting appearances by international acts such as Deep Purple, Robbie Williams and John Jorgenson, this humble venue certainly isn't one to be casually dismissed. Tuck into the cosy ambience of the place for a night of musical wonder by resident act Roach & The Blues Machine. Relax and be entertained as a good selection of hilarious jokes are screened on television. It's all cool even if you feel like flexing your vocal chords. Drop by on Sunday for special jam sessions where you – or anyone for that matter – can enjoy some airtime on stage.
Address
#01-03/04 Blk. E Clarke Quay, 3 River Valley Rd. | Tel:6337-7859
Opening hours
Mon 5pm-1am
Tue–Thu 5pm-2am
Sun 5pm–2am
Fri–Sat 5pm–3am
Live music performance
10pm onwards
Jazz
Blu Jaz
Let your hair down and join the chill-crowd's club. Blu Jaz is an ambient cafe which boasts an eclectic interior and which hosts live jazz and blues sessions on its ground floor. True to the eclectic vibes of this venue, its second floor juxtaposes wonderfully against the first with local and international DJs who will have you willingly tripping into the night. To foster a culture of getting together and involvement in the local music scene, free music jams are organised every Wednesday night with a jazz jam session the first Wednesday of every month.
Address
11 Bali Lane | Tel:9199-0610
Opening hours
Mon–Thu 11am–12midnight
Fri 11–1.30am
Sat 2pm–1.30am
Live music performance
9.30pm onwards
B28
If you prefer unwinding in a more intimate and luxurious setting, B28 is here at your service. At this swanky underground bar revamped not long ago, you'll find the perfect combination of whisky and jazz. Boasting an impressive array of malts, dark ambient vibes and relaxing live jazz performances, B28 is the kind of place you won't feel like leaving once you've had a taste of it. Regular jazz performances are on from Wednesdays to Saturdays, featuring resident band, Nicole Duffell Organ Trio as well as other jazz talents and occasionally, renowned guest performers.
Address
B/F The Club, 28 Ann Siang Rd. | Tel:6808-2188
Opening hours
Mon–Wed 5pm–1am
Thu–Sat 5pm–2am
Live music performance
Wed 9pm, Thu 9.30pm, Fri & Sat 10.30pm
Alt-/Rock/metal/pop
Hood Bar and Cafe
Switch to chill mode as you enter this dimly lit hood, surrounded by back street graffiti and multi-coloured stage lights. When it comes to the latest music drops and hottest bands in the local arts scene, Hood Bar and Cafe marks the spot. If you have a thing for edgy original music and local popular culture, this place is not to be missed. Do check their Facebook page for updates on bands that will be playing, especially if you are the picky sort when it comes to music genres.
Address
Bugis+, 201 Victoria St, #05-07, Singapore 188067 | Tel:6221-8846
Opening hours
Mon–Wed 5pm–1am
Thu–Sat 5pm–3am
Sun 5pm–1am
Live music performance
Usually from 8pm onwards (check their Facebook page for updates)
Rock & Roll
Wala Wala Cafe Bar
Nestled in the charming expat enclave called Holland Village, Wala Wala Cafe Bar is strategically located among a slew of exciting places for dining and nightlife. Living up to its 20-year reputation for serving captivating live music every night, it's no wonder this bar is abuzz with life and a well-loved hang-out for locals and expats alike. Couple ice cold beer, good live music and great company – that's the Wala Wala experience. While you're here, keep a lookout for resident acts Reverie every Friday, and Shirlyn & The Unexpected on Thursdays and Saturdays, from 9.30pm onwards.
Address
31 Lorong Mambong, Singapore 277689 | Tel:6462-4288
Opening hours
Mon–Thu 4pm–1am
Fri 4pm–2am
Sat 3pm–2am
Sun 3pm–1am
Live music performance
Mon–Fri 7pm
Sat–Sun 9.30pm
11 Apr 2017
Maxine Loh
we have Universal Promotion free 100% bonus (5 rollover)
www.onbet168.com
-This promotion is open for onbet168 register players
-minimum deposit SGD/MYR50 free 100% bonus
-Deposit and Bonus must rolled over x 5 before withdrawal
FOR EXAMPLE:
Deposit SGD/MYR 50 + Bonus 100% = 100
*Rollover: 100 x 5 .....



Posted in Entertainment, Leisure & Sports
hai. we are Singapore online casino
if you have interesting betting can live chat us
www.onbet168.com



Posted in Entertainment, Leisure & Sports

No restriction on the UK side based on your medical condition, not even asked.
However, you better check if your GF/wife-to-be is able to hit all the points required to sponsor you. Is she earning at least £18,600/year for the past 6 .....



Posted in Strictly Speaking
Need advise on pre-school, living location, and language classes
Hi All,
My family and I plan to relocate to Singapore by December 2019 and we are a bit divided on the following subjects:
1. pre-school for our son (2.5yrs old)
2. living location. Ideally, we would like to be located close to the school to allow my spouse easy commute to drop off and pick up, or .....



Posted in Relocating, Moving to Singapore
Re: What did you guys bring when relocating? - 2019
If someone else is paying for your shipping, then perhaps you'll want bring your stuff over. Otherwise, it can get very expensive. A large home, taking up a full container, can cost $20,000 or more.



Posted in 30's Club