Singapore: The Expat Choice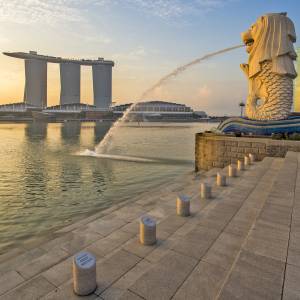 I have lived in Singapore for over 3 years now, and I love this city despite the hot weather, the cost of living being very high, or the fact that things can be pretty "kaisu" sometimes. So despite this what makes Singapore so attractive for an expat and why do so many expat consider moving to Singapore? My take would be that it's a city where things just work and everything is so clean and perfect that it would be hard not to love a city like that. So here are my top ten favorite things about Singapore:
1. Safety
Singapore is one of the safest countries I have ever lived in. There is no fear of walking around alone or being alone at any time of the day or night. It just so wonderful being in an environment where one does not have to constantly worry about their safety and security. It is one of the only countries in the world, where if you forget your mobile phone in a taxi, and the taxi driver will actually find you and return the phone to you and in most cases not take a tip as a reward or very reluctantly agree to take a tip. It's just so liberating to be in such a safe environment. Of course I am not saying that there are no offenders around or you never get cheated but overall I would rate this place as extremely safe.
2. Commute
It is so easy to get around Singapore, the public transport system works so well and the distances to various places are not too long or tedious. I used to live in Mumbai and the biggest issue there was commute, despite having the luxury of a car with a driver, half of my time in Mumbai would go on commuting. However, there is no such issue in Singapore, the MRT systems, taxis, Ubers work just perfectly. The cost of commuting is also reasonable; taking a taxi in Singapore is way more affordable than taking a taxi in any other developed country such as USA or the UK.
3. No language barrier
Compared to most Asian countries, there is no language barrier in Singapore. In general everyone speaks English. So finding your way around Singapore becomes very easy as everyone speaks English and people are generally nice and friendly. It may be hard to understand the Singaporean accent sometimes, but once you get used to it, you will be surprised how you start talking a little Singlish as well Lah!
4. Best of the both worlds
While Singapore has all the comforts and benefits of a truly international city, yet it also has an Asian feel of comfort to it. You can easily get a helper officially in Singapore; the government has rules and regulations for hiring and maintaining a helper. The rules imposed by the government are fairly stringent and in most cases the helpers cannot be exploited or mistreated, unlike in other parts of Asia. They are also entitled to a fair
remuneration and a weekly off. So technically you living in a city which gives you the best of both worlds, a truly international environment and at the same time you can have a live in helper for your day to day needs. Where else in the world would you get such luxury coupled with the benefits of an international city.
5. Travelling around Asia
Living in Singapore makes travelling around Asia very convenient. There are several low cost carriers to destinations like Indonesia, Vietnam, Thailand, Philippines etc. In addition there are ferries available to certain parts of Indonesia like Batam and Bintan, which have beautiful and peaceful resorts for a weekend getaway. The ferries are very convenient and comfortable. A weekend get way to most parts of Asia is very easy from Singapore, so while living here another benefit is that you travel around Asia for a fair bit.
6. Housing
While I do admit property is expensive in Singapore and buying or renting a place is hard and not always affordable. However, the condos available in Singapore are fabulous and mainly luxurious. Most condos have a pool, gym, tennis court, sauna, jacuzzi etc., so you end up saving money of club memberships. Although one negative point is that the property laws are very lenient towards landlords as opposed to tenants which can be a bit frustrating at times. Although I would think this problem is not unique to Singapore.
7. Food & Entertainment
The variety of food options that are available in Singapore is just incredible, right from very expensive fine dining options, to low cost meals available in hawker centers. Most areas in Singapore have a food court or a hawker center which has various food options for people and is very reasonably prized. In addition to that there are several restaurants and bars in Singapore. If you like cooking at home there are various kinds of groceries available for all kinds of expats such as Indian, Thai, Korean, or International available in Singapore. In two years I have not run out of food options so far and I still have a load of places that I would love try. Living in Singapore one would never getting bored, as there are several options for entertainment such as live performances, theater, art, events etc.
8. Fitness Options
Another awesome thing about Singapore is that people here are mostly very health conscious. There are several options for working out, including several free classes that are run by people who just have a passion for exercise. So whatever activity you may like such gym, yoga, zumba, aerobics, outdoor workouts etc., Singapore has several option for all these activities. There are also various health food, detox and juicing facilities available in Singapore for people who are careful about what they eat.
9. People
Singapore is a very friendly country and it's very easy to make friends in this city as there are several people from different parts of the world living here. So it's truly amazing how one can meet people from different cultures in Singapore. If you are new to the city there are several groups that organize events for people who are new to the city. Most of these events are fun and you will end up making friends easily. To top it all these events are not just limited to social gathering and parties, there are groups for spirituality, book reading clubs, exercise groups, trekking groups etc. So all you need to do is join one of these groups and meet likeminded people and make friends. Singapore has several options for dating as well for singles. I met my husband only after moving to Singapore and maybe that is one reason why this city is so special for me.
10. Things just work
Lastly to sum it up, I love Singapore as things just work here unlike most countries. You have all sorts of facilities available here which are not commonly or easily found elsewhere. Things are organized and less chaotic. You actually need to queue to take a taxi and no one breaks a queue. Singapore airport is one of the finest airports in the world and clearing immigration and getting your checked in baggage cleared in Singapore is super-efficient and simple. You can be home within 30 minutes of your flight landing in Singapore.
Living in Singapore is an awesome experience and at times we get spoiled living here as I often find myself cribbing about things not working when I travel. So if you do get an opportunity to live in Singapore, I think it's definitely worth a shot.
18 Jul 2017
Naina Chhugani
Do you feel like you must choose the option to deal with helpless skin wellbeing? Provided that this is true, it shouldn't need to end thusly .....



Posted in 20's Club

Hi,

We are currently looking for a condo rental starting in July and i have a couple of questions i'm hoping someone can help with:

1- The prices we are seeing on 99.co and Prop Guru seem much higher than the most recent letting .....



Posted in Property Talk, Housing & Rental
Some want to try their luck when it comes to rental price. They may not even serious about renting the place. This can be very frustrating when you find a place you want but the landlord is asking 50% above market and won't budge more than 5-10%... just walk away and wish them luck.

You really .....



Posted in Property Talk, Housing & Rental