The Best Things To Do With Your Family in Singapore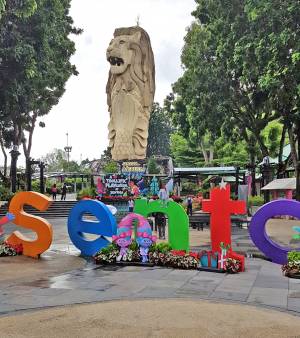 With its clean, modern, and excitingly urban environment, it's not hard to see why Singapore is fast becoming one of the top holiday destinations for families. Despite past criticisms of a lack of individuality, Singapore has now become a hotbed for arts and culture. Travellers to the city will find no shortage of fun activities to keep the family entertained, and here are just a few of the memorable locations that are a must-see for all would-be visitors.
Night Safari
Singapore's Night Safari is an activity that the whole family will enjoy. Guests are taken by tram through a park containing only night-dwelling animals, all of which are allowed to roam free in their natural environment. The tram ride takes you through a host of different scenery, including rainforest and jungle, and this exciting tourist attraction is unmissable for all nature lovers.
Science Centre
Singapore's Science Centre is a perfect place to keep the kids occupied. The Centre boasts 14 different galleries and over 20,000 square feet of floor space, meaning there is more than enough exhibits and activities to keep the whole family entertained for hours on end. The Science Centre is ideal for those who want to combine entertainment and education.
Botanic Gardens
Another hotspot for nature lovers, Singapore's Botanic Gardens is a great way to escape the fast, frenetic urban environment. With an incredibly wide variety of different tree, plant, and flower species on offer, the Botanic Gardens is the best place to take the family for a picnic while on holiday.
Sentosa
Once a deserted island, Sentosa is now Singapore's tropical playground paradise. After a cable car ride that provides stunning panoramic views of the city, visitors to Sentosa will have the chance to enjoy various amusement parks, including the Fantasy Land waterpark, Volcano Land adventure park, and the film-lovers' dream, Universal Studios Singapore. Sentosa is an ideal way to keep the family occupied and the kids entertained all day.
Battle Box
A must-see on the list for all history buffs, Battle Box provides an opportunity for all visitors to take a guided tour of the underground bunkers that formed the command centre for the British Army during the Battle of Singapore. Many of the rooms on the tour have been restored to take visitors back in time to the second world war, meaning that Battle Box is a fascinating and educational way to spend an afternoon with the family.
Snow City
When you think of Singapore, the last thing that comes to mind is snow sports. However, this indoor ski/snow slope offers visitors to the city the opportunity to engage in snow sports all year round. With a variety of sports on offer, there is also a playground and igloo for those wishing for a more relaxing experience. During hot and sticky Singapore summer days, Snow City is a much needed cool activity to keep the family occupied.
Singapore is the perfect exotic destination for all the family, and this list by no means covers the myriad activities on offer. Begin your holiday planning today by checking parking prices at parking prices at East Midlands Airport.
11 Aug 2017
Damien Troy
we have Universal Promotion free 100% bonus (5 rollover)
www.onbet168.com
-This promotion is open for onbet168 register players
-minimum deposit SGD/MYR50 free 100% bonus
-Deposit and Bonus must rolled over x 5 before withdrawal
FOR EXAMPLE:
Deposit SGD/MYR 50 + Bonus 100% = 100
*Rollover: 100 x 5 .....



Posted in Entertainment, Leisure & Sports
hai. we are Singapore online casino
if you have interesting betting can live chat us
www.onbet168.com



Posted in Entertainment, Leisure & Sports

No restriction on the UK side based on your medical condition, not even asked.
However, you better check if your GF/wife-to-be is able to hit all the points required to sponsor you. Is she earning at least £18,600/year for the past 6 .....



Posted in Strictly Speaking
Need advise on pre-school, living location, and language classes
Hi All,
My family and I plan to relocate to Singapore by December 2019 and we are a bit divided on the following subjects:
1. pre-school for our son (2.5yrs old)
2. living location. Ideally, we would like to be located close to the school to allow my spouse easy commute to drop off and pick up, or .....



Posted in Relocating, Moving to Singapore
Re: What did you guys bring when relocating? - 2019
If someone else is paying for your shipping, then perhaps you'll want bring your stuff over. Otherwise, it can get very expensive. A large home, taking up a full container, can cost $20,000 or more.



Posted in 30's Club