Drinks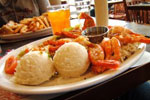 Singapore Expats comprehensive restaurant listings in Singapore power by hungrygowhere.com, includes address, contact number, type of cuisine, reviews.
Please contact us to advertise.
Re: DBS Non Existant Fraud Controls
This is very unfortunate. I too am very concerned about CC fraud (and debit / ATM card fraud). How did it happen? Was your card skimmed or used while out of sight? Was this at a hotel? The one time I've had over charges recently was in a hotel in Jakarta. Hotels are almost the only place now .....



Posted in Credit Card & Banking in Singapore
Re: Need help in relation to prescription medicine price
You can ring the Apex pharmacy in City Square JB and ask. They may be cheaper than Singapore.



Posted in Beauty, Health & Fitness
I am moving to Singapore in first week of Feb.2020 and my workplace will be Sofitel Sentosa. Would you kindly suggest nearby residential condos within my budget of SG$ 2200-2800 (should not be very far from my work), preferably on metro line. Suggestions are most welcome!
Thank you .



Posted in Property Talk, Housing & Rental
Here is Practical Explanation about Next Life, Purpose of Human Life, philosophical/religious facts, theories etc.
Practical Explanation ( For Example ) :- `1st of all can you tell me every single seconds detail from that time when you born ?? ( i need every seconds detail ?? that what- what you have thought and done on every single second )

can you tell me every single detail of your `1 cheapest Minute Or .....



Posted in General Discussions
At a crossroad, need some advice from forumers

Some information:
Myself - Singapore, Divorced recently 4k employment and another commission based salary about 1k
Wife to be - PRC on Spass, Divorced 3k. Previously worked in SG and return to work since May 2019

We have been living together so far .....