Drinks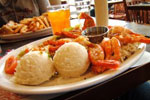 Singapore Expats comprehensive restaurant listings in Singapore power by hungrygowhere.com, includes address, contact number, type of cuisine, reviews.
Please contact us to advertise.
Re: Working Remotely from Singapore as a Tax Resident - which pass/structure?




Next, let's talk work passes. If you work for a company that has no legal presence in Singapore, ie, not registered as a legal entity, no office, no nothing, .....



Posted in Business in Singapore
Re: PR approval chance in 2020
You obviously do speak the official language of Government in Singapore. English. I've integrated just fine, been here 39 years and still do not speak any other language but English and a smattering of Bahasa because I worked in Indonesia for 12 years in the 80's and 90's. In fact, unless you are .....



Posted in PR, Citizenship, Passes & Visas for Foreigners
Re: Starting business in Singapore

Hi, I have recently moved to Singapore on DP. I am a sole proprietor of a commodities business in operations for 12+yrs based in Delaware. I am trying to figure out best way to move from DP to my own EP on my business. Options include .....



Posted in Business in Singapore

Hi, I plan to register a company but wonder should it be under my own name or as Pte Ltd. Planning to trade clothe and also some household item, can it be under 1 kind of trading or multiple? Had tried to get consult from some firm but I .....



Posted in Business in Singapore
Re: Question About Entrepass Changes

I'm intending to apply well in advance of coming to Singapore and then, assuming my application is successful, collect the Entrepass a good few months after the IPA letter. Please could anyone confirm that the pass' 1 or 2 year .....



Posted in Business in Singapore