Fruits & Drinks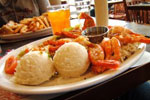 Singapore Expats comprehensive restaurant listings in Singapore power by hungrygowhere.com, includes address, contact number, type of cuisine, reviews.
Please contact us to advertise.
As far as I know, the MOM medical does not check for Hep B. Maybe you will need to ask MOM for confirmation. The link below is for WP holders:

https://www.mom.gov.sg/passes-and-permits/work-permit-for-foreign-worker/sector-specific-rules/medical-examination



Posted in PR, Citizenship, Passes & Visas for Foreigners

$6,000 is a lot for an unauthorized driver. You signed it, you are responsible for it, but you might do some research to see if you would be better off not paying it and letting them take you to court. It really depends on how that .....



Posted in Car Leasing & Rental

Seriously? You didn't read the contract but signed it anyway? You let someone else drive the car who is not party to the rental agreement and now you want to know if their terms apply? Of course they do. Sorry but you're going to .....



Posted in Car Leasing & Rental
Lol.. how funny some people reply to this. I hope they read all those fine prints when they sign up for a bank credit card or mobile phone line or anything of that sort. I sued the company and court declared that the car company have no authority to charge fine on me. Even if an unauthorised driver .....



Posted in Car Leasing & Rental
Re: Hong Kong protest: How do Hong Kongers lead their daily lives?
Civilian attacked - protester slashed by pro-China guy: https://www.scmp.com/news/hong-kong/law-and-crime/article/3033712/man-turns-himself-police-station-after-attacking



Posted in General Discussions