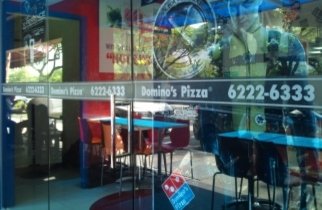 Domino's Pizza

4 / 11
The HungryGoWhere team is here to help you. Listed below are this eatery's available take-away and delivery options.

Delivery:
Domino's Pizza is offering delivery via the following options:
https://www.dominos.com.sg/

Take-away:
Domino's Pizza is offering take-away via the following options:
https://www.dominos.com.sg/
Domino's Pizza offers some of the best Western Cuisine serving a tantalising collection of dishes that are suitable for family, large groups, catching up with friends and colleagues. From Romano Margherita to Napolitanan Chicken its extensive menu is reflective of the restaurant's efforts to cater to every palate.

This restaurant is located in Orchard along Killiney Road. The international fast food pizza delivery corporation, Domino's Pizza, is a renowned and popular choice amongst people for relishing their favourite fast food, the Pizza. Today, this huge franchise has a profound global impact and has more than 8,900 corporate and franchise stores in more than 65 countries.MUST TRIES: Indulge in their mouth-watering dishes such as Valenciana Mushroom, Hawaiian Paradise, Classic Pepperoni, Chilli Chicken, Simply Cheese and Chilli Beef.
Hours:

Daily: 10:30 - 23:00
Address:
73 Killiney Road
Most commercial fish and chips use Cod.



Posted in General Discussions



But nobody is desecrating marriage, there is no intent to tarnish the definition, .....



Posted in General Discussions
Reviving this thread to discuss something Masagos said in parliament today. The government has chosen not to enshrine the definition of marriage in the constitution, instead leaving that up to future generations. In my opinion, this suggests a quiet openness on the part of the PAP, it's clear that .....



Posted in General Discussions